For the past few years, students have been enthusiastically pursuing a career in law, as it is one of the most popular professional courses in India. Legal education is highly respectable. The goal of the law is to develop a well-rounded person with solid legal knowledge, along with excellent analytical and communication skills.
Over the last few decades, the legal profession in India has undergone a significant strategic shift. Law students nowadays not only figure themselves in courts, but also in various corporate houses, law entities, legal firms, litigation, administrative services, academics, and even in the field of entrepreneurship.
Let's Discuss the Scope of Law!
As you know, Law is an attractive profession with lots of money and wide scope but it also requires a lot of hard work with no shortcuts. You must have heard the line that you can do anything with a law degree due to the diverse opportunities it holds. The scope of law is broader; it is very tricky to explain in a single go. However, we have divided the scope of the law into three categories: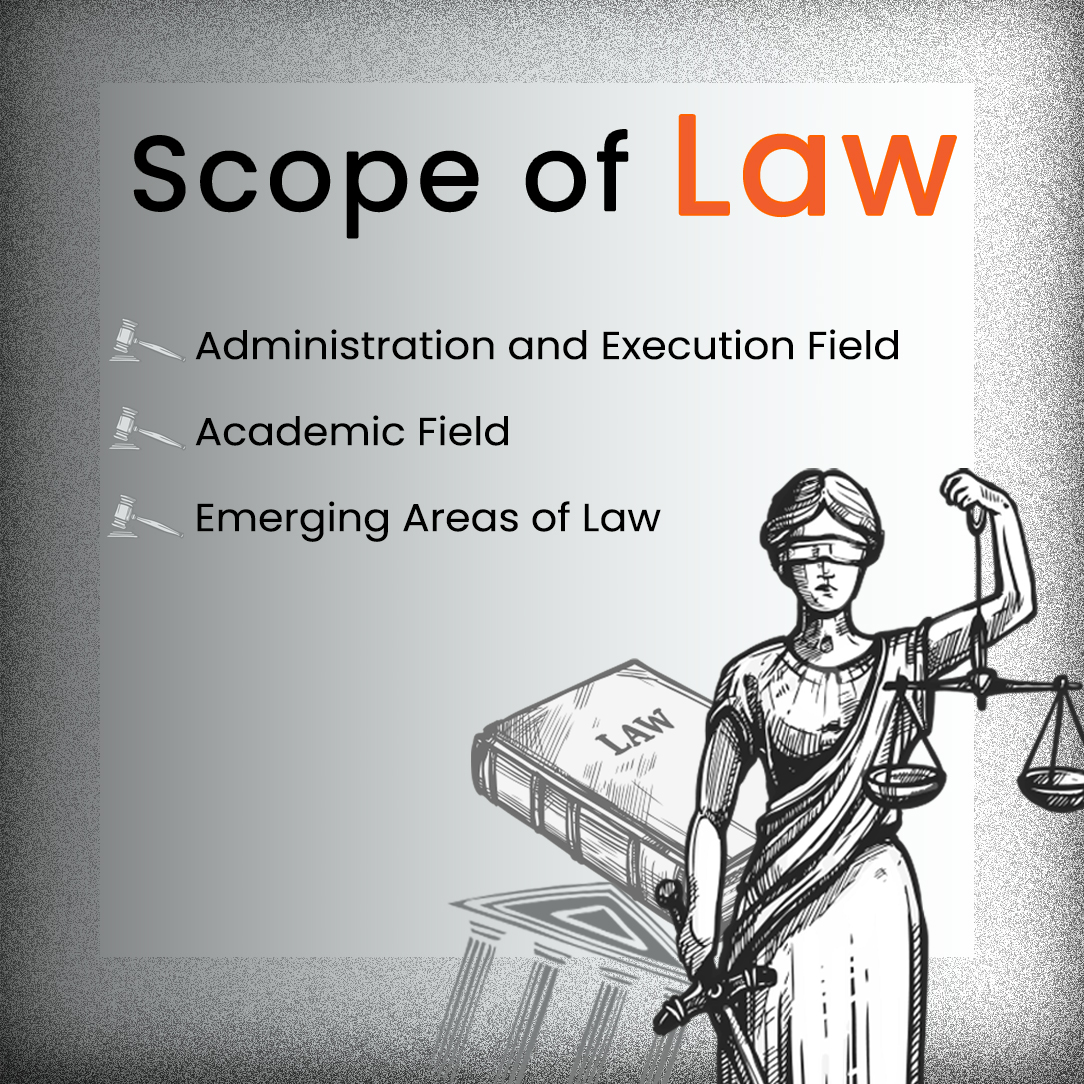 Administration and Execution Field
Law is a vast and diverse field that has developed over the centuries. This is why there is a lot of scope in the administration and execution field. 
Litigation Lawyer- A litigation lawyer represents the clients in the court of law before the judge. The responsibility of a litigation lawyer is to research legal issues, draft legal documents and present them before the court. Learning never stops for a litigation lawyer as they keep discovering new things throughout the job. However, the job demands a lot of time and concentration. 
Arbitrator- An arbitrator plays the role of an impartial person, who assists the parties in the dispute to arrive at the final harmonious consensus or settlement. The arbitrator is sometimes referred to as an umpire or referee. Arbitrators are usually used to resolve- family matters, employment disputes, international or cross-border commercial disputes etc. The arbitrators are exceptional and always well prepared for their cases. 
Judge- It is one of the most reputable fields in the law. Judges are the individuals who, after hearing the arguments on both sides, make the ultimate decision regarding what should be done next. Judges are the custodian of the constitution. The candidate must hold a law degree (LL.B) and clear the Judicial Service Examination and have practised as an Advocate, Attorney, or Petitioner in the High Court or Subordinate Courts. 
Corporate Lawyer- Concerning employment contracts and tax-related issues in an organization, the corporate lawyer assists businesses or companies. This one person is hired as a legal advisor or qualified advocate for multinational companies and corporations, either through placements or by application.
Law Officer- After completing graduation or post-graduation in law you can also apply for the post of Law officer in various government and non-governmental organizations. You can also prepare for IBPS, UPSC or State PSC exams. There are several competitive examinations such as RRB recruitments, Bank PO and LIC AAO in which a law graduate can appear and go into managerial positions.
Academic Field
An academician gets to research and considers interesting ways to teach law as a subject in classrooms, they can get inventive by coming up with activities for the students. In contrast to working in a firm, they benefit from a collegial environment and flexibility in the work schedule.
Law Professor- With time, more and more students want to study law. Due to the increasing demand for law professors, many colleges and universities have been established to provide brighter options. As a result, it would be a great idea for law academicians to choose a career path that leads to becoming professors.
Lecturer-  A lecturer is generally denoted as an academic expert who is hired to teach on a full or part-time basis. They can choose which part of their specialist area they want to teach and how they want to teach it. So, you can think of becoming that too…it would be a good option as well. 
Legal Researcher- Legal researchers are vital team members in private law firms, government agencies and the court system. They conduct case research and analysis to assist legal executives and attorneys. It also offers a great field of study for legal scholars. Making a career in the research field can be both challenging and exciting.
Legal Writer- Some students want to study law and some teachers want to teach. But who will produce the material to teach and study? For this, legal writers are required, who can produce content that will help teachers and students. So if you have studied law in the past, you can write about law, write a book, write for a legal magazine, and help others while also earning money.
Unique and Emerging Areas of Law
Law is a profession that is constantly evolving and changing along with technology, society and trends. The legal profession must develop and understand the new areas of law that can be peered into after earning a law degree. Future opportunities for lawyers and legal consultants in these specialized fields are very promising.
Entrepreneurship-  It is one of the most emerging career options in the field of law. Nowadays, many lawyers in the new generation prove themselves to be fantastic entrepreneurs because lawyers and entrepreneurs have myriad things in common, some of which are - analytical thought processes, strong research skills, leadership qualities and self-confidence. If you are too looking to venture into the field of entrepreneurship after pursuing law, you can chase your dream.
Journalism- There are many legal websites and many legal journalists who spread awareness to the citizens in the field of legal knowledge through their news. Being a journalist with a law degree will help in spreading legal awareness among the citizens of a country. A law graduate possesses all kinds of qualities that a journalist requires. So, becoming a journalist in the field of law is certainly a very exciting avenue to explore.
Media and Entertainment Law- With the rise of streaming platforms such as Netflix, Amazon Prime, and others, this niche market has found its calling. Authors, celebrities, and athletes are among the clients who require expertise in contracts, negotiations, and other areas. As a result, this space is ideal for those who want to pursue a glamorous career with celebrities.
The Foremost Step: Admission to Law College
Understanding the difference between interest and imposition is crucial for choosing the right career path you want to take. A career in law starts with enrolling in a top law college. As far as the law is concerned, the degree can be obtained right after the completion of class 12th through integrated programs like B.Com LL.B; B.A LLB or B.B.A LL.B as per your choice. An integrated law course enables you to pursue the traditional LL.B degree along with another graduation degree, under the ambit of one academic curriculum.
Teerthanker Mahaveer University, Moradabad is approved by UGC and has been awarded the prestigious "A" grade by NAAC. The College of Law and Legal studies is approved by the Bar Council of India and is reckoned as the best law college in Moradabad, Uttar Pradesh. The college crafts passionate legal professionals of tomorrow who can critically understand and evaluate the need of the hour, irrespective of the evolving challenges. The placement cell at the university provides the best placement assistance to the students. Explore the plethora of career avenues with a law degree at TMU's College of Law and Legal Studies.