Why is TMU's College of Physical Education the Best in UP?
We live in a world where people appreciate and value sports. Playing sports at schools and colleges can be seen as a recreational activity. But one can also make a career in this field as it has vast career opportunities. Sports excellence can be attainable with a strong foundation in physical education as it is one of the growing sectors of academic study and profession. It is also the most diverse subject as students study all kinds of topics right from philosophy to technology. Physical education also serves as a sound base for a variety of career prospects, ranging from chiropractic to teaching, recreation leadership to athletic coaching, and dance therapy to sports management.
But Where to Start a Career in Physical Education ?
Be rest assured, you have landed on the right place. You can start your successful journey with Teerthanker Mahaveer University, the best private university in Moradabad, Uttar Pradesh. Let us first see what programmes are available at TMU's College of Physical Education.
B.P.Ed. (Bachelor of Physical Education)- It is an undergraduate programme that focuses on the fundamental concepts of physical education including scientific applications, psychological and cultural considerations, evaluation methodologies, and leadership development in a variety of physical activities. One can pursue B.P.Ed. as a full-time or part-time course.
M.P.Ed. (Master of Physical Education)- It is a two-year duration postgraduate programme in physical education. Students get to learn about various sports and they can choose as per their field. It's a master's level program, it provides students with professional training and knowledge. The programme can open new doors of opportunities in the field of academics and research.
PGDYEd (Post Graduate Diploma in Yoga Education)- With the growing popularity of the holistic and alternative medical treatment, yoga has emerged as a viable employment option. Students who pursue PG Diploma in Yoga Education can work as yoga instructors in hospitals, spas, and wellness centres. Yoga teachers & researchers can also provide special aid to social, educational, and industrial entities.
Ph.D. in Physical Education-The Ph.D. in Physical Education programme is designed to prepare students for positions as college faculty in physical education and related fields. Apart from teaching, Ph.D holders can explore other career options in administration, planning, marketing, teachers training and research in Physical Education.
What is Special at TMU's College of Physical Education ?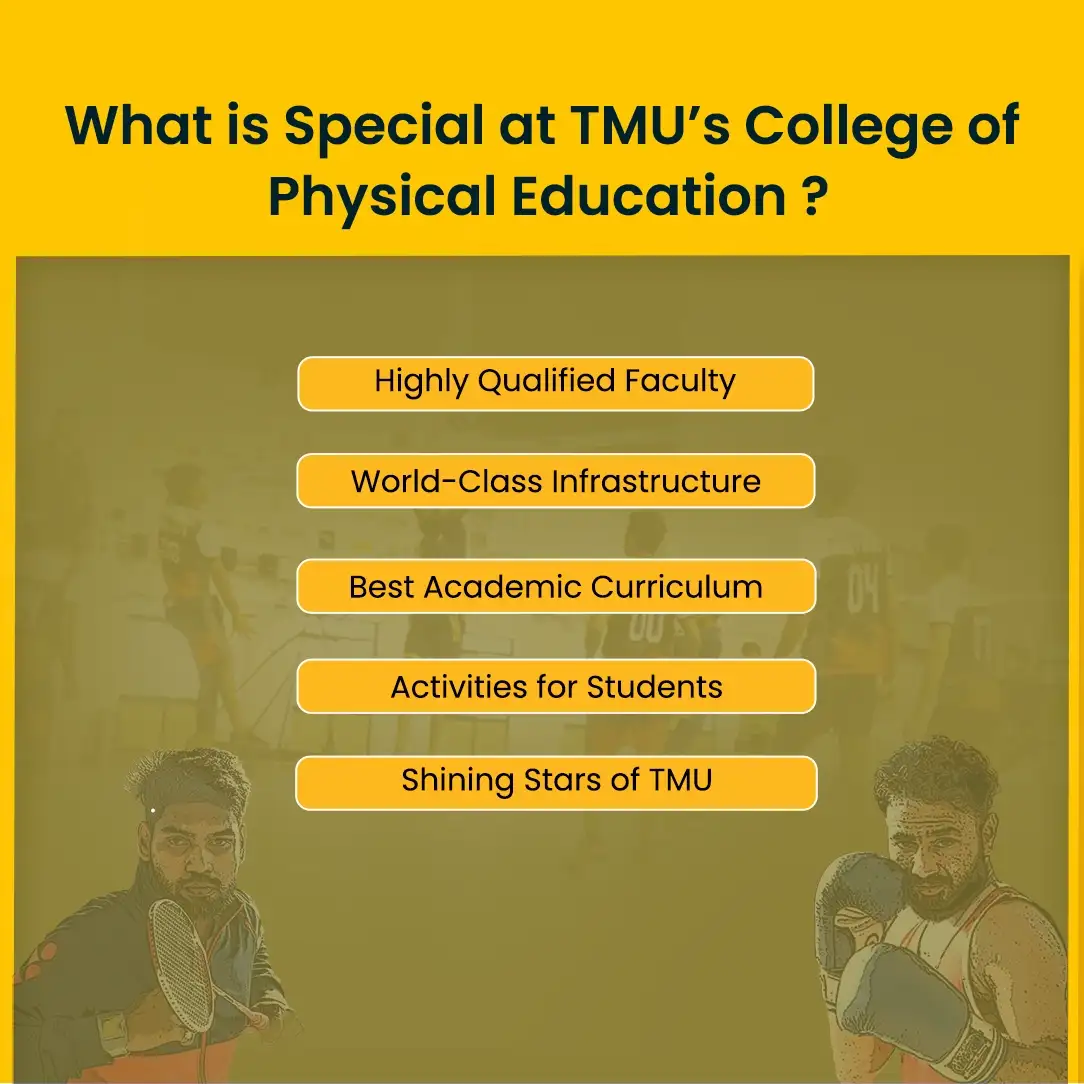 The following are a few strong reasons why students choose TMU's College of Physical Education as the best physical education college in Uttar Pradesh.
World-Class Infrastructure- The university has excellent sports

infrastructure

and facilities including a professional cricket ground with pavilion, a football ground and hockey field etc. Moreover, it has a state-of-the-art indoor sports complex with facilities for basketball, volleyball, badminton, tennis, squash, chess, wushu, yoga etc. Besides sports facilities, various sports labs, gymnasiums, fitness centres and physiotherapy clinics are available at the university. The university organises various

sports events

to provide an opportunity for students to learn and explore.
Highly Qualified Faculty- The TMU's College of Physical Education has experienced, qualified and dedicated faculty with years of experience who have been putting in their best efforts to provide adequate practical and theoretical knowledge to the students. The majority of them are alumni of world-renowned institutes and participated in numerous sports competitions. Guest lectures by experienced sports personalities for intellectual guidance provide opportunities to learn from their failures and achievements.
Best Academic Curriculum- The academic curriculum is designed to make students more effective and efficient in physical education. Training is provided in a variety of modern and traditional games. Classroom learning along with field and track practice, community tasks, seminars and workshops in a technology-aided environment all are part of the curriculum. As a result, students understand their responsibility of promoting the principles of fair play and sportsmanship. The university has also been accredited with the prestigious 'A' grade by

NAAC

for its best academic curriculum.
Activities for Students- Teerthanker Mahaveer University not only focuses on providing academic knowledge but also on the overall development of its students. Sports meet, nutrition & medical camps, summer camps and personality development programmes are organised for the students. The university also has TOSS Cricket Academy with BCCI-certified coaches and all the modern facilities. The university has tie-ups with various institutions for

internships

and placements. Excellent placement record makes it the best physical education college.
Shining Stars of TMU-  Students have participated in various international, national, state, regional and district sports events. Praveen Kumar, a PhD scholar at the College of Physical Education coached the wrestling team of India that won 16 medals at the U20 World Championship 2022 and got appreciation from PM Narendra Modi. Savita Gurang, one of the students of B.P.E.D has won a gold medal at the All India University Judo (Women) Championship. These are just a few names; the list is long!
Find Your Place Among the Best
The trend of sports is becoming broader at the global level. If you enjoy sports, have lots of energy, and are eager to learn about movement, then studying at Teerthanker Mahaveer University's College of Physical Education can be a fantastic career choice for you. The College of Physical Education also offers special scholarship schemes for sports students. Here, students are provided with ample scope and tremendous opportunities to become good human beings, good leaders as well as creative sports professionals. Bring out the best in you with the best physical education college.