Top High Paying Job Oriented Courses After 12th
In this fast-paced world where time flies rapidly, it is critical to carefully consider something that will pay you in the future. After completing the 12th grade, choosing the right course is extremely important since it will directly affect your career path. Whether you are from Science, Commerce or Arts stream, there are numerous options available to start a successful career.
Depending on your qualifications and interests, there are various top high-paying job-oriented courses available after the 12th grade. We will look at various courses in different domains so that you can choose the one that best suits your needs. So, examine your capabilities and consider the following job-oriented courses that you can pursue to begin your career: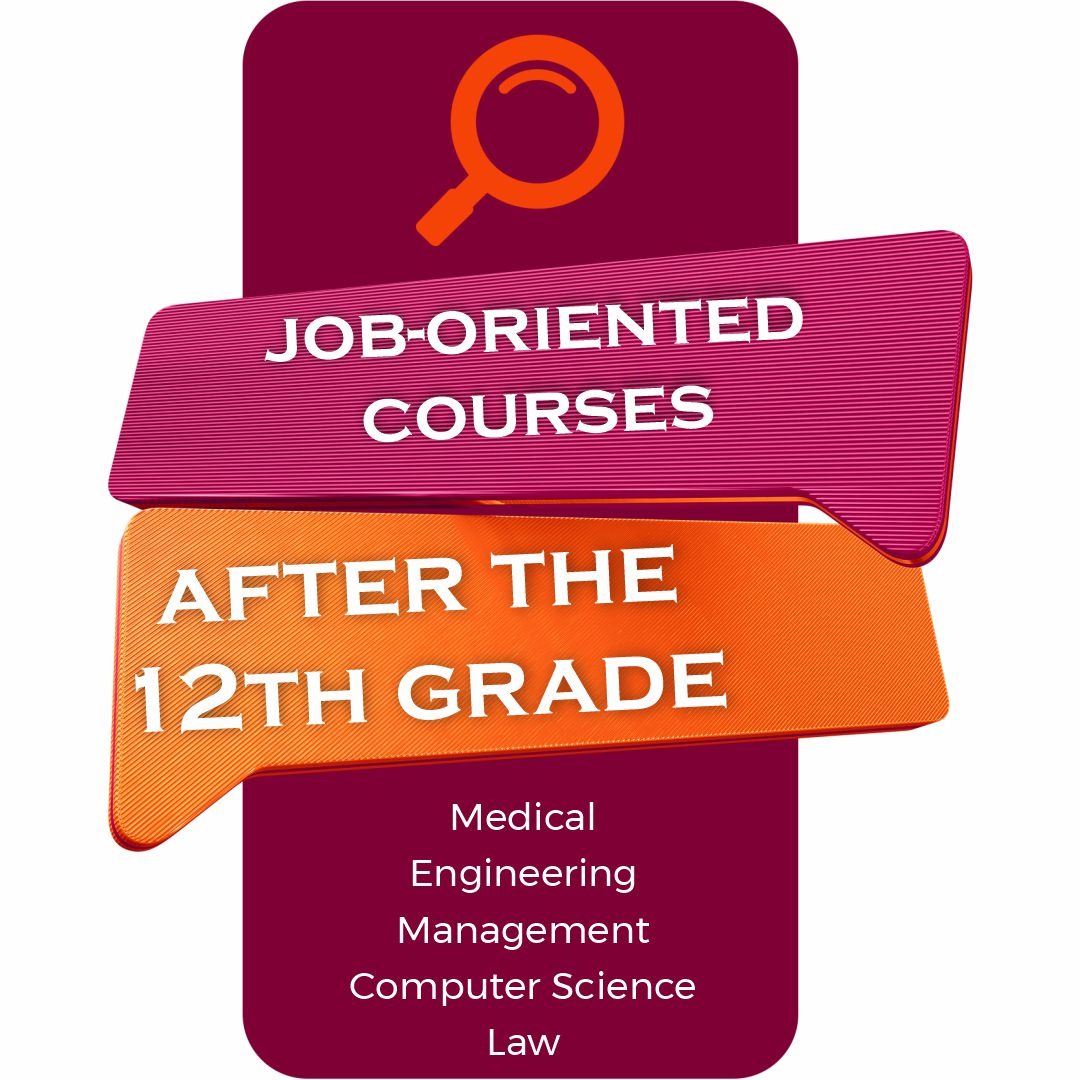 Medical Courses After 12th
A career in healthcare or medicine is rewarding as it grants you access to numerous opportunities, a greater earning potential and the immense satisfaction of serving society. Medical courses after Class 12th are the best career option in terms of growth and especially since the COVID-19 wave hit the country, the necessity to boost and strengthen this industry has been of vital significance for all.
Bachelor of Medicine and Bachelor of Surgery (MBBS)- Students who plan to become doctors must pursue the core course known as MBBS, which includes the study of clinical, paraclinical, and preclinical topics. This 4.5-year undergraduate programme includes a 1-year internship and students must pass the NEET examination, an all-India pre-medical entrance exam, to enrol in the top medical colleges in India.
Bachelor of Dental Surgery (BDS)- In India, dental surgery is a renowned profession. This course teaches students about dental issues, implants, and dental surgery. BDS courses are equivalent to MBBS in terms of length, qualifications, and admission procedures. All dentistry programmes are authorized by the Dental Council of India.
Bachelor in Pharmacy (B.Pharm.)- B. Pharm. is another popular medical course among students. This involves medications, drug testing, prescription drugs, etc. After completing this course, you can become a pharmacist. B.Pharm. can be undertaken immediately after class 12th and the best part is that it does not require a medical entrance test like NEET for admission. You can also pursue Pharm.D a doctorate-level programme right after 12th grade.
Engineering Courses After 12th
Engineering is a fascinating subject since it combines creative knowledge of science and math. Every nation in the world needs engineers. They design and implement solutions to everyday problems such as access to water & energy, secure transportation, and medication. If you pursue engineering, you will have the chance to visit and work in foreign nations with attractive pay and all the other advantages that come with it.
B.Tech. (Bachelor of Technology)- A successful engineering career can be started with this bachelor's degree in engineering. In India, undergraduate aspirants can apply for Bachelor in Technology (B.Tech.) degree programmes in various specialisations like civil, mechanical, electrical, etc. After completing four years of detailed research and hands-on experience you can pursue M.tech or MBA after B.Tech to excel in your career path.
Management Courses After 12th
Management is an interesting and lucrative career option. A job in management gives prestige, engaging work, and the fulfilment of interacting with others on a daily basis. If you have completed your intermediate degree in science, commerce, or even the humanities, you can pursue a management degree.
BBA (Bachelor of Business Administration)- This three-year degree programme teaches professional management and entrepreneurial skills. The average BBA salary ranges from ? 2,50,000 LPA to Rs 10,00,000 LPA. You can advance your career by pursuing an MBA. Some major specialisations such as MBA in Finance, MBA in HR, MBA in Marketing, MBA in Financial Markets etc.
Computer Science Courses After 12th
Computer science is the study of computing techniques and systems. There are a variety of computer science topics that you will study, including programming, databases, computer architecture, operating systems, algorithms, and data structures, among others, for creating computer hardware and software. Courses in computer science have modules that combine theory with the practical application of techniques.
B.Tech in computer science-This four-year undergraduate degree programme in computer science aims to provide learners with a detailed knowledge of computer technologies and functional operations, as well as programming, coding, Web development, and database design. Due to digitalization, the need for B.tech graduates is rising in the business market for the development of computer software and hardware
BCA (Bachelor of Computer Applications)-This is a three-year degree programme offered by many top universities in India. Students who are interested in learning about computers' basics and applications can choose a bachelor's degree in computer application. It is one of the most in-demand courses in the IT industry. Candidates from any discipline, such as Science, Arts, or Commerce are eligible for this programme.
B.Sc. in Animation- This is also a three-year undergraduate degree programme available in various top universities in India. The course curriculum combines traditional concepts with computer-generated animation, photoshop, flash, and software applications. The demand for experienced animators is growing as animation and graphics are becoming more and more popular. The eligibility criteria for this course is 10+2 in any stream.
Law Courses After 12th
Law is also one of the most popular career paths for students in India. A career in law is widely valued and guarantees financial security as well as professional dignity because of its social commitment and importance. A law degree will allow you to earn more and enjoy more job stability than in other sectors.
B.A-LL.B (Hons.)-The Bachelor of Arts and Bachelor of Legislative Law (B.A-LL.B) Honours is a professional law degree. It is a blend of art studies with all legal subjects including History, Sociology, Administrative Law, Criminology, Family Law and so on. The basic eligibility criteria for this integrated course is 10+2 in any stream.
B.Com-LL.B (Hons.)- The Bachelor of Commerce and Bachelor of Legislative Law (B.com-LL.B) Honour is also an integrated course in which aspirants are taught both commerce and law subjects through classroom instruction, case studies, and moot sessions. Students from commerce & science disciplines can apply to top law colleges in India.
B.B.A-LL.B (Hons.)-The Bachelor of Business Administration and Bachelor of Legislative Law (B.B.A-LL.B) Honours is an administrative law degree. It is best suited for students with a business background who wish to learn laws as well as corporate and business legislation. The eligibility criteria for this course is 10+2 in any stream.
Start Your Educational Journey Now!
Teerthanker Mahaveer University is an ideal place for pursuing all these high-paying job-oriented courses after 12th grade as it is one of the best private universities in Moradabad, U.P. The university has global alumni placed in various reputed institutions at high packages who are invited to campus to deliver guest lectures and for conducting campus recruitment drives.
The university has also been conferred various awards and recognitions, including NAAC 'A' Grade and 12B status from the University Grants Commission (UGC). The university features highly trained and knowledgeable faculty, modular learning labs, research facilities, and a great setting for extracurricular and sporting activities. Examine your strengths and choose the right course for you.