10 Top Reasons To Pick MBA After B.Tech
After completing a B.tech degree, do you want to improve your skills and broaden your knowledge base, as well as your career opportunities? And what better way to broaden your skill set and advance your career than with an MBA? Yes, A Master of Business Administration (MBA) has rapidly emerged as a favoured course mainly because of the demand for experts who possess leadership and managerial skills. It is particularly important if you want to move to a managerial position. Every year, lots of engineering graduates enrol for an MBA in top management universities of the world. Your application will undoubtedly stand out if you have an MBA with a B.Tech, which informs your employer of your expanded skill set.
How To Do an MBA After BTech?
Crack the MBA Entrance Exam- In the first step, students need to take common management exams like CAT, IIFT, NMAT, SNAP, CMAT, MAT, etc.
Picking the Specialization- MBA is not restricted to traditional management courses, there are plenty of specializations you can choose from.
Selecting the University- Check the top universities offering MBA programmes and check the eligibility criteria as well.
Personal Interviews- After the entrance exam, some universities invite applicants for a round of personal interviews.
Work Experience-Some universities prefer applicants with work experience. If you have two to three years of work experience, you will be given higher admission priority.
Let's Look at Some of the Top Reasons to Pursue an MBA after B.Tech-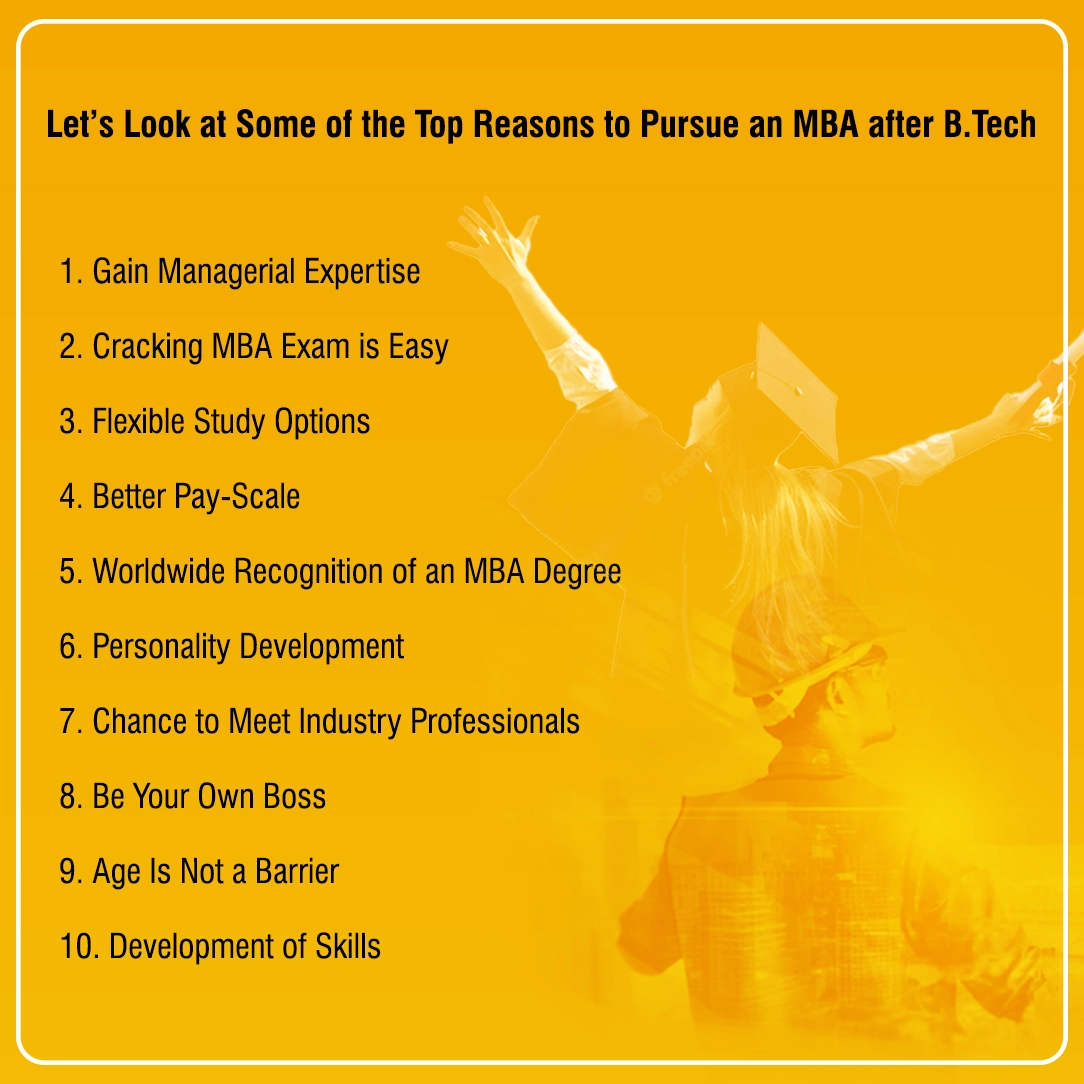 Gain Managerial Expertise - As a B.Tech graduate, you already have all of the technical skillfulness required for an Engineer. You have a solid foundation in mathematics and science as well as extensive domain knowledge of the specialisation you have selected in your B.Tech course. MBA programmes teach you about the role and significance of human factors in business. Thus, an MBA degree after B.Tech will provide you with both technical and business management skills and allow you to quickly climb the corporate ladder.
Cracking MBA Exam is Easy- It is considered that engineers can crack the MBA entrance exams (CAT, IIFT, NMAT, SNAP, TISSNET, CMAT, MAT, etc) more easily as compared to other students because the majority of the portion of these exams covers logical reasoning and quantitative aptitude. Engineering students study mathematics and logical subjects during their courses. Hence, have the upper hand in these subjects as compared to non-engineering students.
Flexible Study Options- There are many different ways to complete an MBA, including executive, part-time, distance learning, online, and full-time options. After accruing your BTech, you can engage in a full-time job while pursuing an MBA. You will learn more about your chosen specialisation and this degree will enhance your resume . Teerthanker Mahaveer University also offers an Executive MBA as well as an Evening MBA programme so that you can pursue your MBA degree without quitting your job.
Better Pay-Scale- An MBA shows that you are specialized in your domain. Candidates with both a B.Tech and an MBA have far more strong business knowledge and competency than those without. MBA provides ample employment opportunities along with lucrative paychecks and a chance for better growth. The average annual salary for an MBA graduate is around INR 6,00,000 or higher. In comparison, a BTech graduate earns around INR 5,00,000 per year on average.
Worldwide Recognition of an MBA Degree- The MBA is an internationally recognised degree and is regarded as one of the most immersive postgraduate degrees that can be easily combined with regular graduate courses. When thinking to pursue an MBA from a recognized college or university, consider the following disciplines:


Marketing
Human Resources
International Business
Finance
Supply Chain Management & Logistics
Hospitality
Handicraft Export Management

Personality Development- MBA programme focuses on developing soft skills, leadership skills, communication skills, presentation skills, and organizational skills of an individual. A university with a well-researched curriculum boosts your confidence and knowledge, allowing you to better understand business management. Project submissions during the programme will allow you to manage your time more effectively. A good curriculum will help you to improve your overall personality.
Chance to Meet Industry Professionals- An MBA degree allows you to work closely with industry professionals while working on a project, searching for an internship, or simply looking into job openings. Additionally, you can create a strong connection with aspiring business owners and managers. Industry events are an excellent opportunity for professional networking and learning new things.
Be Your Own Boss- Engineers create unique products and now wish to turn them into profitable business ventures. For this, they need both technical and management knowledge as well as in-depth understanding of market trends, customer needs and the consequences of the business world. An MBA could be the first step in the entrepreneurial journey. Being an entrepreneur offers you unlimited earning possibilities.
Age Is Not a Barrier- One of the advantages of pursuing an MBA after engineering is that there is no age restriction. If you are an engineering graduate and have taken a break to gain some professional experience, you can easily enrol in an MBA programme after a few years. Students seeking a career upgrade or a career change can use an MBA as a wildcard to enter the field of their choice.
Development of Skills- Pursuing an MBA can help you to develop managerial and leadership skills. You will learn effective styles of communication which will help you to build strong connections. It will also give you the tools to build successful teams and work with your peers effectively. MBA programmes aren't just for professionals who aspire to leadership positions- it is for future leaders.
Why is TMU the Right Choice for an MBA Degree?
Teerthanker Mahaveer University's TMIMT College of Management is a unique place for pursuing a Master of Business Administration (MBA). The college has received numerous awards and has consistently received high ratings in business school surveys. The College provides a setting for students and reputable MNCs to meet and discuss career opportunities.
Top MNCs and corporates periodically visit the campus, assisting the college in achieving outstanding placements. The Training & Placement Cell works all year to provide students with placement and training opportunities and it is also responsible for industry-academia relations, guest lectures, corporate training, seminars, conclaves and workshops for boosting corporate relations and ultimately helping students to find good placements. We know that you deserve the best education and we are here for you!