Why is TMU's College of Paramedical Sciences the Best in UP?
Paramedical sciences have emerged as a multidimensional sector with numerous prospects. Along with offering potential careers to the rising population, it has also helped in improving people's health during struggling times, when the world is battling the COVID-19 pandemic. Without paramedics, the healthcare sector would be thrown off balance. 
Paramedics can assist individuals in a variety of ways, from providing emergency medical care to getting patients to hospitals. They can also work in a variety of settings, such as ambulances, hospitals, and clinics. Paramedics can also enhance their careers by becoming certified medical assistants or physicians.
TMU's College of Paramedical Sciences is one of the best paramedical colleges in Moradabad, Uttar Pradesh to pursue a career in the paramedical domain. The college provides job-oriented and skill-development programmes that assist students in becoming effective healthcare professionals. The college has qualified educators, modern amenities, and excellent placement opportunities.
Programmes Offered at TMU's College of Paramedical Sciences
Programmes
Specializations
Diploma
Laboratory Technician
C.T. Scan Technician
Emergency & Trauma Care
Cardiology Technician
Dialysis Technician
M.R.I. Technician
O.T. Technician
Anesthesia & Critical Care Technician
Orthopedic & Plaster Technician
Audio & Speech Therapy Technician
Neonatal Care Technician
Interventional Radiology
X-Ray Technician
Optometry
B.Sc.
Radiological Imaging Techniques
Medical Laboratory Techniques
Forensic Sciences
Bachelor of Optometry
Optometry
M.Sc.
Radiological Imaging Techniques
Medical Laboratory Techniques
Forensic Sciences
Ph.D
Paramedical Sciences
What makes TMU's College of Paramedical Sciences, the best paramedical college in U.P?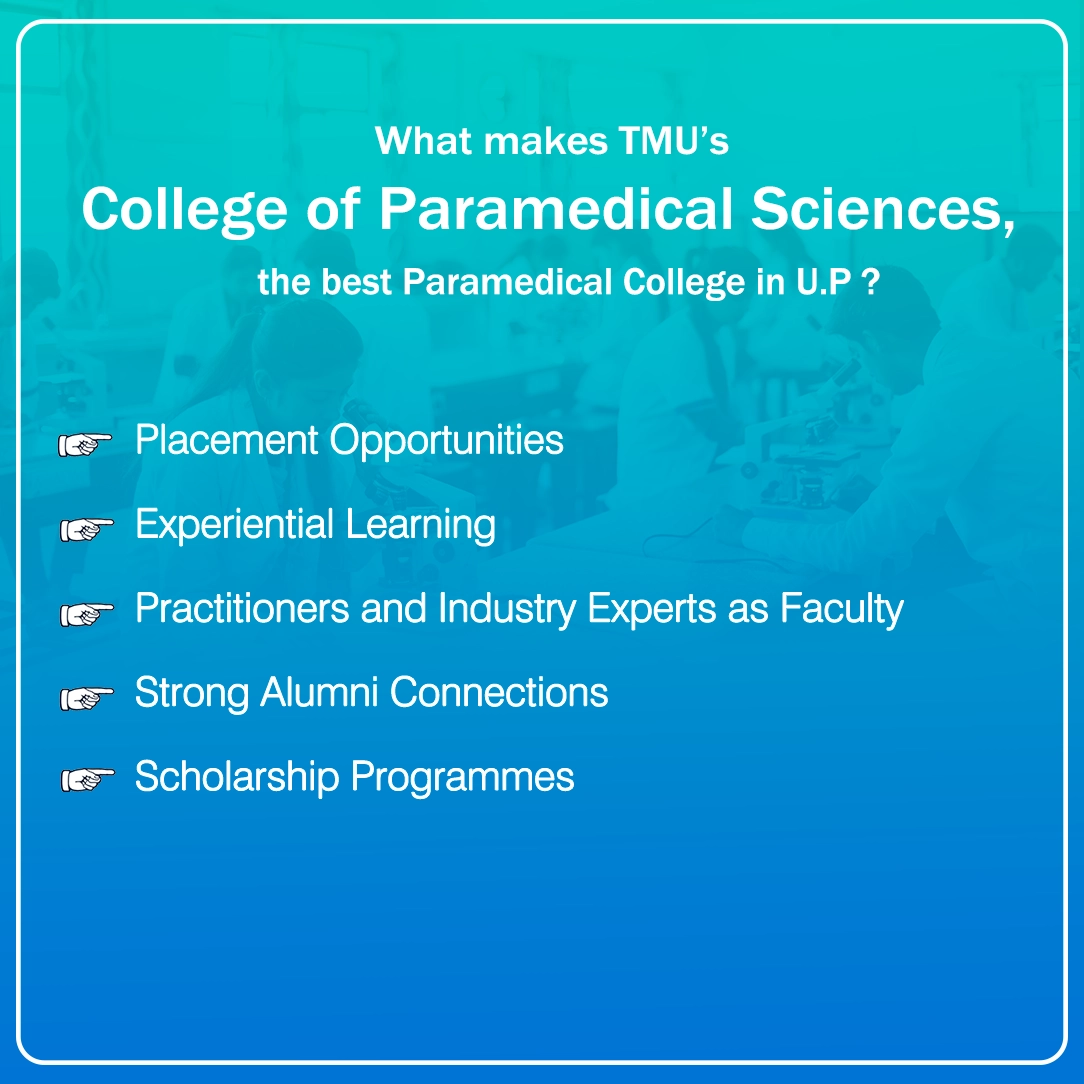 Placement Opportunities

The college provides students with the best placement and internship opportunities with renowned hospitals like Apollo, Max, Medanta, Yashoda, Fortis, Crest, Jupiter, Jaypee, Columbia Asia hospitals, etc. The Training and Placement cell provides various special assistance before students face the actual placement process, like employability enhancement sessions, personality development, and soft skill training.

Experiential Learning

Paramedical science is a technology-based subject that requires training on the latest tools and techniques. The College of Paramedical Sciences has modular learning labs with industry-standard equipment. The on-campus TMU hospital helps students to learn practical skills and provides a deeper understanding of the concept through the act of personal experience.

Practitioners and Industry Experts as Faculty

The faculty members at the College of Paramedical Sciences are trained at the best global institutions and come with a wide array of expertise and knowledge. All the faculty members are well-qualified and competent. Regular guest lectures by experienced industry professionals enable students to interact with experts in formal and informal settings.

Strong Alumni Connections

The alumni are valued and praised ambassadors of every institution. The university has a strong alumni network. The university organised alumni meetings and mentorship sessions for the students. Recently, the university invited Dr Sara Ansari, (Gold Medalist, 2011-15 batch) an alumna of the university, to give her insights about empathy in healthcare and to guide the students about their careers.

Scholarship Programmes

The university believes that deserving students should be appreciated and not be alienated from the mainstream of higher education. The university has provisions for scholarships and credentials to provide financial assistance to meritorious students. Talented sportspersons and Jain students are also given special scholarships. Use the scholarships and give wings to your dreams.

Opportunities are Waiting for You!

Teerthanker Mahaveer University (TMU) has also been awarded the prestigious 'A' Grade by NAAC. The university offers a fusion of environments, resources and support to maximize the quality of the student experience. It is a place where students are not just educated but inspired to become the best version of themselves. Explore the infinite opportunities of the paramedical domain with the best paramedical college.

Frequently Asked Questions

Diploma programmes last up to two years, whereas degree programmes last between two and four years.

Yes, the college provides the best placement assistance through career counselling, alumni talks, mock interviews, educational visits, workshops and on-campus recruitment.

One can get a decent-paying job right after completing a bachelor's degree. However, a master's degree may provide an additional benefit for job advancement.

No, the NEET is not necessary for a paramedical career. However, you have to pass the university's entrance tests.

Yes, a large number of paramedics are hired by the government for healthcare services. Apart from the government sector, private hospitals also have abundant job opportunities for paramedics.