Online courses you should take being a college freshman.
There are many benefits to taking online courses as a college freshman. For one, online courses can offer flexibility and convenience that may be especially helpful for students who are adjusting to college life. Online courses can also be a good way for students to explore different subjects and potential majors without committing to a full on-campus course load. Additionally, online courses can provide students with the opportunity to learn from instructors and experts from around the world, which can be a valuable and enriching experience. Overall, taking online courses as a college freshman can be a great way to broaden your educational horizons and gain valuable skills and knowledge.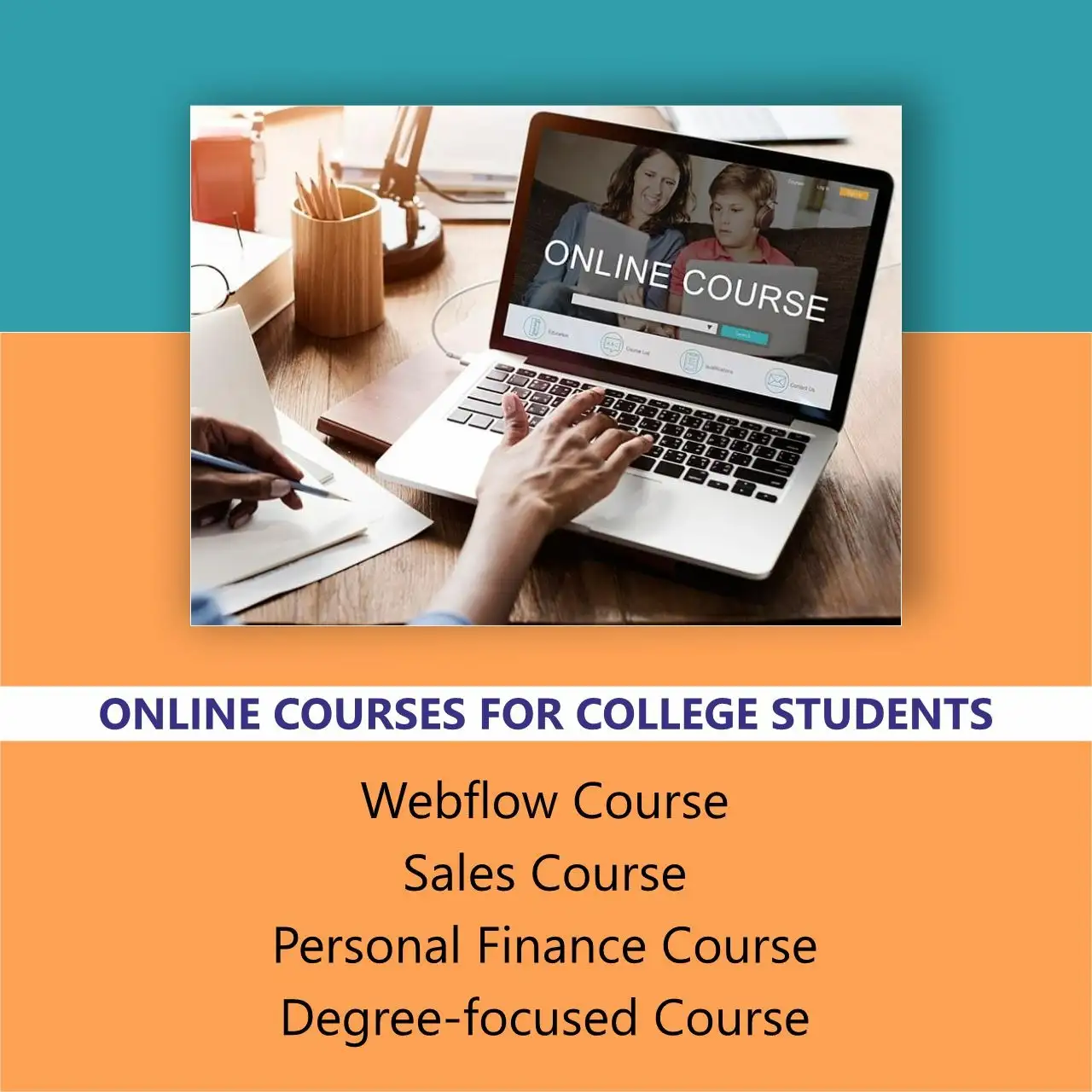 1. Webflow Course:
What is Webflow?
Webflow is a cloud-based web development platform that allows users to design, build, and launch dynamic, responsive websites without coding. It features an intuitive drag-and-drop visual editor, powerful CMS, hosting, and a range of other features. Webflow's goal is to make creating and maintaining a website easy, efficient, and accessible to everyone.
Why learn Webflow?
Learning Webflow will allow you to create powerful and dynamic websites without coding, these websites look professional and have great functionality. As a college freshman, you will encounter countless situations where you will need a campaign site, product landing page, or even a portfolio. Your Webflow skills will come in handy here! Even top companies have started to include Webflow as an important skill because of its ability to rapidly develop and deploy powerful sites.
Learn for free at Webflow University Official Website.
(https://university.webflow.com/)
If this Course interests you further and you wish to know more about the field and the web domain to take up degree-specific programmes, try checking out :Best Engineering College in UP, CCSIT.
2. Sales Course:
What is Sales?
Sales is an essential part of any business, as it is the process of generating revenue by selling products or services to customers. Without effective sales, a business will struggle to survive and grow. Effective sales also help to build customer relationships, which can lead to repeat business and increased customer loyalty.
Why learn Sales?
Even if you are not into sales, you are always selling yourself to recruiters, hiring managers, and potential business or a life partner. There are always sales happening in disguise. Learning sales can be beneficial for several reasons. For individuals, understanding sales can help to improve their communication and negotiation skills, which can be useful in many different career paths. It can also help you to understand customer needs and preferences, which can be useful in any job that involves interacting with customers.
Learn at:coursera.org, edx.org (explore according to your needs)
If Sales and marketing interest you check out one of the best B-schools: TMIMT College of Management
3. Personal Finance Course:
What is Personal Finance?
Personal finance refers to the financial planning and management of an individual's or household's money, including budgeting, saving, and investing. It involves understanding your current financial situation, setting financial goals, and making decisions about how to best use your money to achieve those goals. Personal finance is important because it can help you to manage your money effectively, achieve your financial goals, and prepare for the future. It can also help you to avoid financial difficulties and make smart decisions about spending and saving.
Why Learn Personal Finance?
As a young man/woman if you adapt the skill of managing money and making smart decisions it can put you years ahead in your life. Learning personal finance will not only help you save and invest smartly but also create control over impulsive shopping behavior which is a great thing to have when you are young.
Learn from: Ali Abdal, Ankur Warikoo (On Youtube)
Also Read:
https://www.tmu.ac.in/blog/smart-habits-for-college-students
4. Degree-focused Course:
What are Degree-focused Courses?
Depending upon what degree you are enrolled in, there are individual courses available for different subjects you might have included in your semester. These courses typically cover the core subjects and knowledge areas that are required for a particular degree program, and they may be taken as part of a college or university's undergraduate or graduate curriculum. Degree-focused courses can help students gain the skills and knowledge they need to succeed in their chosen field and prepare for careers after graduation.
Why Learn Degree-focused Courses?
Learning the same subject on a different platform will help you build a better understanding and will give you an edge over your classmates or peers because university or college syllabus does not update simultaneously with the latest information. Whereas, online courses on the same subject will equip you with the latest updates from the industry and a recent stack of information. For example, computer science subjects taught at university are more traditional and older, but a short computer science online course will discuss the latest trends, and technological updates. Blending your traditional subjects with a modern online approach will surely have a great impact on your level of skill and knowledge.
Learn at: coursera.org, (explore according to your degree)

And in case you wish to pursue an offline college and university for any suitable program in other streams, don't forget to check out what TMU (Best Private University in UP), a NAAC "A" graded University, offers.