Top Career Trends You Should Be Watching In 2023
Over the years, there has been a steady change in the nature of work. Technology advancements such as automation, digital platforms, and others are transforming both businesses and professions. The COVID-19 pandemic has changed everything. The use of digital tools has increased, and as a result, new opportunities and challenges are opening up. As you know, the new year is coming with new resolutions, so if you are planning to start your career or have the intent to change job or profession in the new year, the following are the top career trends you should be watching in 2023: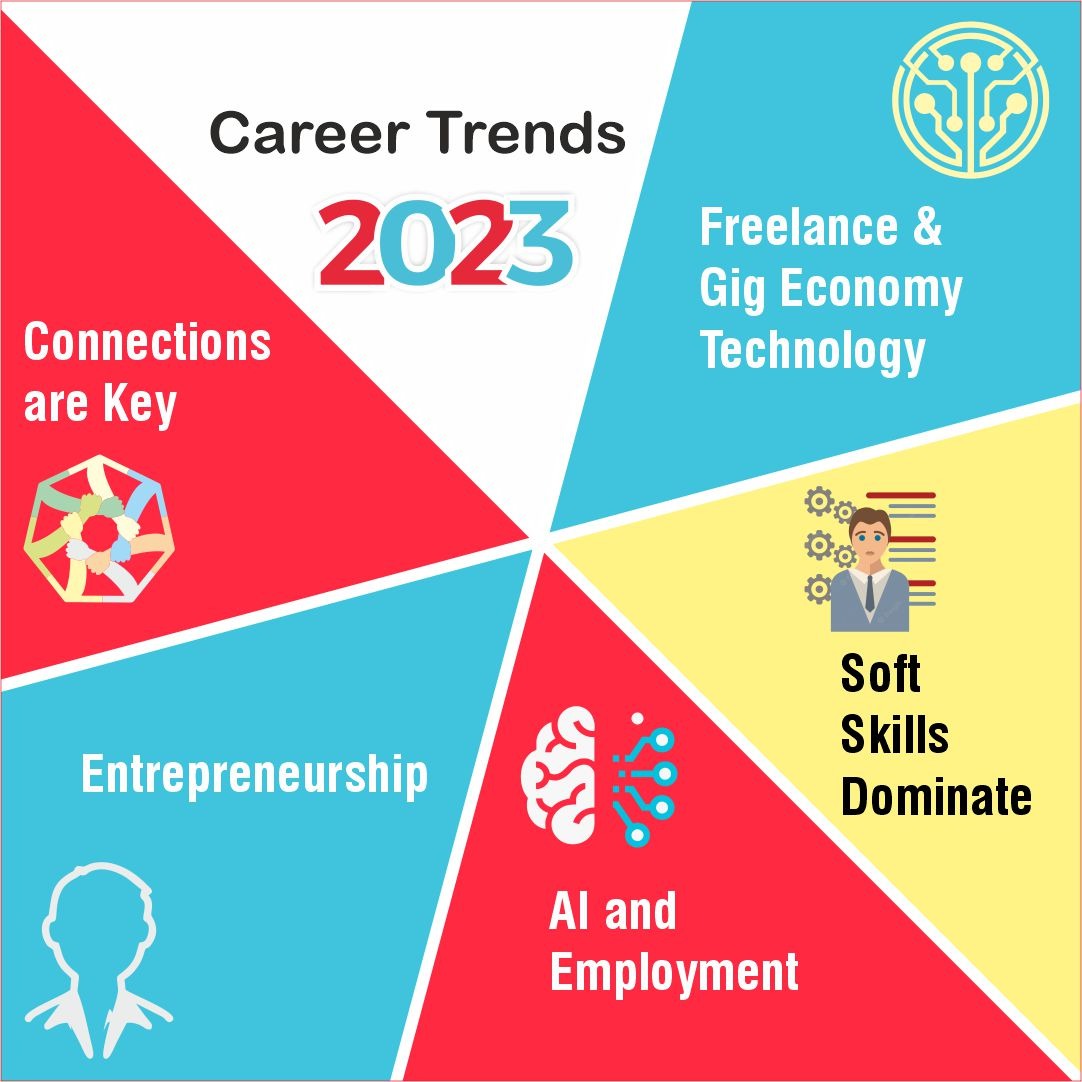 1. Soft Skills Dominate:
Traditionally, soft skills are seen as secondary to hard skills. However, the current regime is shifting. Nowadays, soft skills are becoming more important. Academic systems are also concentrating on soft skills. This change is caused due to automation, AI, and similar technologies making business situations complex, where hard skills are no longer enough. So, make sure you are showing off your soft skills on your resume. Here is a list of the top soft skills to get you started with that: 
Communication
Teamwork
Critical Thinking
Creativity
Time Management
Leadership
Curiosity
Continual learning
2. Connections are Key: Although networking may appear to be a bunch of small chats, the relationships you make might lead to significant opportunities. So, if you require career advice, industry knowledge or internship options then someone in your network can assist you. Social networking, referrals, and word-of-mouth are great sources of new opportunities for job seekers. If you are a recent college graduate or looking for job opportunities, here are some quick tips for you:
Get involved in campus activities
Develop your online presence eg. on Linkedin
Always open to new connections
Talk to your seniors
Attend networking events
Reach out to your alumni network
Take guidance from your campus career centre
3. Freelance and Gig Economy Technology: With the advancement of technology, businesses require a wide range of specialised and technological services, and it is difficult to meet all of their requirements with just one or a few personnel. As a result, they are looking for a temporary workforce to tackle certain difficulties. Technology is continuously improving, and freelancers are keeping up. Moreover, freelancing offers freedom and flexibility to establish one's routine and working style. If you are looking for such apps and websites, here is a list:
Fiverr
Upwork 
Freelancer.com
PeoplePerHour
Upstack
Mayple
4. Entrepreneurship: According to studies, young individuals are progressively choosing entrepreneurship as their first professional path. Today, developed economies are transitioning from being "managerial" economies to becoming "entrepreneurial" economies. India is witnessing the emergence of entrepreneurship like never before and is making sure that young people embrace it as a career option. From small business owners to self-employed individuals, there are several ways to begin your entrepreneurial journey. Being an entrepreneur, you will be creating jobs rather than seeking them. If you are passionate about learning and have a unique idea or concept to change the world, you can start your entrepreneurial journey. 
5. AI and Employment: The increasing adoption of robotic process automation, artificial intelligence (AI), and other technologies indicate that the role of humans in the economy will reduce, as a result wiping out millions of jobs in the process. But it's only a half-truth, as future jobs will remain safe and secure for those who are upgrading and reinventing themselves according to the changing environment and technological upgrades. Skilling, Upskilling, and Reskilling are important in this age of technological advancement. Look through some of the following online sites for free and low-cost methods to get started learning something new:
Conclusion:
Understanding these trends enables you to make judgments about areas where you have gaps and need to upskill in light of what is coming, as well as how to best position yourself. With an optimistic mindset and these workable insights, you can discover your career path. To understand these career trends deeply, you can also take assistance from Teerthanker Mahaveer University's Centre for Teaching Learning and Development (CTLD). Its training programmes will upgrade your social and professional skills which are required for future workspace.

For more such educational content about trends, opportunities, and careers, visit: TMU Blogs