Considering pursuing a PhD?
It might be the finest move you've ever made for your career development as doctoral degrees are key to stepping into the knowledge economy. It's a degree designed for people who want to know more in-depth about a certain subject. Getting a PhD is both a rewarding and challenging experience. Being a PhD student means being your own boss, at least in terms of scheduling and managing your research project.
To be your own boss sounds good, but it can also be stressful if you are not prepared for the responsibilities that come with it. You must ensure that you are well prepared before beginning your course by determining what sort of work routine allows you to be productive and inspired. In summary, you must learn to be your boss and stay motivated!
Applying for a PhD
A Master's degree in the subject of study is required for admission to a PhD programme in India. To be eligible for the applicationprocedure, students must have an overall grade point average of at least 55%. Candidates must also be fluent in the language required for their course.
Every year, top PhD universities announce the total number of seats in their respective PhD programmes. These universities consider UGC-NET results or conduct their own admission test, interviews, and review research proposals to determine the best student for the position. In India, there is no age limit for getting a PhD. The majority of PhD programmes last three to five years. Therefore, it is crucial to think about one's career goals.
Let's take a deep dive and discuss the top 5 useful tips to prepare for your PhD: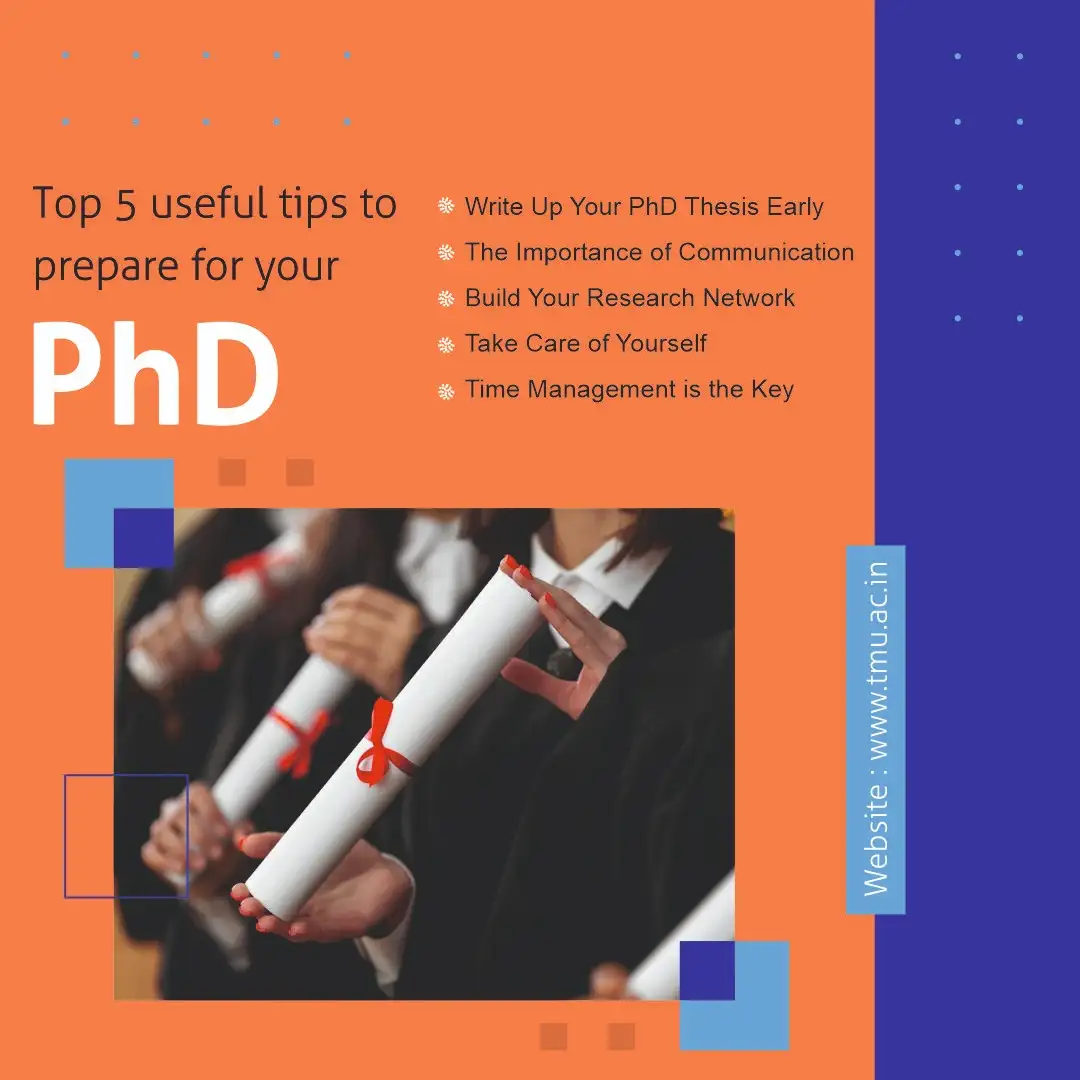 Write Up Your PhD Thesis Early: Many candidates referred to the last year of the PhD programme as the "writing-up year." But it's a misunderstanding that increases anxiety and stress in the journey of a PhD candidate. The best course of action is to begin writing your PhD thesis as soon as you can. You can even start working on the introduction part before starting your PhD journey.

Spend your leisure time writing, even if it's just a few lines. Thus, you can stay ahead of your peers to edit or update your thesis. Moreover, you can also add points to your thesis or change some existing elements without getting stressed. It's easier than ever by using word-processing applications (Wordpad, Microsoft Word, Notepad, etc) on your tablet or smartphone. Practice writing whenever, and wherever to utilise your time wisely.
The Importance of Communication: While pursuing a PhD, communication is the key. You can talk to other students and researchers in different departments, at different institutions, and elsewhere. Be comfortable and assured while speaking; you never know how or when it may be helpful. However, the most crucial person with whom you must communicate is your PhD supervisor.

You may be the sole PhD student under your supervisor or one of 10. In any case, you will need to adjust with your supervisor, and being in touch with them is the best way to do so. A successful working connection with your supervisor will not only result in friendly discussions but also in a professional relationship that will continue for the rest of your career.
Build Your Research Network: Many PhD students believe that networking is solely useful in the corporate sector, which is not true. Academic networking is essential for all PhD students who want to move their careers forward. During your studies, you will be attending research conferences and other social gatherings. Make the most out of conferences using follow-up emails. So, when you get back from a conference, send a quick message to the new people you met. Over time, they can become an integral part of your network.

Academic networking allows you to publish, collaborate, enhance your CV, and even explore post-academic employment options. It is also a good idea to join research-related social media sites, chat with people, and show an interest in what they do. You can register for ORCID, ResearchGate, LinkedIn, Academia.edu  etc. These sites are excellent for developing your researcher profile and collating everything you want to publish.
Take Care of Yourself: A PhD degree is difficult to get. There will be days, weeks, and even months when nothing seems to work. It is important to take care of oneself. Managing work-life balance is important for keeping things in perspective. You may have to work long hours and say no to certain things but you should find time for yourself to relax. Don't ignore your friends and family, and take time for your interests and hobbies.

You can also read the personal experiences of previous PhD students or you can talk to your friends who have already done a PhD to understand what it requires to be a successful PhD student and prepare from the start of your programme. Get out that old sketchbook you left in the groove. You can also rekindle interests you haven't had time to pursue in a long time.
Time Management is the Key: Effective time management is crucial for a researcher to do a stress-free study. Set priorities for your responsibilities, and then organise your day accordingly. Avoid putting too much pressure on yourself by trying to accomplish too much in one day. You'll be able to stay on top of your duties with the use of online project management tools like Asana, Trello, ProofHub, etc.

Many of the prospective PhD students consider the idea of combining a PhD degree with a job. If you are also one of them, definitely you will be facing a lot of difficulties but proper time management will keep you concentrated on thinking and finding new ideas for your PhD thesis and will increase your chances of being a top PhD student.
Ready to apply for your PhD programme?
After considering all aspects the only thing left is to ultimately prepare all of the documentation and apply for your PhD degree. Teerthanker Mahaveer University's PhD programmes are designed to impart knowledge through lectures, seminars, and thesis work. It will assist you in consolidating concepts as well as exploring the possibilities in your respective field of study.
For the current academic year, the university is offering doctoral programmes in Computer Applications, Management, Physical Education, Applied Sciences (PCM), Fine Arts, Law, Engineering, Pharmacy, Physiotherapy, Nursing, Paramedical Sciences, Jainology, and various specialisations of Dental & Medical Sciences.
There may be a few difficulties along the way, but the end result is all that matters. All you have to do is keep this in mind and remain energised and joyful. If you're ready to venture into a challenging, focused, and meaningful experience, we invite you to explore the opportunities in our PhD Programmes. To know more about the disciplines and admission procedure, visit, https://www.tmu.ac.in/tmu/phd-overview