Why is TMU's College of Fine Arts the best in UP?
According to the legendary Picasso, "Art Washes Away From The Soul, The Dust Of Everyday Life."
If you resonate with Picasso and find art appealing, consider studying Fine Arts at the professional level. Become proficient in sculpturing, creative painting, printmaking, murals, illustrations, visualisation, photography, applied art, and dig multiple interesting subjects.
Begin your professional journey by enrolling in the leading fine arts colleges and pursuing a Bachelor of Fine Arts (BFA) and, subsequently, Masters of Fine Arts (MFA). To get the degree, one needs to put in a lot of effort, network, and creativity. Yet, with expert advice and encouragement, you can open doors to a myriad of fascinating experiences you never imagined.
Teerthanker Mahaveer College of Fine Arts is the best spot to spend the next few years of your life if you are an aspiring fine artist who intends to grow personally and make a difference in the world. Let's explore what makes Teerthanker Mahaveer College of Fine Arts the Best and ideal choice for you!
Also Read: How to use LinkedIn to find job opportunities?
What makes TMU's College of Fine Arts the Best in UP?
Several factors make TMU's College of Fine Arts the best in the UP. To prove that we are a leading destination for Fine Arts, we have listed a few of them below.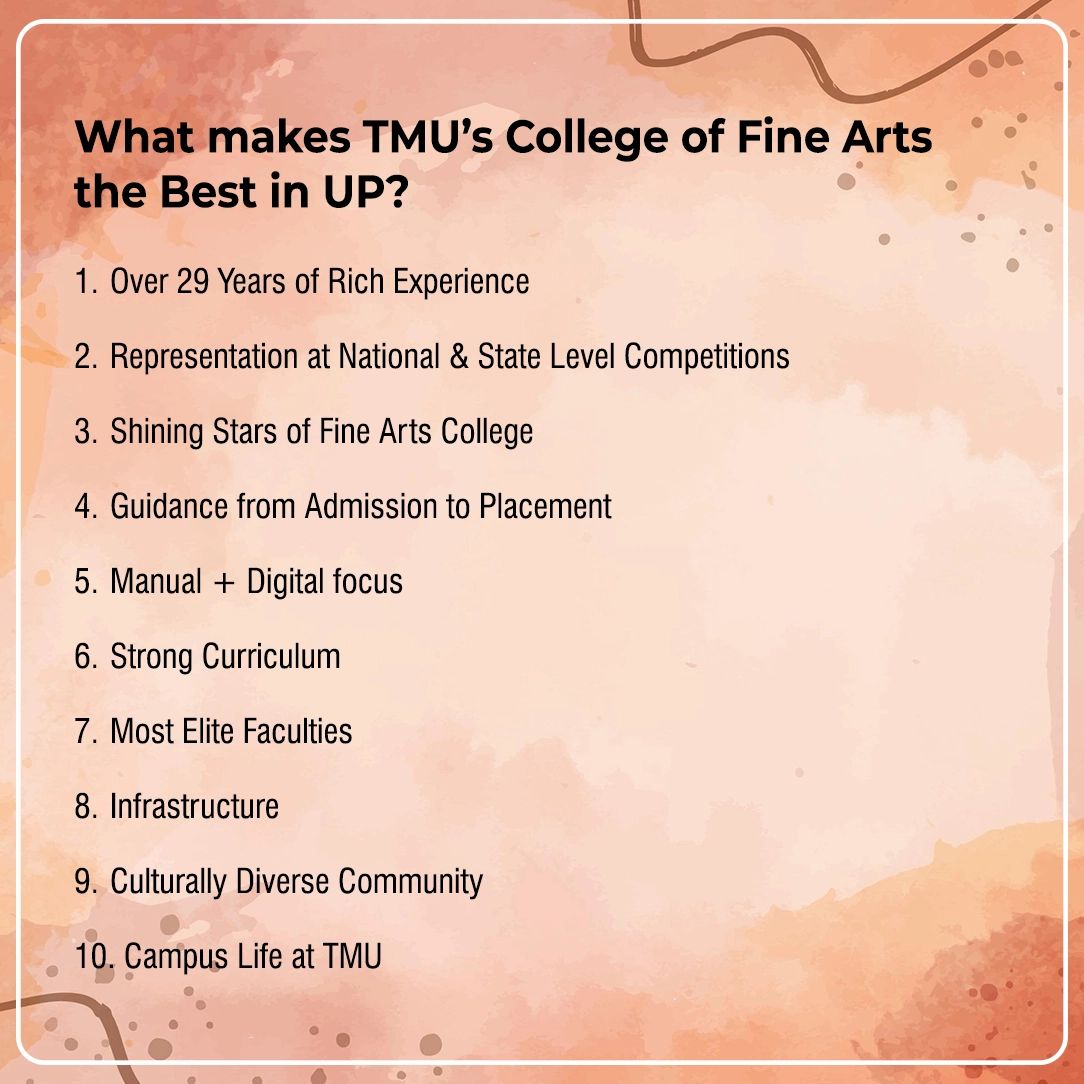 1. Over 29 Years of Rich Experience
Ravindra Dev, the head of the department (HOD), shares his 29 years of rich experience in fine arts, majoring in WASH Painting. Being an artist, he helps students in guiding techniques ranging from painting, sculpture, jewellery making, and printmaking, while imparting the business savvy skills necessary to make a living.
Under his guidance, you'll master the contemporary along with the modern traditions and be encouraged to let your imagination take flight. Learn from the man who is not just a teacher and artist, but an institution in himself.
2. Representation at National & State Level Competitions
A National level competition is being organised on the eve of World Design Day by MIC-IIC BHU. Our two students secured the first position while another two got second prizes. Besides, the fine arts students of TMU represented at the Second All India Applied Arts Exhibition held in Lucknow, in which 3 students showcased their artwork. Numerous students attend such competitions, and they win accolades for their efforts.
3. Shining Stars of Fine Arts College
Brands like McCann, FCB Ulka, Ogilvy, and TPW, among others, have our shining stars working for them. Moreover, with the guidance of the faculty members, students tend to pick consultancy projects with high budgets. One such student is Pawan Tiwari, who took a freelancing project of 10 LPA. While another student took an advertising promotion of Harsahaimal Shiamlal Jewellers, Moradabad. Several other renowned brands approach the college of fine arts for connecting with talented students and providing them with creative opportunities. The class regards students from across the world.
4. Guidance from Admission to Placement
TMU offers a personalised, supportive environment from admissions to placements. Even in the classroom, students are prepared as per their interests. Discover your voice via academics, electives, internships, and interactions with visiting artists. Everything is right here.
5. Manual + Digital focus
From the scriptures to social media designing, a mural to UI/UX designing, tattoo making to website designing, and animation to others, the college of fine arts focuses on diversified areas. Besides, in applied arts, diverse software is being taught, including Corel draw, illustrator, Adobe Photoshop, after effects, etc. Students grab several skills depending on their interest, he/she chooses the field. The college gives equal weightage to manual and digital arts.
Explore: Types of Internships to consider during College
6. Strong Curriculum
Graduates leave the academy's fine art school with a portfolio that has collectors and galleries clamouring for their work. You will learn how to find apprenticeships and representatives, and gain exposure in the art world through our expert instructors and the opportunity to showcase your work at exhibits. The curriculum has recently been applauded by the NAAC team.
7. Most Elite Faculties
The Faculty at TMU's College of Fine Arts evince vast experience and academic brilliance, making them suitable for guiding students to a better future. Each of the faculty members embodies world-class fine arts institutions. From Ravindra Dev to Ankur Dev, Pradeep Saini to the others, the instructors are passionate, committed and determined about providing the finest learning experience attainable through talks and exchanging experiences, thus rousing students to augment their creativity.
8. Infrastructure
The fine arts college is kitted with advanced infrastructure such as spacious painting studios, 2D Animation Lab, Hi-Tech Computer Lab, Computer Lab, Printmaking Labs, State-of-the-art Library, and so on. As a result, students have access to these amenities promptly and as needed.
9. Culturally Diverse Community
Successful students embrace a diverse community by gaining an understanding of others' viewpoints. Harbouring students from all Indian states and over 5 countries, we encourage encounters with the multicultural approach in academics and campus activities, adding a dimension to your learning process. Culturally diverse communities also provide benefits for society at large, such as increased creativity and innovation.
10. Campus Life at TMU
TMU has nearly 10,000 students from all over India and overseas, a state-of-the-art auditorium, an international standard indoor complex, and a pavilion. There's always something happening at the TMU campus. Besides, gymnasium, central library, food court, shopping complex, multi-speciality hospital, banks, and accommodations, among others.
Our distinct humanities-centred educational approach will offer you the global perspectives required for success in your desired career. The atmosphere of the University is strengthened by holding conferences, seminars, workshops, exhibitions, social meets and lectures by eminent expert artists etc. Campus life is enlightening, engaging, and stimulating.
Must Read: Video Resumes and Job Opportunities
Join an Art-Infused Place
Seems like you are convinced that Teerthanker Mahaveer College of Fine Arts is the best fine arts college in UP. Join an art-infused college. Here, students are prepared to take on the role of an architect who observes, identifies, creates, evaluates, and designs. The subject enjoys great popularity and more meritorious, skilled students wish to join. TMU empowers students for meaningful creative vocations by nurturing their intellectual capability to create art, hone skills, alter perspectives, and think broadly. One can pursue Bachelors of Fine Arts (BFA) later on and obtain a Master of Fine Arts (MFA) degree. You will be given the freedom to explore different types of arts to follow your interests and to shape your own degree.
Be a part of a culturally rich and diverse creative community where learning and teaching extend from the classroom to a professional network of leading art professionals and through participation in national level exhibitions, competitions and other events.
Teerthanker Mahaveer College of Fine Arts is a creative space where imagination meets ingenuity. Discover your creative sparks. Visit and join TMU.