Top 5 Reasons to Study Computer Science & IT
Computer Science degrees are among the most popular academic programmes in the world. It is a dynamic and rapidly growing industry that has become an essential component of the world we live in today. A degree in this discipline will equip you with emerging technology and a deep understanding of skills. These skills and experiences will enable you to create cutting-edge solutions to today's problems. Computer science degrees can lead to a wide range of interesting and rewarding careers in a multitude of sectors.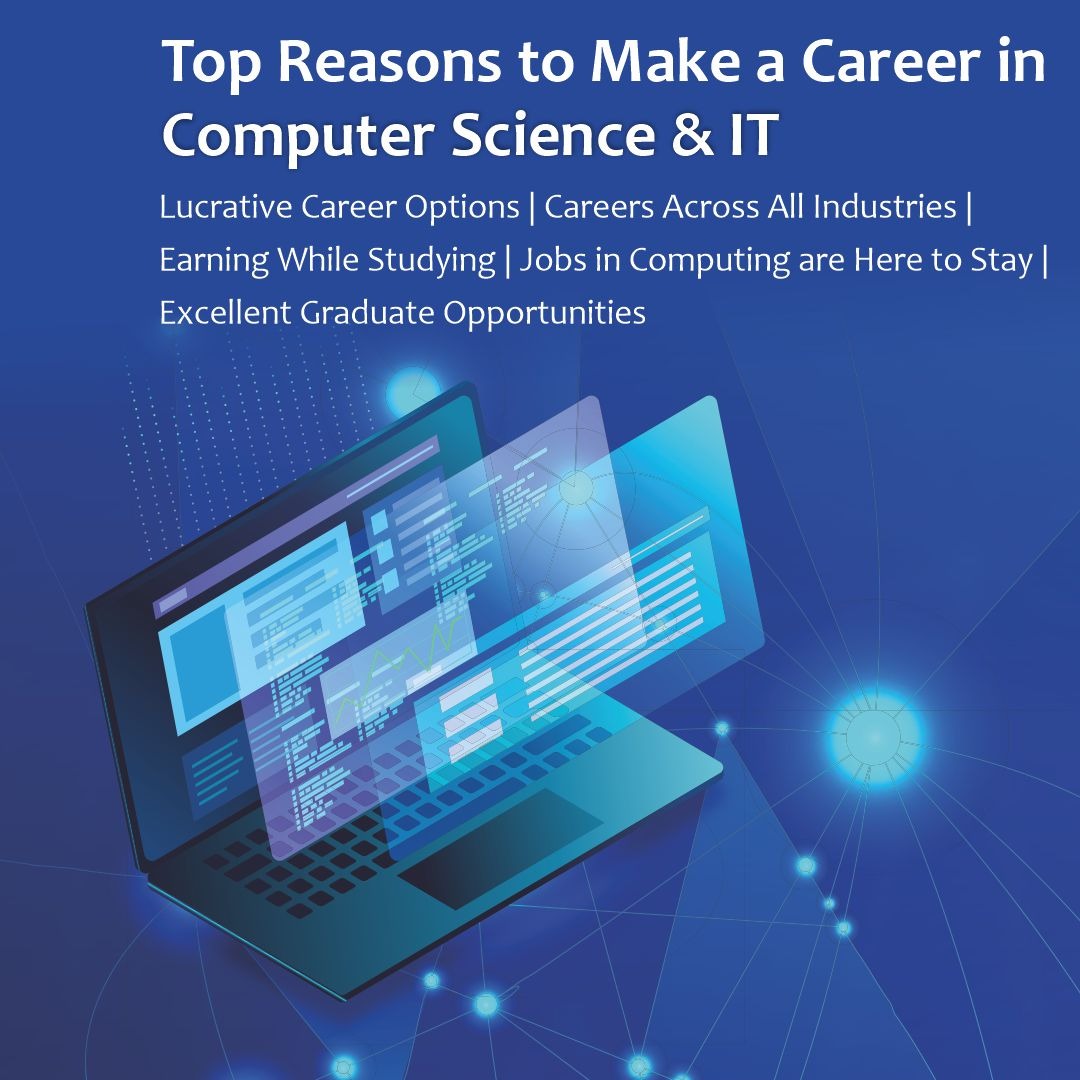 Top Reasons to Make a Career in Computer Science & IT
Lucrative Career Options:Because of the ongoing evolution of new technologies, there is a perpetual need for smart tech minds that can design, build, and maintain both software and hardware. Computing is one of the highest-paying and most satisfying professions. After completing your computer science degree, you can work as an IT consultant, games developer, cybersecurity consultant, data analyst, forensic computer analyst, web developer, etc.
Careers Across All Industries:Computer science professionals play an important role in moulding our future and bringing advantages to all parts of society. Computer Science jobs are available in all fields, including education, health, finance, trading, science, engineering, and transportation. Software is being developed for each field, and computer professionals are charged with streamlining the work in each of them.
Earning While Studying:Computer Science graduates have an advantage over others, as they can earn while they study. While pursuing your degree, you can enrol in internships or work as a freelancer. In this way, you will be able to get some hands-on experience plus some extra money. Later, you can highlight those experiences on your resume to impress your future employer. Such mentions can significantly boost your profile and make a favourable impression on the employer.
Jobs in Computing are Here to Stay:Computing jobs are always here to stay, regardless of where you are located. There are numerous global career opportunities available. This helps aspirants to gain the necessary skills and a greater platform to showcase their abilities and advance up on the career ladder. Moreover, numerous options for start-ups and freelance work are also available that anyone with a computer science background can oversee.
Excellent Graduate Opportunities:Thousands of new jobs are expected in the coming years as the job market for computer science graduates is constantly expanding, and these students have a better chance of getting a job. Another good way to land a leading position with an industry giant is through campus placement. If you enrol in the best computer science college you can be easily placed at top companies with attractive packages.
Also Read: Top Career Trends You Should Be Watching In 2023
Computer Science Offers a Wide Range of Programmes:
Studying computer science at a renowned college comes with a scope of opportunities for the students such as campus placement, industry-academic interaction, industry visits, guest lectures, alumni mentorship and much more. Teerthanker Mahaveer University's College of Computing Sciences & IT is the top computer science college in U.P. that offers both UG and PG courses in computer science and engineering. The college has various collaborations with top industry giants like i-Nurture, IBM, TCS etc.
Undergraduate Programmes:
B.tech in various specializations
Artificial intelligence, Machine learning, Deep learning
Data Science & Cloud Technology and Information Security (In collaboration with i- Nurture)
Application Development using Cloud & Analytics Platform (In collaboration with IBM)
Data Science (In collaboration with TCS iON)
BCA in various specializations
Mobile Applications & Web Technologies
Cloud Technology & Information Security
Big Data & Visualisation
Information Security
Internet Technologies
Digital Marketing
B.Sc in Cognitive Science
B.Sc. (Hons.) in Computer Science
B.Sc. in Animation
Postgraduate Programmes:
M.tech in Computer Science & Engineering
MCA in various specializations
Software development
Machine Learning
Network Technologies
Data Science & Analytics
Advance Technologies
Doctoral Programme:
Ph.D in Computer Applications
Ready to Start Your Computer Science Education?
TMU's College of Computing Sciences & IT is the top computer science college in U.P and has secured 4-star rating from Institution Innovation Council. The college is also listed in the brand performance (Private) in the technical category of ARIIA Ranking. The college provides a medium where students and reputed MNCs can come together and explore employment opportunities. The industry association is the main highlight of the programmes offered, including regular interaction with industry experts in the specialized environment. Wait no more, start your journey today!