Important Questions To Ask When Finalising Your College List
Choosing the right college may be a tedious process when considering the numerous criteria that you have to take into account. Choosing a university just because it's prestigious or because your parents want you to go there is outdated now. Instead, you prefer to choose a college that you will be happy about and that will help you achieve your dreams. Therefore, a wise strategy that is well-thought-out and focused may make choosing the perfect institution less onerous, according to experts, who advise prospective students to assess their opportunities before deciding where to enrol.
To be a part of the famous tradition, start by asking the right questions, first to yourself and later to your college tour professional. No matter what your priorities are, it is pertinent to do your research and ask lots of questions. Also, to make the most of your college visits, prepare thoughtful questions to ask on a college tour.
Moreover, by keeping your eyes and ears open, you can gain a strong sense of the best college and its culture, far beyond the facts and figures on its website.
When choosing a college, there are umpteen factors to consider, so better get a list of them. Relax, we have got you covered. This guide will provide you with a comprehensive college visit checklist of questions for your tour guide, current students, admissions officers, financial aid officers, and last, for you. So, get a printout of it or save it.
But first, let's get started!
Also Read: 5th CONVOCATION 2021 | Teerthanker Mahaveer University
Questions to Ask When Choosing a College
Asking these factual questions is imperative. Here's a compiled list of 30 questions that cover the most crucial things you need to know about college to ensure you're keeping on track and not worrying about unneeded stuff. Keep these in mind when you assess a college's fit and vibe, as well as how it may best suit your educational and professional aspirations. Let's check the question!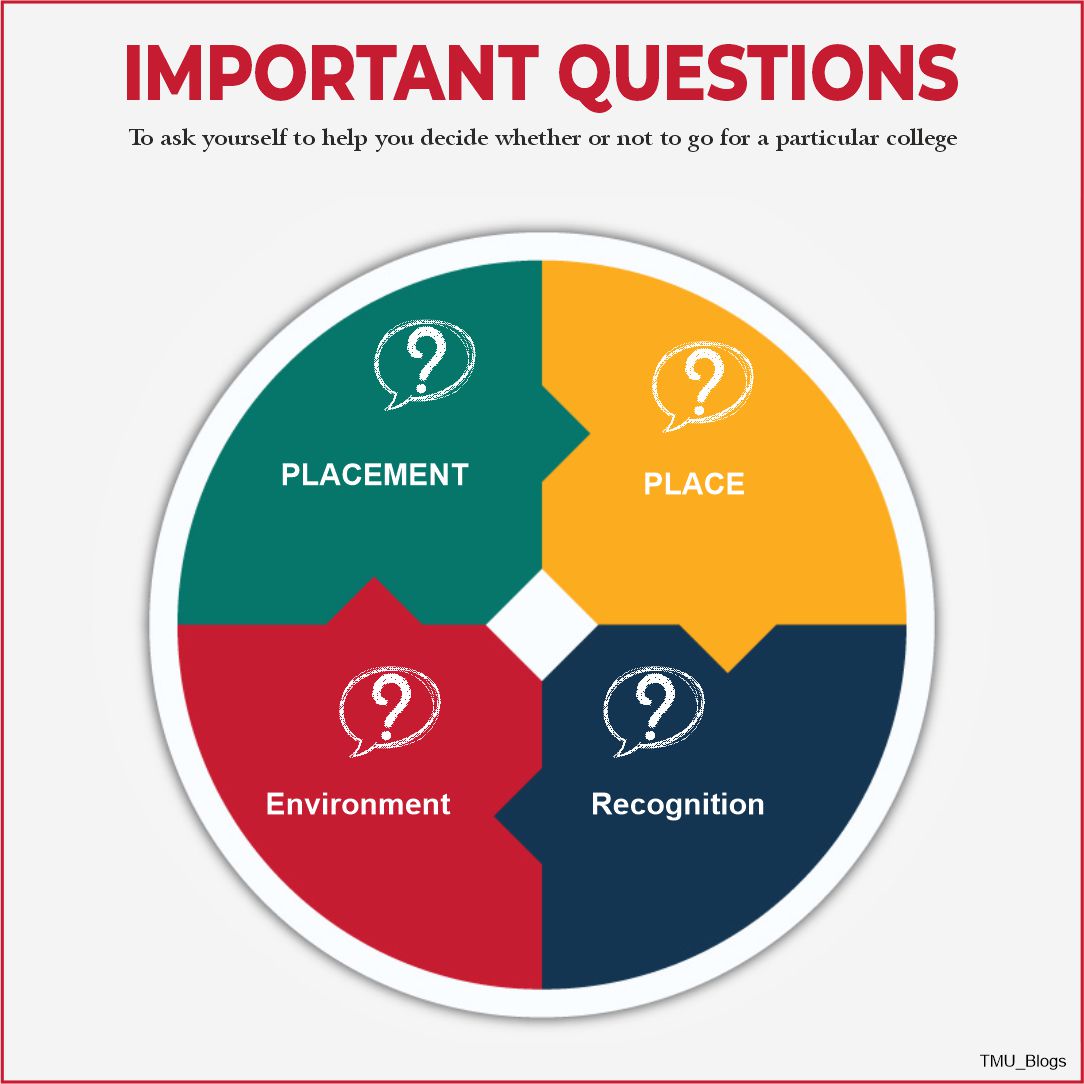 alt="Finalising College List - TMU Blog" class="img-responsive" width="70%" />
What courses/majors am I interested in pursuing?
Does the college or university offer virtual tours or college visits?
Are there any entrance exams required to get admitted to my preferred university?
What accreditation does the university or college have?
How many courses does the university offer?
What are the college's strengths?
How are the college/university's food and travel facilities?
Find Your "FIT." Factors such as location, size, academics, community, type of school, etc.
How easy is it to change my concentration?
What security measures are in place at the university or college?
Is on-campus housing available?
Are there research opportunities?
What sort of national and international internship opportunities are available?
Does the university provide services if I have a disability?
Are there quotas for certain kinds of applicants?
Are loans available if I choose not to work?
What are the job placement rates?
Are there quotas for international applicants?
What are the facilities like labs, libraries, theatres, gyms, etc.?
Are there many students from other countries?
How prevalent are drugs and alcohol on campus?
Can freshmen bring a car to campus?
What types of extracurricular activities will be on my radar?
Is this college a good financial fit?
Does the college offer any special programs like independent study, study abroad, etc.?
Does your university have [clubs/extra activities]?
Is there a sports complex or fitness center?
Is there a scholarship available?
What are the campus sports and social activities like?
What kinds of health services are available?
Now, that you know what to ask and you have found your why, it becomes effortless to choose the best educational university.
Here's your why! Enrol in the Best Educational University
Best Educational University, an award presented by ABP News to the Teerthanker Mahaveer University that also holds 12B status. The elite facilities on the 140+ acre campus offer comfortable hostels, multi speciality TMU Hospital, gym, Bikano restaurant, indoor stadium, 24x7 security, mess, auditorium, PNB Bank inside campus premise, and eateries offering multiple cuisines to suit the diverse culture the students belong to.
With a lush green campus suited for infrastructural, academic, social, and cultural growth, TMU administers diverse student and community beneficiary pursuits such as collaborating with BOSCH skill development center, forming TMU-BIC (Business incubation Centre), and multi-speciality TMU Hospital, etc.
Being a multidisciplinary center, offering 140+ undergraduate, postgraduate, doctoral, and other programs, education at TMU is not just about books and classrooms but also about overall personality development and honing special skills. It provides an environment conducive to teaching and learning, adequately supported by innovative academic and research programmes and practices. Come, be a part of this culturally diverse university.Enrol Now!