TMU's Mega HR Conclave on Paradigm Shift In Talent Acquisition-Post COVID Era
Teerthanker Mahaveer University blissfully concludes its first daylong Mega HR Conclave.
Braced by the delegates of Cadila, Maruti Suzuki, TCS, Zee Media, among others.
The Fourth Industrial Revolution, i.e. Digitisation will transform India into a global powerhouse.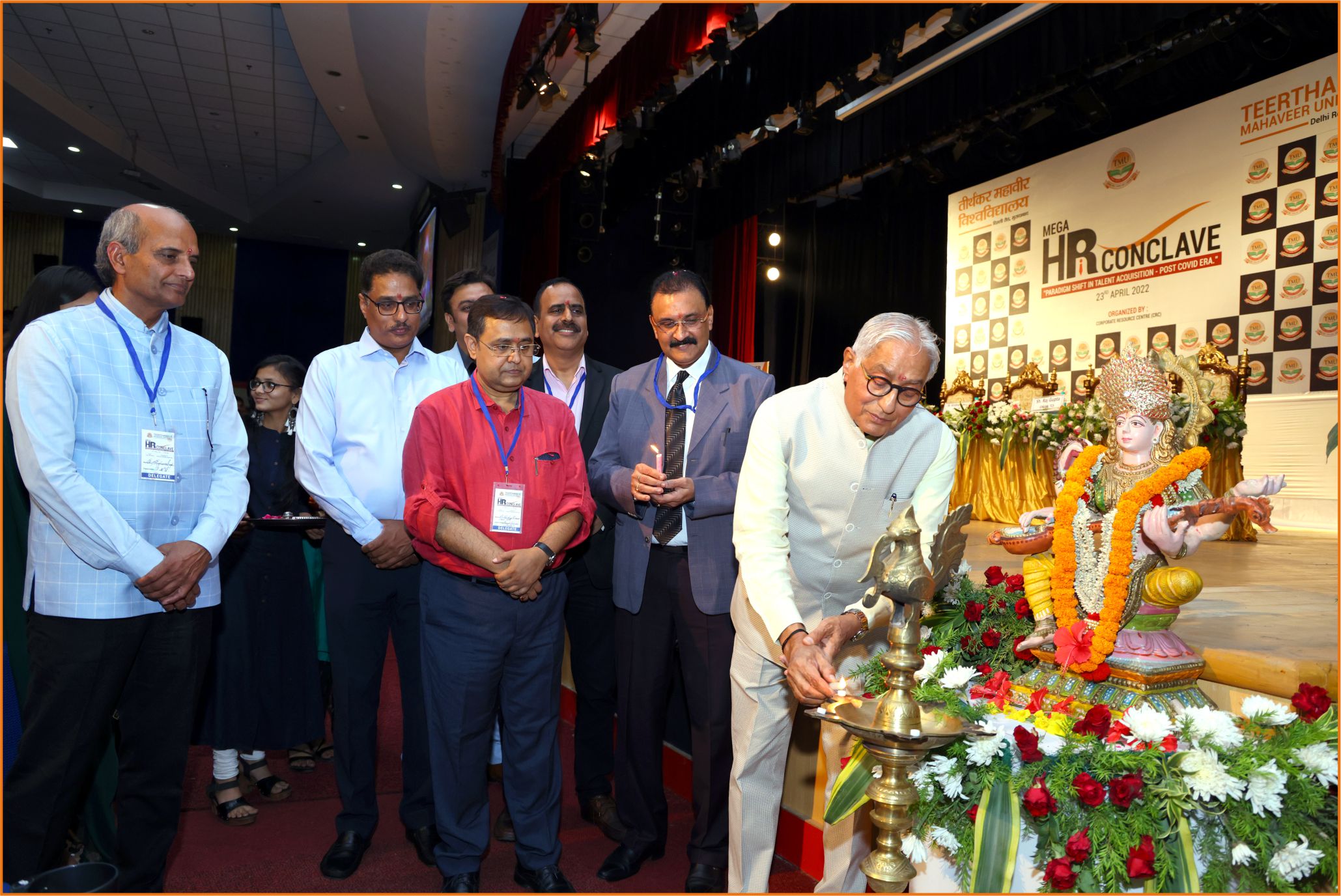 Igniting the lamp of knowledge, growth and development.
April 23rd, 2022: In the time of the 'great resignation' and the 'great reshuffle', we have got the opportunity to innovate and implement changes like never before. HRs are nerve center of their response. With an aim to reinvent the role of HR in the new normal, Teerthanker Mahaveer University, Moradabad, conducted the grandest conglomerate of Human Resource experts through a Mega HR Conclave. Bridging the gap between industry and academia, this conclave gave students an opportunity to gain industry insights from renowned industry dignitaries and their views on the current trends.
The theme of the conclave was "Paradigm Shift In Talent Acquisition - Post COVID Era." Senior Human Resource Leaders from reputed companies such as Cadila Pharmaceuticals, Maruti Suzuki, TCS, Zee Media Corporations, SkillsReform, Nuremberg Engineering, Bureau Veritas, Kromozones Softwares, Manhari Powertech, Dhampur Group, UFLEX Group, SunSource Energy, Exl Service, GlaxoSmithKline Beecham, Torrent Gas delivered keynote speeches and participated in Panel Discussions in the daylong event.
The event commenced with the opening remarks of (Prof.) Dr. Raghuvir Singh, Vice- Chancellor, TMU, Moradabad. "Remote working and contractual working are some of the paradigms we have adopted in unprecedented times. We are living in a flexible world. In the employee world, the industry needs to focus on employees, otherwise there'll be a flood of resignations," said Dr. Singh.
Advancing the proceedings, the chief guest of the event, Chancellor of TMU, Shri Suresh Jain gave a brief understanding about the University. "Covid-19 brought us challenges but offered us numerous opportunities as well. The Post-COVID era is the era of changed perspective and innovation, enabling the commoners to reap the benefits of technology. As for the TMU, we always encourage our students to think beyond what has already been anticipated," said Suresh Jain.
In the first Keynote speech of the conclave, Dr. Pramod Kumar Rajput, Vertical Head - Sr. VP Cadila Pharmaceuticals Ltd; explained how workplace culture, empathy & work-life are integrated. "There is a competition of wisdom, and creative thinking. He added that whether we want to be the pillar or the puller of the organisation is all upon us, have clear-cut empathy towards enterprise," opined Dr. Pramod Rajput.
While speaking on mapping the workforce with strategic planning, the second keynote speaker, "Krishna Kumar, Head HR, Maruti Suzuki India, mentioned, "as a reliable workforce, maintaining a flexible attitude, and valuing the power of networking is crucial." While the third keynote speaker, Raj Gupta, GM HR, TCS discussed the role of leadership in employee engagement. According to him, "to be a successful leader one needs to have business acumen, changed manageability, domain expertise, and a certain value set."
The event also witnessed TMU's first batch alumni, Sachin Sharma, who is currently associated with Deloitte. He firmly believes that better communication skills and the right attitude will help an individual reach its pinnacle in the digitalisation world.
Later, two panel discussions were conducted. The first panel has experts like Mr. Vinay Kaushik, CHRO, Nutberg Engineering Ltd., Mrs. Sharmila Thakur, Head HR, Bureau Veritas, Mr. Asheesh Shukla, Head HR, Dhampur Group (DSML), Ms. Debjani Roy, CHRO, Kromozones Software Pvt. Ltd., and Mr. Harindra Kumar Garg, Director, Manhari Powertech Pvt. Ltd. The topic of discussion "HR engagement & retention strategy by modern organizations" was effectively introduced by Mrs. Manjula Jain, Dean, Academics, TMU. Various points were discussed such as how to differentiate between an employee being engaged, disengaged or actively disengaged. Hr's are sheer executionists, people should be listened to as it solves half of the problem. Also, an employee wants recognition besides remuneration, hand-holding is important and we also learnt formulas of employee engagement
Involve (I) + Respect (R) = Deliver
Ignore (I) + Disrespect (D) = Resign.
In the second one, Anshul Sharma, AGM HR, UFLEX Group, Apoorva Sharma, HR Manager, SunSource Energy, Emmy Anita Gilbert, AVP HR, Exl Service India Pvt. Ltd; Chetan Khurana Founder, SkillsReform; Pritesh Bhatia, Manager TA, GlaxoSmithKline Beecham, and Shubham Tripathi, Sr. HR Manager, Zee Media Corporation Ltd talked about correlation among Workforce, Talent & HR Analytics. The various points discussed were how analytics is helping and transforming the way we enter, survive and grow in the corporate world. They talked about being aspirants and how we can keep ourselves updated and upgraded to manage every challenge with confidence.
During the concluding session, Anadi Dixit, VP, Torrent Gas, enlightened students with insights into transitioning from college to corporate life. He talked about the differences between college and corporate life and also to bridge this gap.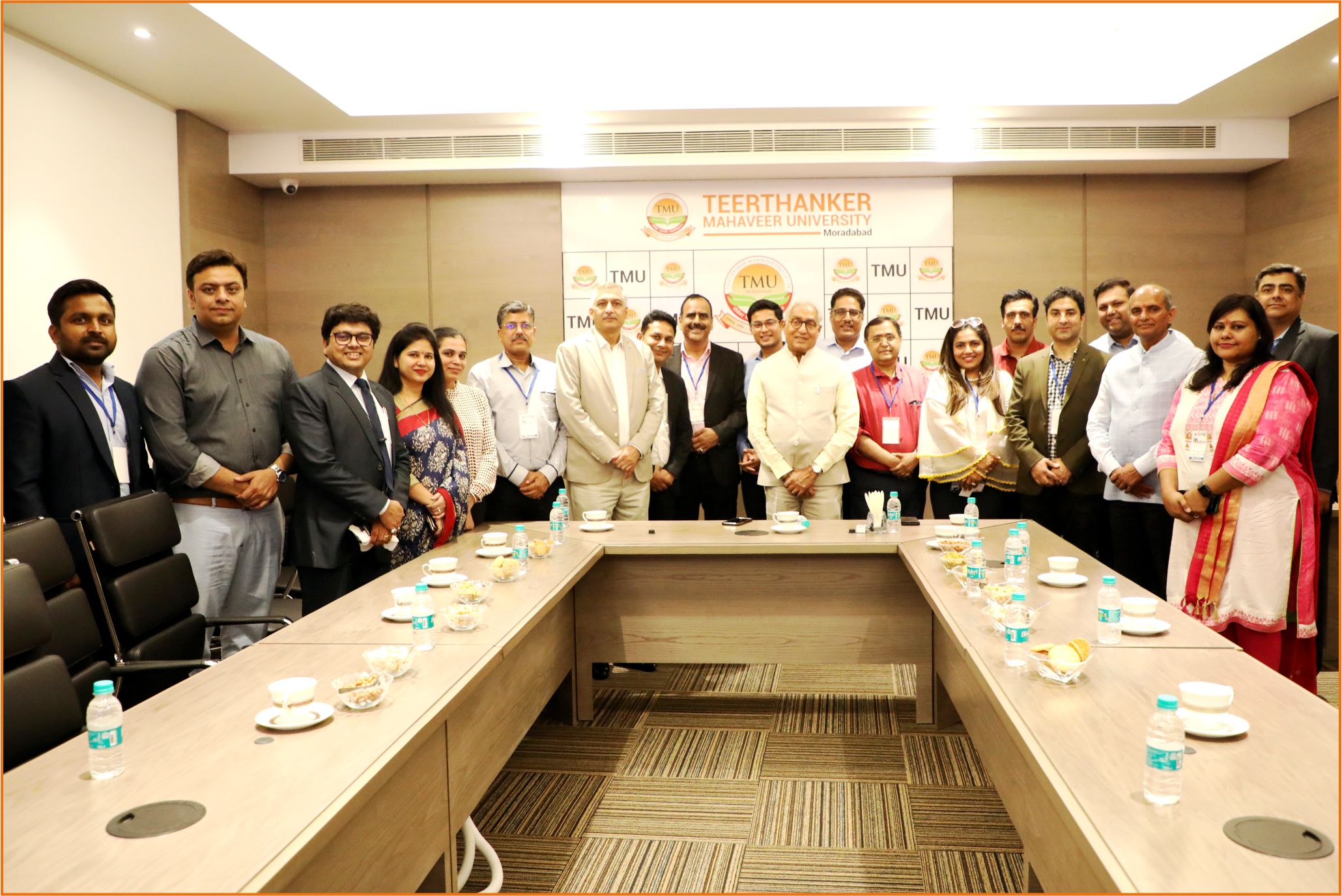 HR industry leaders giving insights of corporate world.
15 eminent human resource experts joined the conclave to share their views and usher in the way forward for the students. The conclave provided insights for thought for the fellow recruiters as well as the students who were highly motivated to listen to it from the horse's mouth. These stalwarts spoke on the real life problems with specific solutions to tackle them. Mr. Vineet Nehra, Group Director (Corporate Resource Centre) excellently coordinated the conclave making it absolutely smooth and flawless.
Talking about Teerthanker Mahaveer University, Moradabad, it has been a leading beacon of excellence and a provider of quality education for the last two decades. Being a multidisciplinary educational institution under Section 2(f) and 12 (B) of the UGC Act, 1956, it offers 100+ UGC and other statutory regulatory authorities approved programs at UG, PG, and doctoral levels in fields like Medical, Dental, Nursing, Paramedical, Pharmacy, Physiotherapy, Agriculture, Fine Arts, Management, Engineering, Education, Jain Studies, Hospital Management, etc. TMU is set to soar high in taking the educational demarcations to a newer level.