Every student at the cusp of 12th has gone through this dilemma, Engineering or medical?
During the transition from schooling to college & selecting a career, the Indian society oversees adolescent individuals for their intellectual through the lens of the stream which they opt, filtering other career options as either irrelevant or least able.
Science (the most preferred stream) is considered a stream of immense opportunities with a presumption that it's for intelligent students, followed by commerce being a stream with a wrong notion that 'its for people weak in Maths' & arts is labeled with an underlay message as 'least preferred' which is not true at all and we will be further visiting those facts soon.
A mindset has been formed suggesting that only Engineering & medical streams offer lucrative career opportunities to individuals. But this false assumption is steadily losing its grip, especially with an increase in the digital spaces & platforms, giving rise to an entire industry in itself with numerous roles to cater for its efficiency.
Career options other than Engineering & Medical:
Though Engineering & Medical are vast industries with many professional programmes but now we can equally explore more options through various Management programmes, Fine Arts, Physical Education, Law, Architecture, Animation, Agriculture & many more.Here are the details about our various programmes: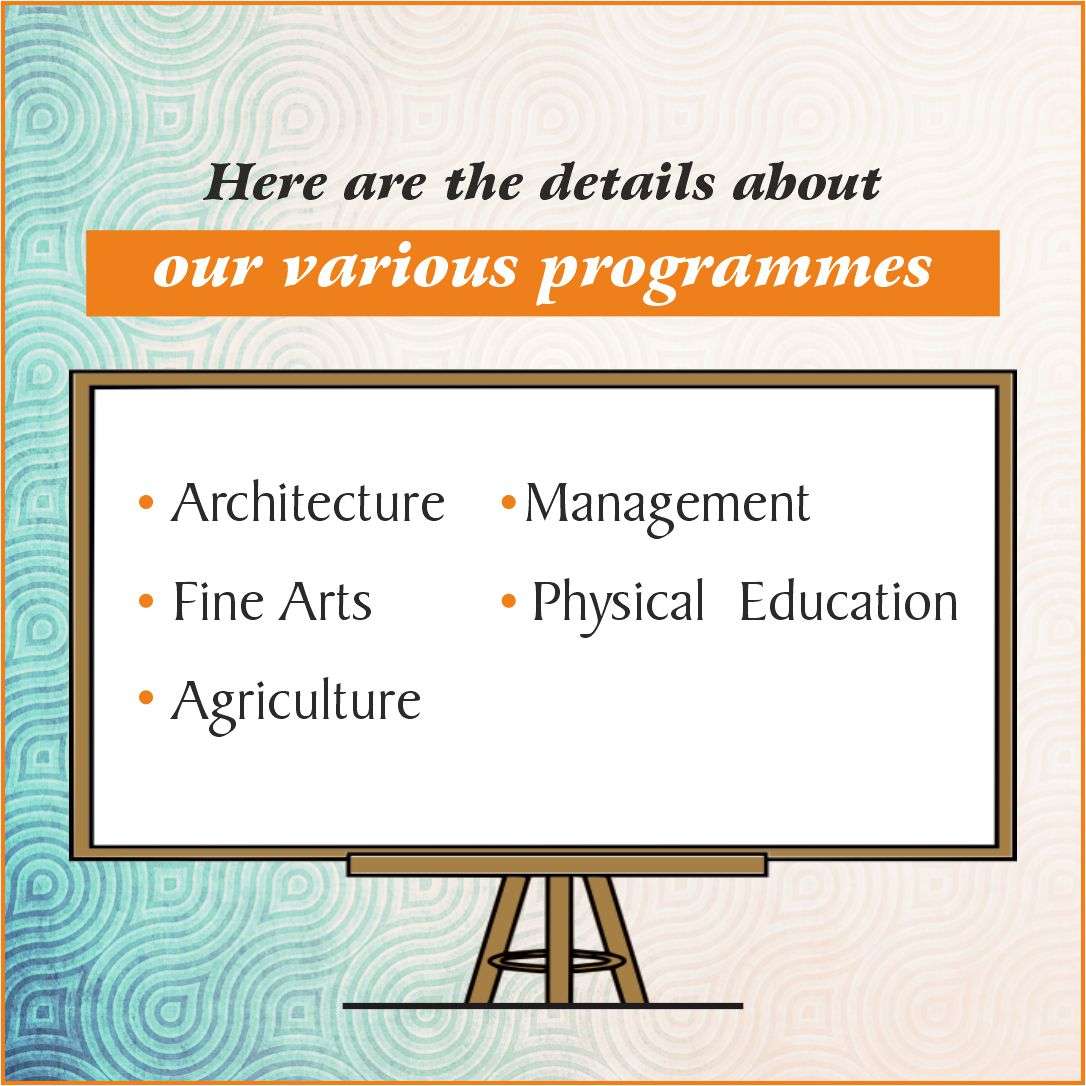 Architecture: One good field to explore for PCM & PCMB students is architecture. B-Arch is an extended 5-year degree programme covering designing and planning studies for small scale to big cities, townships, etc. One can also pursue a 2 years master's degree programme (M-Arch) in the various verticals of the field after the UG.
Architects are essential for constructing buildings, planning cities, decorating your interiors, landscapes, parks & gardens, and more. As India is observing a lot of foreign investment from across the globe, the possibilities for infrastructural development & opportunities are equally increasing. Hence the growing demand for the field is bound to go up shortly.
Management:BBA (Bachelors of Business Administration), a three-year undergraduate programme that revolves around business administration, planning, strategies & imbibing entrepreneurship skills, etc., can be another pick for a promising career opportunity. BBA graduates can also pursue further studies by following 2 years MBA programme.
Teerthanker Mahaveer Institute of Management & Technologies (TMIMT), a top management college in India, offers multiple specializations to students in addition to great placement opportunities with leading MNCs.
Management is a practical programme where your research and tactical knowledge, communication skills, analytical skills, people management understanding, etc., assist in shaping organizations. To know more:
Furthermore, management postgraduates are in demand with good job opportunities from numerous organizations ranging from big MNCs to small business setups.
Fine Arts: BFA (Bachelors of Fine Arts), an undergraduate programme in visual or performing arts, is at an apex with ample opportunities to showcase their art & encash it with the digital intervention.
BFA is a four-year degree programme with immense potential in offering multiple career avenues to professionals in the media, entertainment, and advertising industries. Creative creation is trending, and the value for creative people has immensely increased.
Big or small companies are upholding a qualitative digital presence. Hence, the rise in the employment of BFA graduates in the creative sphere has also aroused, especially in graphic designing, digital art, wall paintings, etc.
Teerthanker Mahaveer College of Fine Arts offers excellent academic assistance to the student and qualitative placement.
BFA graduates wishing to grow more can also pursue MFA, i.e., Masters in Fine Arts, for two more years.
Physical Education: Sports and fitness industry is growing and grooming; aspirants good at physical sports can make an excellent career through a bachelor's in physical education (B.P.Ed). The UG programme is two years, and one can pursue a master's program of two more years through M.P. Ed.
Bachelors of this programme can opt for a career as a trainer in various institutes, sports teacher for schools, coach for the sports center, and more. Interested students can take a look at TMU's Physical Education College, which owns amenities like an indoor stadium, a playground, and a gym for the students.So if you like sports or are good at them, you can pursue them without fretting about not having ample opportunities.
Agriculture: B.Sc (Hons) Agriculture is a four-year programme that provides knowledge to students about soil sciences, agronomy, animal husbandry, biotechnology, plant breeding, horticulture, etc., providing a wide range of opportunities for students to tap into as a career preference. The field has a post-graduation program of two years too.
Teerthanker Mahaveer College of Agricultural Sciences is an ICAR-recognised institute ensuring the student's holistic development of the students.Moreover, its affluent entrepreneurial boosting assistance through TMU-BIC (TMU-Business incubation Centre) encourages its students to develop their own business models.
Now that a wide range of career choices are on your platter to explore, don't restrict yourself to a selected few opportunities that Engineering & the medical domain poses; instead, venture into these opportune programs from a prominent educational institute like Teerthanker Mahaveer University to upskill yourself and grab good placement opportunities with TMU's great campus placement drives.