7 Reasons Why You Should Get A Degree In Pharmacy
"World Pharmacy", was the tag given by Indian Prime Minister Shri Narendra Modi during the Global Innovation Summit for the Pharmaceuticals sector last year. At the same summit, while addressing the public, he highlighted that India sent over 150 countries life-saving medications and medical equipment during the early phase of the pandemic. In the same year, the country exported over 65 million doses of COVID vaccination to approximately 100 countries. All of this demonstrates the capability of the Indian pharmaceutical sector and the ultimate reason to get a degree in Pharmacy.
The health and pharma industry is thriving and this indicates more employment opportunities in this industry. Also, with an increase in the number of internet users in India, the demand for home pharmacies and online pharmacy stores soars. So is the scope for e-commerce pharmacists. There are numerous viable choices for pharmacy students. In today's blog, Teerthanker Mahaveer College of Pharmacy (TMCOP)–the best pharmacy college in Uttar Pradesh–expresses why the pharmacy profession is in high demand and the top reasons to get a degree in Pharmacy.
Let us have a look!
Top Reasons to Get a Degree in Pharmacy
Surgery and blood are not something everyone can handle. That is what makes pharmacy a great career fit. Consider these seven reasons contributing to the bright future of the industry.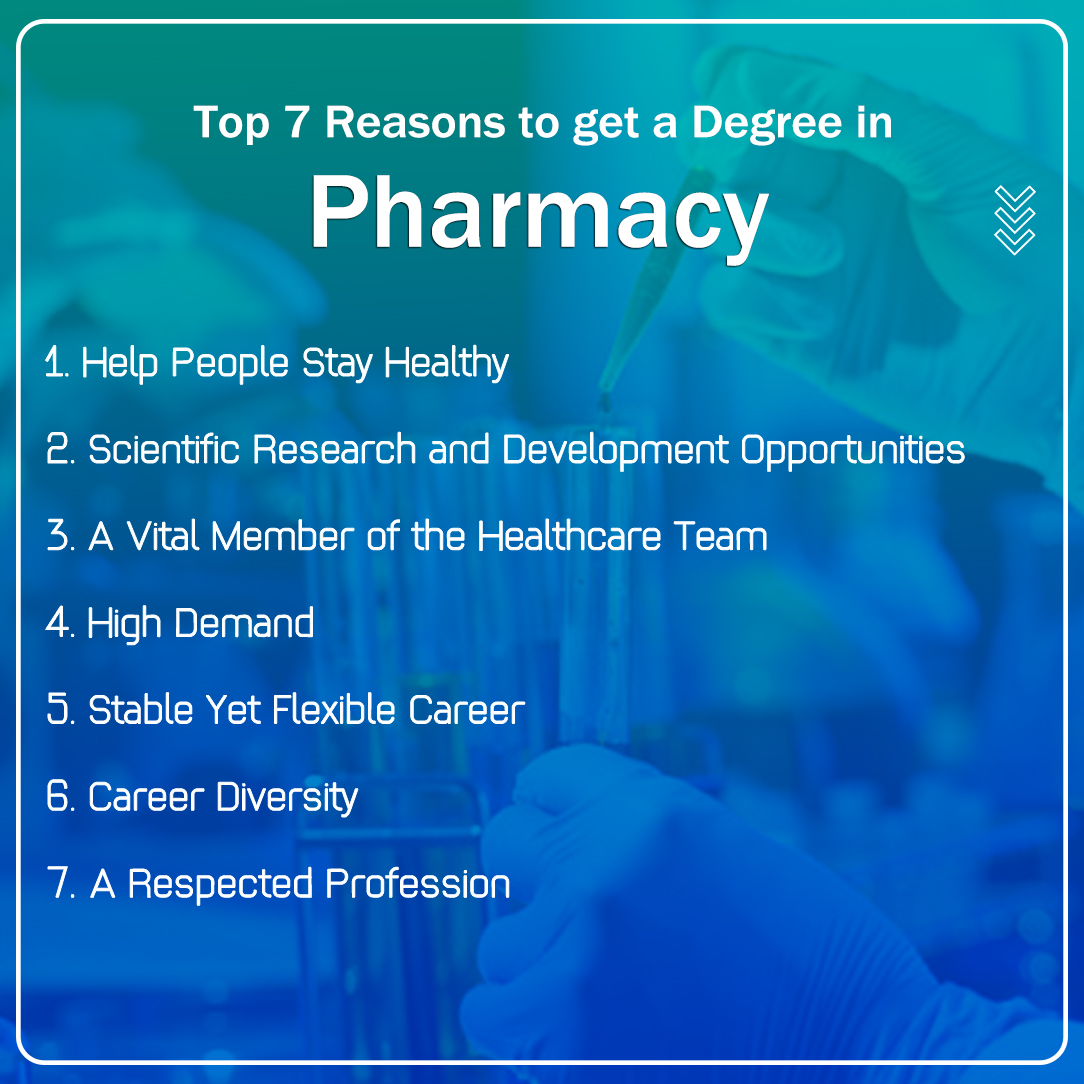 Help People Stay Healthy
Pharmacists act as a crucial element in helping patients feel better and making them stay fit. Pharmacists have a significant impact on people's lives by providing several services such as medication adherence, drug interactions, consultations, and so on. Helping others produces "feel-good" effects and is probably the number one reason most people want to work in a pharmacy.
Scientific Research and Development Opportunities
The Indian pharmaceutical industry is among the largest pharma industries in the world. R&D is a crucial area where new medication research, formulation development, analysis, and toxicity studies take place. These analyses are carried out using sophisticated and innovative technologies. Highly competent researchers and technicians with an M. Pharm or a PhD are in great demand for research and development purposes.
Also Read:  Tips to clear NEET UG Exam at First Attempt
A Vital Member of the Healthcare Team
Pharmacists play a vital role in lowering hospital admission rates as well as managing medical therapy and chronic diseases. They've also proven beneficial for hospital rounds and mobile health care. They are also the ones that connect the medical world's dots and assist individuals in better understanding their medical problems and provide the appropriate medical remedy.
High Demand
According to IBEF, the Indian pharmaceutical sector meets more than half of the world's demand for different vaccines and is the world's largest source of generic pharmaceuticals. The Indian pharmaceutical sector is one of the largest in the world which broadens the scope of Pharma studies both in India and overseas. According to the IES (Indian Economic Survey) 2021 forecast, the domestic market is predicted to triple in the next decade. The domestic pharmaceutical industry in India is predicted to be worth US$41 billion in 2021, would grow to US$65 billion by 2024, and will reach US$120-130 billion by 2030. All of these state that this sector has immense growth.
Stable Yet Flexible Career
Pharmacists seem to be in demand, whether there is a war, a natural disaster, or an economic slump, so they are unlikely to be out of work anytime soon. Because demand is so strong, job security will be noticeably higher. Furthermore, becoming a pharmacist broadens your knowledge limits since you must keep current on technical changes in the field.
Career Diversity
As a career prospect, pharmacists are misunderstood to be limited to jobs in chemist shops, medical stores or dispensaries. However, there are numerous jobs available to those interested in becoming pharmacists. The hospital and retail industries are the two key areas that demand pharmacist expertise. Despite working in these two businesses, you can also work in academia, medical research, or as a lab assistant, and utilise your skills .Choose the career path that you perceive to be a good fit.
Check out:  How to Improve Your Public Speaking Skills at Home?
A Respected Profession
Of course, the most compelling reason to pursue a particular job is that you enjoy it. However, it's always wonderful to work in a position that society values. As you get to know your regular patients and the people in your neighbourhood, you will develop a trusting relationship with them. Those who have been in your care for a long time, will most likely have the highest regard for you and what you do.
Reasons for Studying Pharmacy at TMU
With all the above points, it becomes clear that pharmacy is a versatile and recession-proof career. Therefore, if you are planning to pursue a career in healthcare, then Teerthanker Mahaveer University would be an excellent choice for you. With a NAAC accreditation and "Centre of Excellence" tag, along with the Pharmacy Council of India (PCI) and All India Council for Technical Education (AICTE) recognitions, TMU is a place with a motive.
Get a 360-degree learning opportunity along with the experiential training at the Drug Information Centre (DIC). Practice at an 800 bed multi-specialty Teerthanker Mahaveer Hospital and Research Centre in advanced labs and get excellent placement opportunities in top-tier companies. The University offers numerous courses that include:
| Programmes | Duration |
| --- | --- |
| B. Pharm. (Bachelor of Pharmacy) | 4 Years |
| M. Pharm. (Pharmaceutics) | 2 Years |
| M. Pharm. (Pharmacology) | 2 Years |
| Pharm. D. (Doctorate in Pharmacy) | 6 Years |
Turn your fascination with healthcare into a challenging, well-paying career. TMU prepares you for that success with one of the nation's only advanced pharmacy degree programs. To find out more, visit www.tmu.ac.in.