Tips for Enhancing Leadership Abilities in College
Leadership abilities are a must for someone who wants to succeed in today's competitive world. Anyone who wishes to climb the corporate ladder or wants to move to a superior position, must demonstrate great leadership abilities. But from where do these leadership abilities come?
Well, it comes from serving in leadership roles at one's college or university. Such roles provide students with a valuable opportunity to learn proficient skills and stand out from the crowd. A lot of these leadership skills and attributes can be developed only in college, i.e. before you step out into the professional settlement.
When you take on leadership roles in college and come up with good outcomes, you can include those experiences on your resume to showcase them to your future employer. Such mentions can greatly enhance your profile and make an advantageous impression on the employer. Most organisations want people who are responsible and dependable, and who better to hire than someone with leadership qualities? It gives you an edge over other candidates in the hiring process, ultimately boosting your chances of being hired.
If you're hoping to enrich in this area, here are several useful tips to enhance your leadership abilities in college: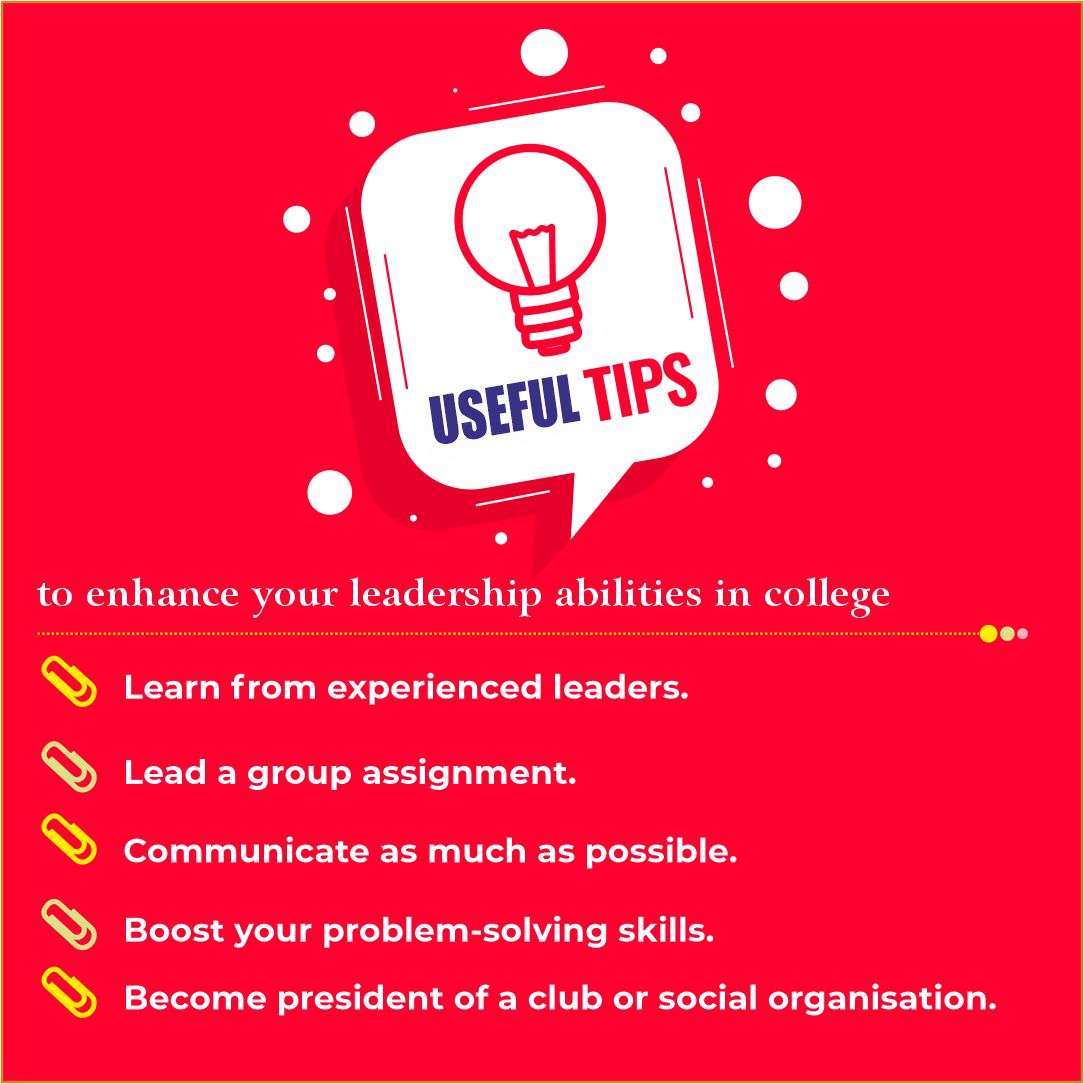 Learn from Experienced Leaders
Your college is full of knowledgeable and experienced mentors. You can learn by interacting with excellent professors who are leaders in their respective fields. You can also attend workshops, intern with influential leaders, and can volunteer with community clubs. Nowadays, colleges also organise guest lectures and talks by motivational speakers and other successful leaders. You can learn a lot from them. Many of these events and workshops are covered by tuition, so you can take full advantage. The experience will be extremely beneficial to you.


Lead a Group Assignment
There are numerous scenarios where you can volunteer as a leader. While pursuing your degree, you will undoubtedly be required to work on various group assignments. For example, if you are studying art or technology, you will need to create or engineer a product. Alternatively, if you are studying science, you will be doing research experiments in the group. Assignments like these are extremely beneficial in terms of enhancing leadership skills. They also allow you to make new companions. So, take charge and put your name forward to lead the group if you are involved in such an assignment.


Communicate As Much As Possible
Communication is the most significant part of everything you do. If you have effective communication skills, you can easily swamp the difficulties. However, if you have good personality traits but lack communication abilities, you will hit the roof. Being a good communicator also implies being a good listener. It's important to carefully watch and listen to the suggestions of everyone who is involved with you, as well as to make them feel valued. As a leader, people will come to you with their problems, expecting you to provide great solutions and sometimes even solve the problem with the wave of a magic wand. So, try to practice as much as you can with your fellow students, roommates, and faculty members.

The Trick to Mastering Public Speaking



Boost Your Problem-Solving Skills
Having problem-solving skills is a crucial part of being an efficient leader. College is the perfect place to sharpen your problem-solving skills as college life is an ocean of challenges that must be resolved almost every day and, as a leader, you are responsible not only for your problems but also for dealing with and displaying solutions to the problems of those who work with you. If you are good at problem-solving, you can build a network of people around you and be their leader. Moreover, you can guide your team more effectively without any frustration and perplexity.

Expand Your Mind with Riddles and Brainteasers.



Become President of a Club or Social Organisation
Being the president of a club or social organisation can help you in a variety of ways. Colleges offer a wide range of student clubs and social organisations such as cultural clubs, language clubs, community service organisations, and so on. These clubs and groups mostly involve extra-curricular activities. To do your job effectively, apart from leading, you will be managing, communicating, coordinating, and collaborating with others. This will also allow you to interact with other leaders and observe strong leadership in action. You can also be a part of non-governmental organisations to fulfil your social responsibilities. These are excellent ways to hone your leadership abilities.


Summing up-
Leadership requires continuous self-growth and advancement. Advancing leadership is a life-long exciting journey. Making mistakes and learning from them and finally mastering the desired skills is the key to success.

If you want to enhance your leadership skills, your college is the ideal place to do so. Here you can learn about communication, teamwork, confidence, community, building relations, problem-solving, and much more via both hands-on experience and interaction with trained and experienced leaders. Take full advantage of college life and boost your leadership skills with the above-mentioned points.