Essential Futuristic Skills Required for Professionals
When we speak about the future world, Terminator, Wall-e, and many such hits boggle our minds with flying vehicles, holograms, etc. Still, this upcoming world needs human shepherds with the relevant skillset for the forthcoming time.
Recently, especially since the pandemic, "future-ready skills" have become a debatable topic gripped by job market experts and industry personnel. As a professional or grooming to become one, having knowledge about the changing circumstances of the industry's needs is a must. Like in the past, another industrial revolution (Industry 4.0) is upon us and we must be ready to adapt to it.
As an educational institution,Teerthanker Mahaveer University, Moradabad professes to provide skillful training to the students that will ultimately culminate the students to secure good placement opportunities in various fields ranging from medical to engineering. But what are these changes? And what are the next upcoming decade's requirements?
So to understand and evaluate for the future, let us know the job market scenario by delving further.
Mapping the change in the employment sector: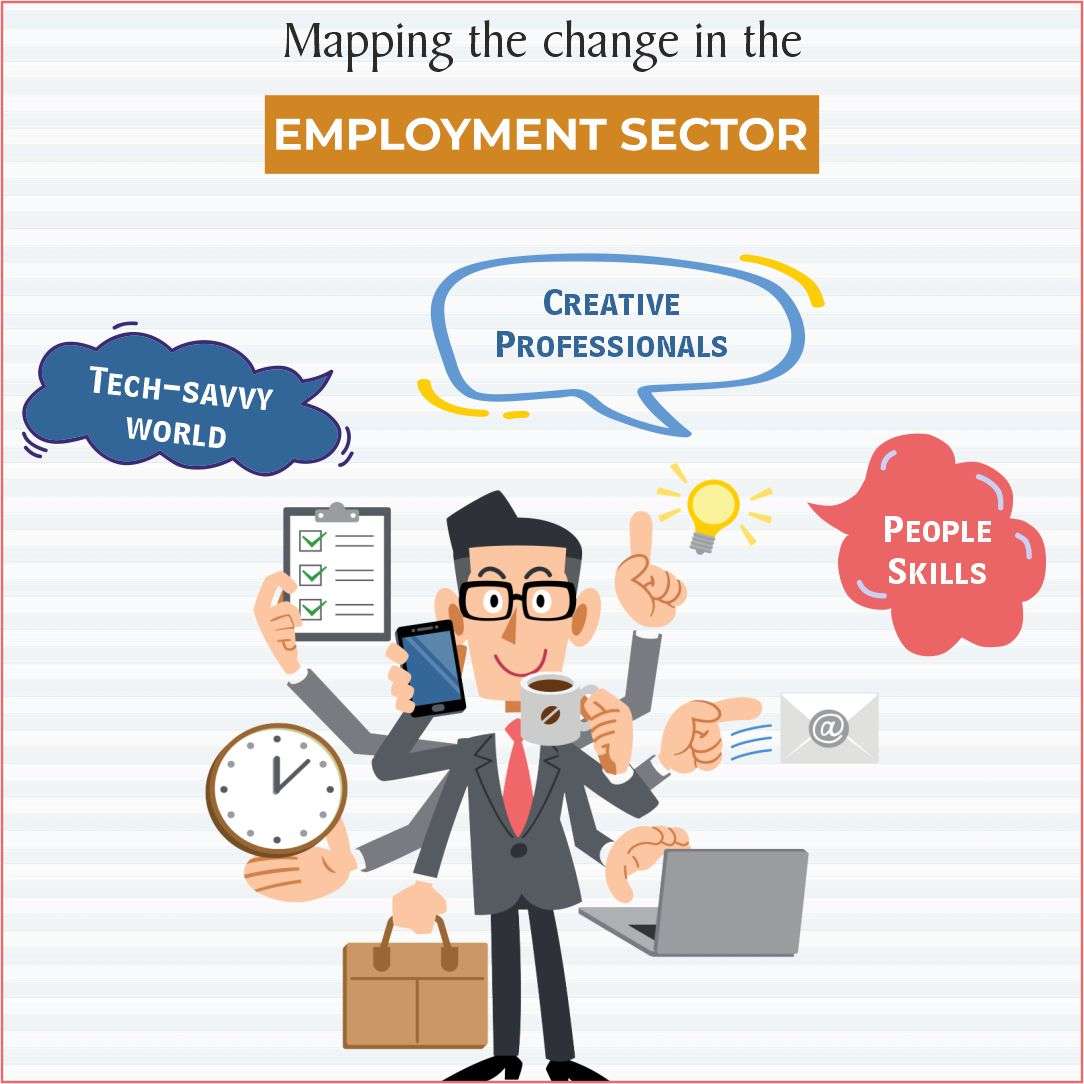 Tech-savvy world: Tech advancements have become the catalyst in putting forth the changes in the transformation of jobs. The integration of newer technologies like robotics, automation, artificial intelligence, IoT, etc., is rapidly shifting the need for many roles instead, replacing them with technically sound professionals.
Digitization and globalization have gained impetus as the world is coming closer together. A single tap on a screen is enough to reach far and wide. Hence, professional requisites for roles in the technical domain would be the highest of the demands.
We are at the threshold of upgradations, and the growing need for people in these fields of information technology, data science, computer science, networking, AI, etc., is bound to increase. The market size of these jobs is booming. At the same time, there's shrinkage for physical, laborious tasks that are expected to be replaced in the coming decades.
People Skills: Individuals with a knack for communicating and managing will be in demand. One such example is the rise in the hiring of MBA graduates. We see the organization's focus on developing strategies to engage and understand human behavior more deeply. Hence, the social connectivity of industries to their consumers is growing for roles that can manage interpersonal skills, leadership skills, people management, engagement, etc., would be required.
We see many influencers, communication specialists, and managers as such roles become more prominent across industries.
Creative Professionals: Machines might reduce or replace labor, but still, technology cannot fully comprehend human's creative thinking and innovative approaches. It can enhance, but the replacement of human talents is currently out of bounds. Creative professionals in terms of literature, artists of various art forms, researchers, analysts, etc., roles that compromise higher cognitive skills are in the new upscaled world.
Analyze yourself, comprehend where your interests and capabilities lie, and then venture to take up careers in these widening fields of opportunities. If you are applying for jobs, refer to this: HOW TO MAKE A PERFECT RESUME .
To upskill its students, TMU has been integrating relevant programs of IoT, AI, Cloud computing, and more via Industry collaborative programmes, along with teaching methodologies like implementing NEP 2020 agendas into practice, honing soft skills and imbibing various other benefits in students through the CTLD department, and shaping them into professionals that will suit the industry requisite.
With these insights, become future ready easily!