The health of the human race is significantly influenced by the healthcare sector. Professionals in this area assist patients through diagnosis, care, and monitoring. A career in the healthcare industry can be rewarding as there are multiple advantages to pursue this career path, including hands-on experience, security, attractive salary, job satisfaction, and much more.
There are numerous domains available in the healthcare field, some with modest prerequisites and others that require several years of education and training. There are various career routes in healthcare that may best suit your requirements and interests. So, if you're seeking a career in health care that will always be in demand, start with this list.
Top Career Options in the Healthcare Sector-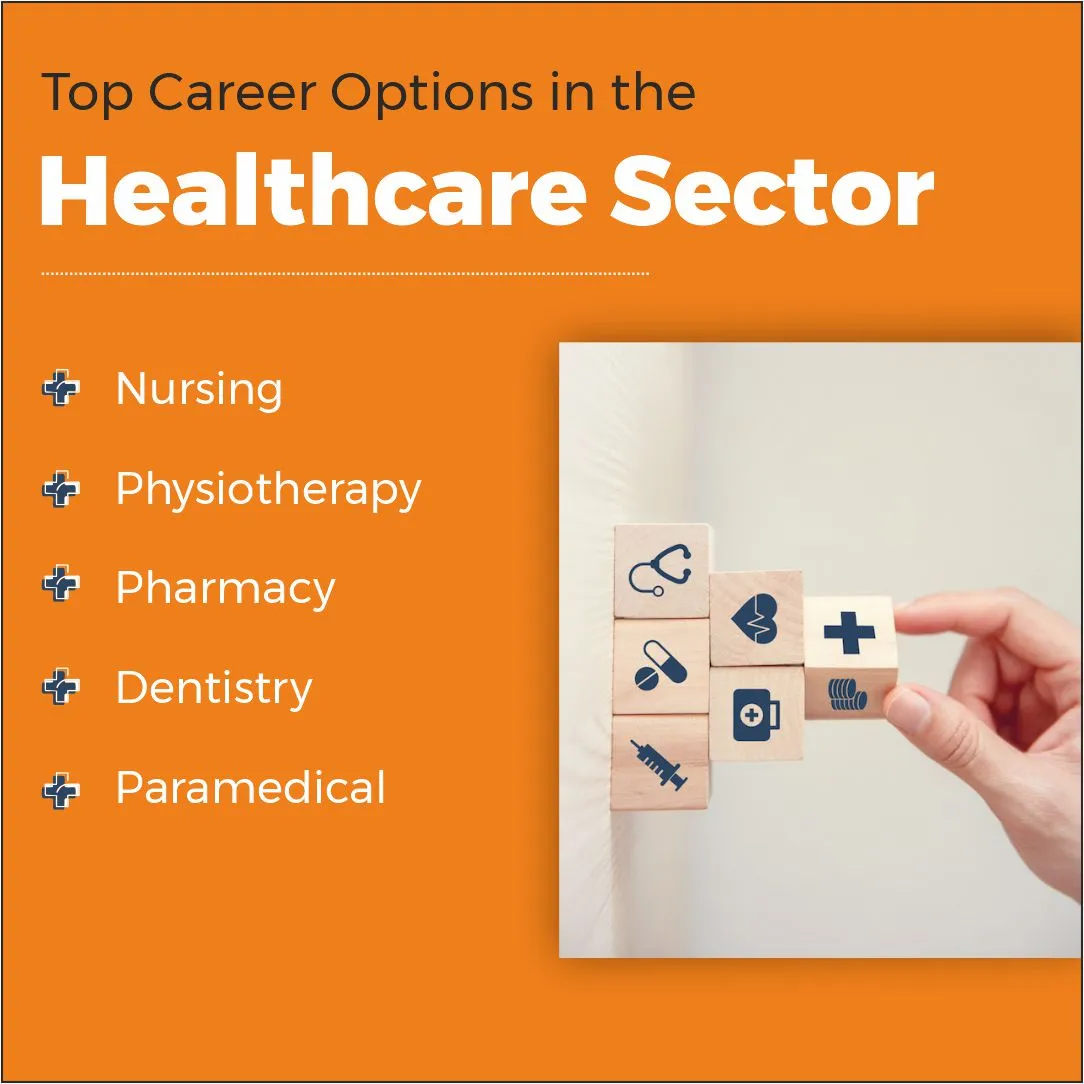 Nursing- 
Nursing is a well-paying, versatile, and rewarding profession. In medical colleges and hospitals, nurses can have teaching and managerial job opportunities. Aspiring nurses can enter the nursing profession at several levels. To start a career in this field you can enrol in the diploma programmes - Auxiliary Nurse Midwife (ANM) or General Nursing and Midwifery (GNM). Apart from ANM and GNM, you can also apply for B.Sc in Nursing. For higher studies, you can pursue an M.Sc in Nursing after that Ph.D. can open new doors in the field of research and academics.
TMU's College of Nursing is the best nursing college in Uttar Pradesh and offers placement and internship opportunities with renowned hospitals like Apollo, Max, Medanta, Yashoda, Fortis, Crest, Jupiter, Jaypee, Columbia Asia hospitals, etc. The college has been equipped with a simulation skill lab with various simulators to provide hands-on training on critical nursing skills and advance modern technology. TMU's College of Nursing is the only one to offer Ph.D. programmes in nursing in Uttar Pradesh.
Physiotherapy-
Physiotherapy is a branch of rehabilitative medicine that comprises examination, diagnosis, and treatment. To start a career in physiotherapy, you can pursue a diploma in physiotherapy. You can also enrol in BPT (Bachelor in Physiotherapy) and then MPT (Master in Physiotherapy) in various domains like Orthopedic, Neurosciences, cardiopulmonary or sports medicine. You can also get a doctorate and work in the research field. It has a wide range of career prospects in India as well as abroad.
TMU's Department of Physiotherapy is a unique place that is fully equipped with modular learning labs, electrotherapy labs, and exercise-therapy labs. The programmes are aimed at providing knowledge of physiotherapy as well as skills supported by key biological and behavioural sciences. The outreach programs, such as physiotherapy camps in rural areas serve the weaker sections of society and give the required exposure to the students.
Pharmacy-
Pharmacists are medication specialists with a chemistry bent. This career provides numerous advantages and opportunities. One can find prospects in hospitals, home medical care, pharmaceutical research institutions, nursing homes, government health centres or can start a drug store. To begin a career in this, you can pursue a B.Pharma (Bachelor of Pharmacy) and then a Master of Pharmacy. You can also pursue Pharma.D (Doctor of Pharmacy), which is a 6-year-long doctoral-level programme.
TMU's College of Pharmacy is grooming professionals and equipping students with innovative techniques to resolve problems in drug industries and clinical areas. The college is recognised by the Pharmacy Council of India (PCI). The college has well-equipped laboratories for General Pharmaceutics, Pharmacology, and Toxicology. It also has a Drug Information Centre (DIC) to provide practical knowledge to the students.
Dentistry-
Everyone desires a beautiful smile and pain-free teeth. As a result, dental professionals are always in great demand. After clearing the NEET examination, you can enrol in dentistry programmes, such as Bachelor of Dental Surgery (BDS) at the undergraduate level. After successful completion of the course, you will be recognised as a qualified dental surgeon. Once you're a dentist, you can enter a speciality with a Master of Dental Surgery (MDS) in oral and maxillofacial surgery, periodontology, orthodontics, pediatric dentistry and other areas.
Teerthanker Mahaveer Dental College and Research Centre is an accredited dental college in Uttar Pradesh. The college is actively involved in excellent teaching and research activities in the field of oral health care, establishing it as a centre of excellence for offering world-class education. A large number of patients visiting the dental college of TMU Hospital is a major strength. The college always includes interns to actively participate and allow them to play a supportive role in the team for each case for better learning
Paramedical-  
The global COVID-19 epidemic has highlighted the shortage of qualified paramedics and its impact on the vulnerable healthcare system in such circumstances. The need for paramedics has grown dramatically, with better wages being provided than ever before, making paramedics one of the best career options. Furthermore, after passing, the 12th grade, students can get trained and qualified to become paramedics through diploma and graduate programmes, allowing them to jumpstart their careers.
TMU's College of Paramedical Sciences offers job-oriented skill development programmes that help individuals to become effective healthcare workers. The college is well equipped with qualified teachers, excellent infrastructure and most importantly, students also have an opportunity for clinical training in multi-speciality TMU Hospital. The college conducts specialized training in various disciplines, like Forensic Science, Optometry, Emergency Care, Medical Laboratory Technology, etc.
Your Pathway to Success in the Healthcare Industry
Teerthanker Mahaveer University, Moradabad has been awarded with the prestigious "A" grade by NAAC. It is the best private university and an ideal place to pursue your career in the healthcare industry. The university has tied up with several recognized national and international institutions for internships, and placement programmes for students as a result providing global employment opportunities. The university offers a fusion of the environment and resources to maximize the quality of student experience. Find your calling and choose the most suitable path among the top programmes!