TIPS TO HELP YOU ADJUST TO THE NEW SEMESTER
Are you feeling exhausted? Do you feel pressure arising from studies? Does the last semester haunt you while the new semester has already begun? Is the fear of failing in the last semester giving you stress? Do you think that there should be a proper adjusting period given to the students? Well, relax, we understand your concern. The first few weeks of the semester can be jarring & disorienting, but it is also an exhilarating period, filled with opportunities for learning, self-growth, and challenges.
You might be stunned to discover that a few minor modifications might have a tremendous influence on your performance. Here are seven ways to make the first couple of weeks back in class a little more bearable. These tips will guide you to adjust to the new semester. Whether you're taking a class online or on campus, these pointers can help you succeed this semester.
TIPS TO HELP YOU ADJUST TO THE NEW SEMESTER
Whether you're a first-year student, a senior, or an adult learner returning to college, now is the time to set yourself up for success and incorporate a self-care routine that will continue through the semester. Adopting a healthy regimen from the beginning, while balancing college and life, can be the key to success. So, let's begin our voyage to adjust to the new semester.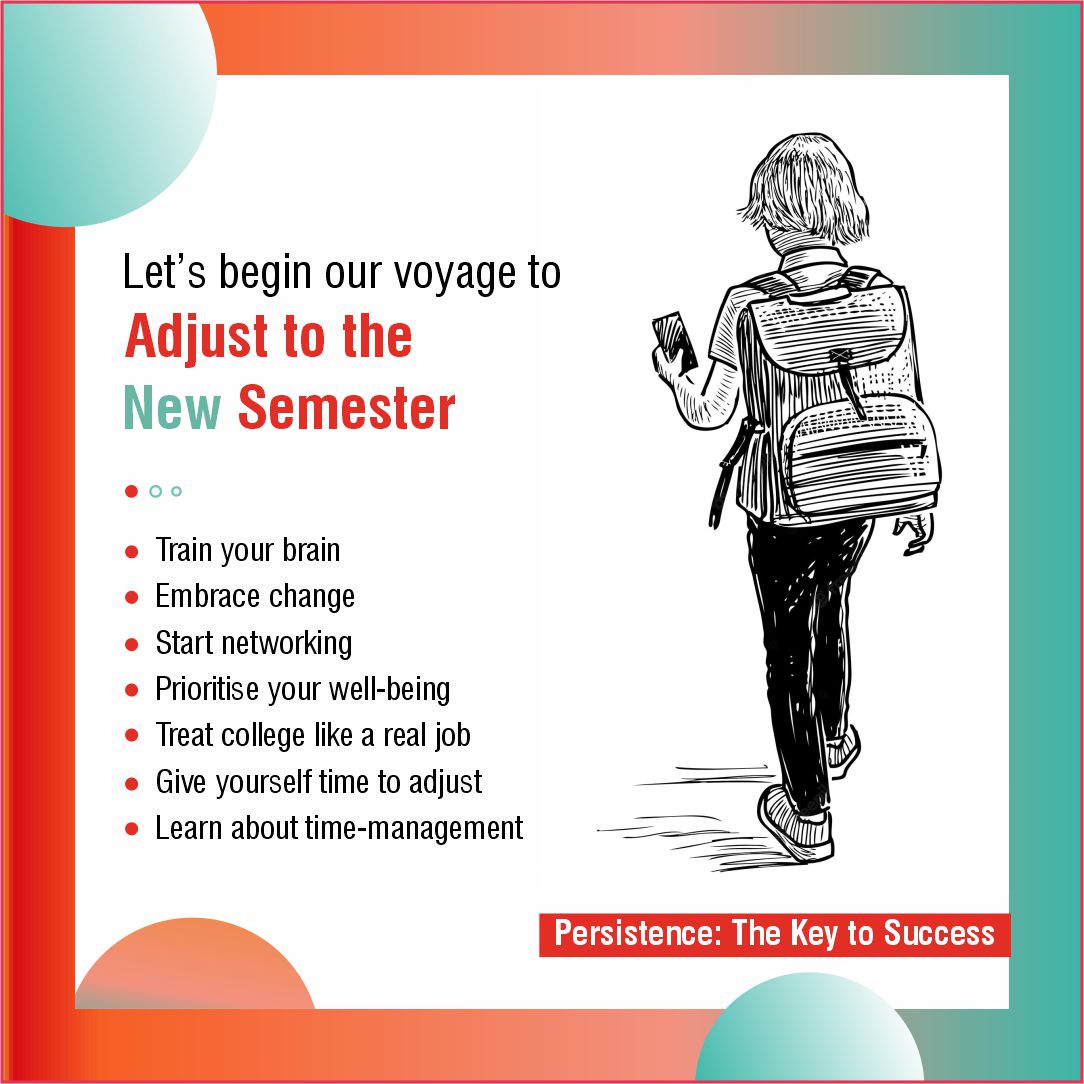 Embrace Change
Accepting change is vital to success both during and after college. We cannot tell you what kind of transformation you must be prepared for. However, change is unavoidable, whether it's first-semester homesickness with a problematic roommate, nostalgia for the simpler days of high school, home-cooked meals, or a worldwide pandemic that uproots the life you've created in your college town. It makes no difference who you are, where you've come from, or what you've done thus far in life. Change is change, and learning to embrace and run with it is a requisite skill.
Also Read: 44 Popular Excel Shortcuts for Windows & Mac
Train Your Brain
Your brain is a muscle, just like any other in your body. The more you work at it, the stronger and more agile it becomes. Interval exercise can help you gain strength: The Pomodoro approach recommends breaking down the work into 25-minute periods with five-minute pauses in between. Taking regular pauses can help you stay mentally active and avoid burnout. Mental puzzles and games can also help you keep your mind in shape. Pick up your favourite newspaper and solve the crossword or Sudoku puzzle daily.
Prioritise Your Well-Being
Coping with academic stress, navigating relationships, understanding your identity, managing emotions, fitting in with your peers, struggling with body image, gender, and sexuality is just the tip of an iceberg. We understand your situation and therefore recommend you focus on your mental health. Consider it as an important element of your body and take care just like you do it with your face and hair. Practise these steps regularly and you'll observe a difference in your life and your surroundings.

Remember to Exercise
Take proper Sleep
Have a Hobby
Take proper breaks
Talk to your parent's daily

Start Networking
Meeting new friends, having fun, going to classes, studying for exams, finding time to play, etc; well if you think that college life revolves around this, then you are absolutely right. These are not the only aspects, however. Another pertinent aspect of college life is networking. Few people will share this little secret, but remember that your relationships will only help you reach your goals, and the earlier you start building up your network, the better. That's why networking is another important aspect of college life and one should practice it aggressively.
Learn about Time Management
Time is a finite resource. Balancing household chores along with college life is tricky. No matter what, you always have the same 24 hours in a day to do tasks, spend time with family and friends, and unwind. You'll be able to do more and have more free time if you prepare ahead of time and use it effectively. It can also assist you in avoiding the terrible procrastination problem, which can lead to stress, frustration, and poor academics. So hone your time management skills by following these simple steps:

Identify Time-Wasters and Set Goals
Work on one thing at a time
Plan by Creating a To-Do List
Use Breaks Wisely

WOOP your goals
You've undoubtedly set some goals for the semester. Setting goals is a good start, but accomplishing them is a whole uncommon thing. Based on 20 years of study, psychologist Gabriele Oettingen devised the WOOP mental strategy, which assists people in spinning wishful thinking into reality.

Wish -Identify a goal that is challenging, yet attainable.
Outcome -Imagine what it will look like and feel like to reach this goal?
Obstacles -Identify and imagine the obstacles that might have or will prevent you from reaching this goal.
Plan -If these obstacles occur, what action or thought will you use to overcome them? Make an if/then statement: If [obstacle], then I will [action or thought].


You are considerably more likely to attain your objectives if you consciously practise visualising and planning. Instead of feeling disappointed by an unforeseen roadblock, you'll be prepared to deal with any setbacks that arise.
Treat college like a real job
Bunking classes, making fun of lecturers, sleeping in class, getting excused from class for minor illnesses, getting extensions for assignments, etc., are just a few instances that today help you in escaping the room of knowledge. But, no matter how awful your sinus headache is, it won't get you out of the crucial presentation to the customer or the deadline for the time-sensitive report. Bad habits can be tough to break. So quit doing stuff in college that would get you fired from any decent job. Respect your current employment as a college student, and you'll discover greater purpose and meaning in your life.
Give yourself time to adjust
"Slow and steady wins the race." "Rome wasn't built in a day." We know that you have cracked it. Nevertheless, there is a reason there are numerous sayings about taking your time. You cannot expect to have a single set of routines all the years of your programme or life never goes as planned. However, pressuring yourself to bring change is unsustainable. Rather, focus on taking small, achievable, realistic steps toward adjusting to the rhythm of the new semester and achieving your long-term goals. Be gentle and patient with yourself, and you'll soon be back in the rhythm of your usual routine. Always Remember, "Good things come to those who wait ".
Must Watch:Essential Futuristic Skills Required for Professionals
Persistence: The Key to Success
Having a successful semester is no more a dream now. With all the above mentioned tips, you are ready to have a propitious start. It is just your little habits that make a big difference. Remember, your steamroller attitude is exactly what will help you succeed. If you require any extra help, you can anytime contact the most active department of the Teerthanker Mahaveer University, i.e., CENTRE FOR TEACHING LEARNING & DEVELOPMENT (CTLD). This department looks after the students in developing their personality traits. Intrinsically, if you are dealing with some mental issues, then this is the ultimate destination to get your problem resolved. Many students have found the solution here. Find out for yourself today.