Pros & Cons of taking online courses
The doors to online education have widened from the time we encountered a pandemic; might we even state that the pandemic was a catalyst in aiding this trend. Though education in any form is good, as we know to every coin, there are two sides.
The internet has broadened the scope and comfort of education we see today compared to the past. Missing out on school in the past was like missing out on knowledge, but with the assistance of technology, we have bridged the gap. Online programs are the by-products of this. In this ever-changing world, grappling with the skills with time is of the essence, and Online courses are making it happen for all.
Two decades ago, no one would have thought of the broader aspects and greater horizons that we are experiencing today; hence we put together the two sides of this story.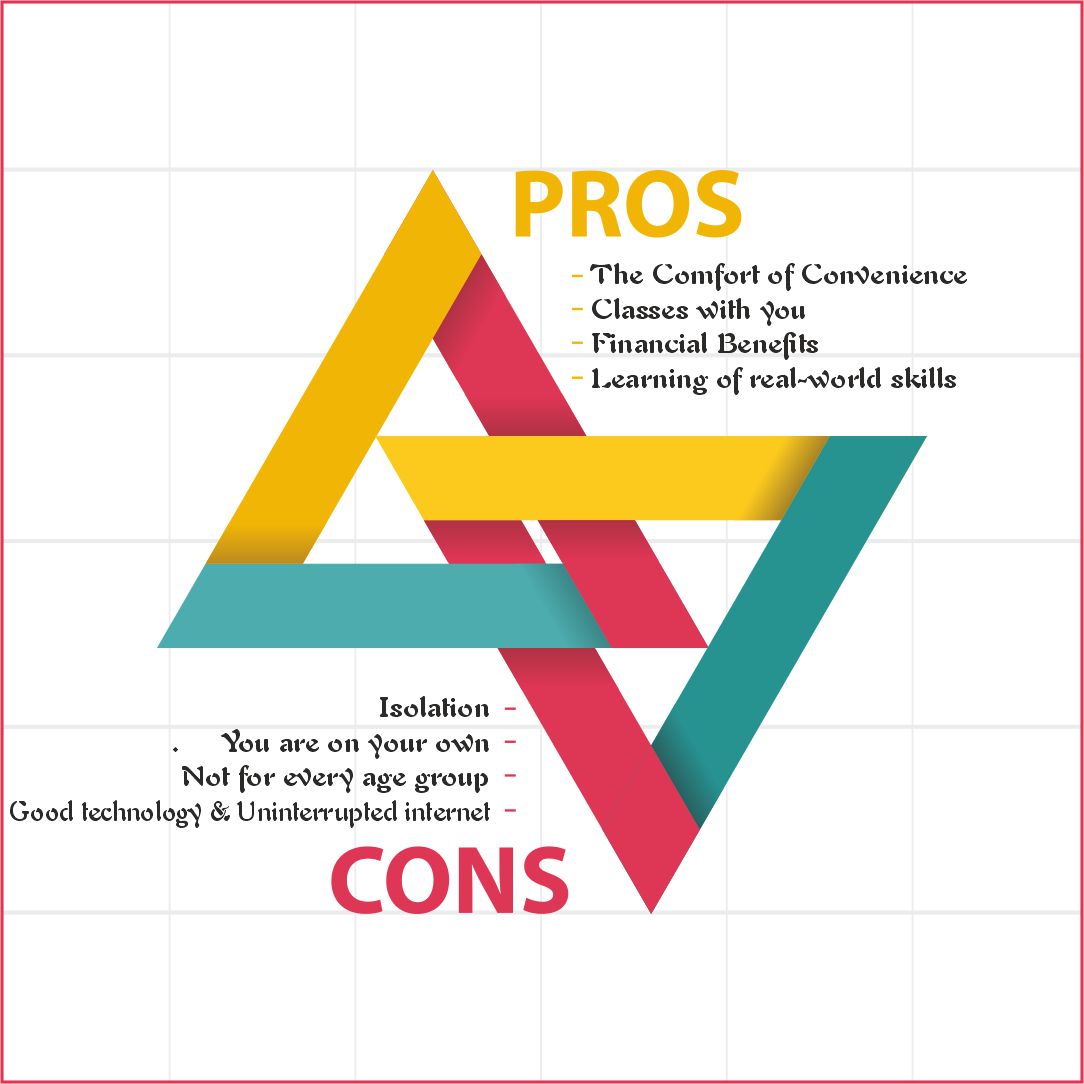 The Pros of Online Courses:
The Comfort of Convenience: The online course is available at your comfort 24x7 and 365 days. The ease of your understanding and pace relies solely on you. Apart from you there are no schedules or break times as one must adhere to. You can munch while you study or you can stretch your study time for hours without a break; there is nothing to hold yourself off. One can even gladly say you are your own teacher or student.
Classes with you: The simplicity that classroom easily comes to you, involves you in the entire journey, and is aimed at a more personalized experience of learning which students may lack in a classroom, is easily replaced with this style. Anywhere with ease, that's what the online program does for you.
Financial Benefits: Compared to physical classrooms, online courses are quite inexpensive; moreover, the investment in the online courses is of time and internet only. But in colleges and schools, the uniforms, the traveling cost, more time commitment, distractions & pace of teaching & learning end up even adding to the tuition costs, etc. Therefore, online courses, in the long run are much inexpensive.
Learning of real-world skills: The online courses are designed to teach effectively in a DIY fashion without much assistance from an expert. While the regular programs, due to many reasoning's, might not level up to it.
Cons of online courses:
Isolation: Personalized learning is a form of isolation that hampers the inter-personals development amongst the people, which is usually blooming through the classroom culture. Adding to it, one might even miss out on communal development too.
You are on your own: Though sometimes it's better to think that there's no one to hound you for those missed assignments, in the long run, when you need the push to go forward, it's only your determination that can save you. No friend can pass on to you the critical questions, and neither can anyone assist you in your rat race. If one lacks self-motivation, perhaps online courses can't quite help you.
Not for every age group: Classrooms can be for all, but online courses can cater to specific age groups, especially given the varied content the internet offers; continuous supervision for younger age groups is a must while continuing online courses.
Good technology & Uninterrupted internet: The technological and uninterrupted aid of the internet is crucial but can be costly for many. For such individuals, the free funding of subsidized educational centres has become a much-suited option.
Many educational centers & institutions understand this growing trend of the niched online courses and are adapting to the practice of a hybrid learning model to accommodate students' requirements. Similarly, Teerthanker Mahaveer University, a dedicated educational institution with 12B status , is adopting and implementing real-life skills and practical industry requisites.
Online courses might give one the exact knowledge of solving problems, but the physical touch of classrooms teaches many things required for social creatures like humans.