7 facts to know before applying to a law course
From Mahatma Gandhi to B.R. Ambedkar, Barack Obama to Nelson Mandela, Abraham Lincoln to ArunJaitley, all these lawyers have proved that sky's the limit. Lawyers are the frontline soldiers of the justice system, making sure their people's rights are heard. An attorney's dream is to bring societal change, both on an environmental and social level. Therefore, it is one of the most charming professions, and most students aspire to become one such.
With this thinking, students whole-heartedly apply to law colleges before doing proper research. After admission to law school, certain facts remain concealed. However, this becomes the reason to drop college in between. Hence, if you do not want to be a part of this statistic, thoroughly go through these facts stated below before applying to a law course as expressed by the best Law College in UP – Teerthanker Mahaveer College of Law & Legal Studies.
So, let's get started!
7 Facts to know before applying to Law Course
"A smart man makes a mistake, learns from it, and never makes that mistake again. But a wise man finds a smart man and learns from him how to avoid the mistake altogether."
At the entry stage, avoid making the mistake of learning these seven facts to know before applying to a law course and decide if you want to be a part of this noble fraternity or not. We hope it'll assist you in making a wise decision.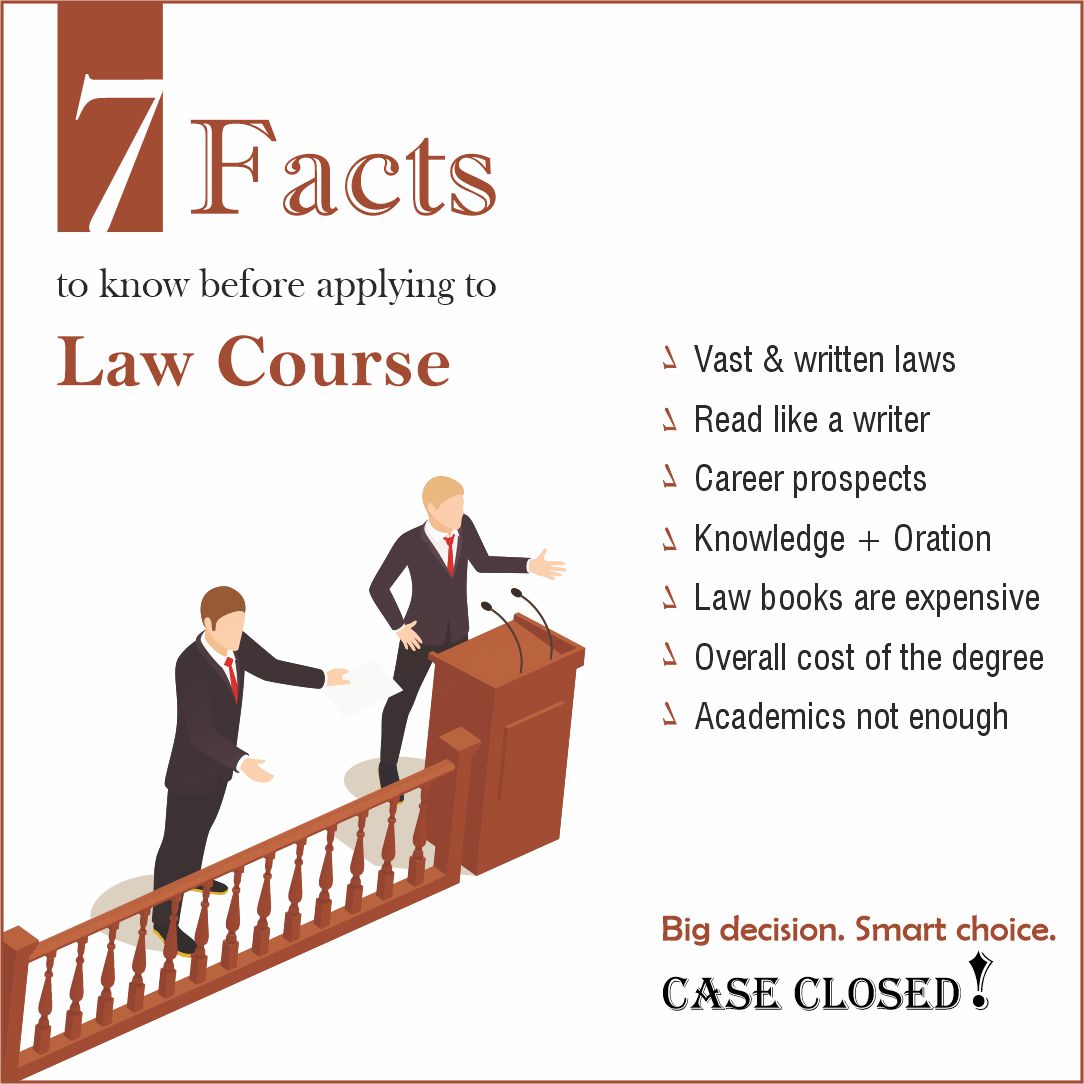 Vast and Written Laws
The Indian Constitution is the longest and largest written Constitution in the world. Besides human rights, the Constitution covers principles of administrative framework. To study and learn by heart is not everyone's cup of tea. One needs to give hours and hours to understand and memorise it. Also, now and then, there are new amendments and ordinances. Being a law student, you have to be in the news most of the time. There is so much to study that one can never think of sitting idle.
Read Like a writer
Law, as an academic degree, offers a rich curriculum that encourages students to engage intellectually with issues of present importance following previous developments. The course is exceedingly lengthy and being a voracious reader, you'll be expected to go through journals, articles, research papers, and even literature and poetry. Law school requires you to do extensive reading which includes familiarity with the Indian laws and the Constitution. That is the grundnorm. Law school necessitates insane levels of dedication that are no less than that of a writer.
Career Prospects
In recent years, India has become a lawyer factory. We do not mean to dissuade anybody from attending law college, but to warn students to keep their expectations in check. Following graduation, you may need to pursue additional internships, specialised courses, higher education, vocational training, and so on. Understand that the legal profession is highly competitive. However, this vocation may be quite rewarding. Instead of being afraid of the challenge, embrace it. Look for opportunities and career prospects to motivate yourself.
Also Read: TMU Turns 21, Celebrations Begin
Law Books Are Expensive
Since the demand for law books is low, the prices are automatically high. With the latest amendments and case studies, the books require updating at regular intervals. In the meantime, the old ones become obsolete. While, there's always a demand for the latest edition. This way, publishers increase the cost of the copy. Also, books are an ultimate source of information. You cannot rely on the internet for authentic information as most of the time we are unaware of the source. Consider this cost as a crucial factor before applying to law courses.
Overall Cost of the Degree
A rough estimation of your degree before the commencement, of course, is a must. However, while estimating the cost, tuition and other costs vary depending on the institution you attend. In any case, law school is expensive. Choosing a college just because it costs high is not an advisable option. Consider what the university offers and whether it is beneficial to invest so much money. Those in need of financial help should monitor financial aid deadlines and seek scholarships. Some colleges even offer large scholarships that pay the entire cost of attending law school.
Academics is Not Enough to Succeed
Being a bookworm may help you become the most learned student in class, but it does not give you the pragmatic skills required to handle issues and flourish in your job in real-life professional circumstances. Law is a job that requires excellent communication and critical thinking abilities. Students should use their time wisely. Taking part in the debate, Moot Court competitions, and Arbitration and Mediation seminars might help you succeed in law school.
Knowledge + Oration
If becoming a lawyer interests, you, then get ready to work on your knowledge along with your oration skills. We believe that 'Knowledge' includes everything. However, knowledge alone won't help you much until and unless you won't imbibe the art of articulating your thoughts confidently. So, consider this a crucial pillar. Getting involved in extracurricular activities will boost your career prospects. Moot Courts, Debates, MUNs, etc., are some of these activities.
You Are the Law!
Studying law is replete with challenges. Despite this, it is a rewarding profession. With all the above-stated facts, it might sound clear to you whether or not to pursue a law degree. If you are about to, one question might still bother you, which requires you to do a lot of research, i.e. looking for a top law College in India. Well, relax! We have got you covered.
TeerthankerMahaveer University (TMU) is undoubtedly one of the best Universities for pursuing Law education in India. With Bar Council of India (BCI) accreditation, the advanced curriculum and pedagogy are designed to give extensive exposure to students. More to this, the Corporate Resource Centre (CRC) department constantly monitors the students by delivering industry readiness tips and employment tricks to students.
The College of Law and Legal Studies (CLLS) also holds a record of providing quality placement in leading law firms, corporate houses, NGOs, etc. CLLS has also entered collaborations, exchange programmes, research partnerships and other forms of engagement and interaction with top universities and institutions across the globe. The college offers programmes like B.A. - LL.B. (Hons.), B.B. A - LL.B. (Hons.), and B. Com. - LL.B. (Hons.). Pursue law studies from TMU and make a difference.
Big decisions. Smart choice. Case closed.