The Road To Become A Successful Physiotherapist
Have you ever seen somebody running with a bag, spraying on a football or cricket pitch when a player gets injured or has a cramp? Well, if the answer is yes, aren't you curious to know who these folks are called? To put it simply, these are Physiotherapists.

It might be surprising to know that Physiotherapy today is one of the most demanding fields in the medical profession. According to WHO (World Health Organization) stats, India should have one physiotherapist for every 10,000 residents. Given the Indian population, the need for physiotherapists in India is estimated to be approximately 1.4 lakhs. This demonstrates that there are significant disparities between demand and supply for physiotherapists in India. Considering this, physiotherapists have tremendous employment and career opportunities.

Therefore, today we'll go on a journey on how to become professional physiotherapists and achieve success in this field. But first, let's go through the fundamentals.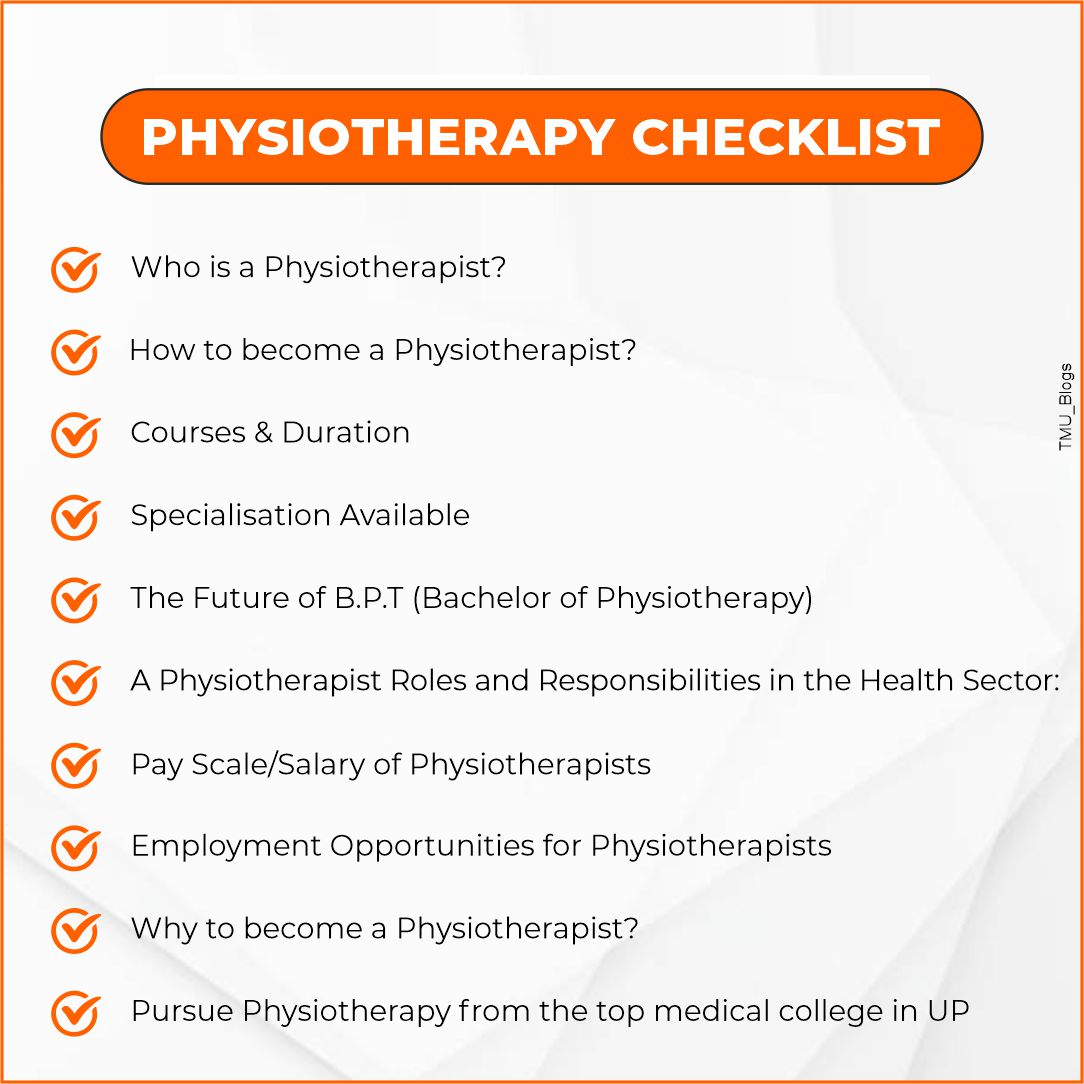 Who is a Physiotherapist?
A physiotherapist is a medical professional who assists patients with physical issues caused by sickness, accident, or ageing. They work in a variety of settings, from a hospital ward to the stadium of a famous sports club. Your job, regardless of speciality, is to rehab sick and damaged individuals. Children, the elderly, stroke patients, and persons with sports injuries are among the patient populations.
A physiotherapist (also known as a physical therapist) is a vital element of the healthcare team whose role is to return patients to normalcy without the use of medications through the use of movement, sports massage, therapeutic procedures, and regular exercise.
Today, a sedentary lifestyle has resulted in numerous health problems in life and Physiotherapy is considered a viable remedy.
How to become a Physiotherapist?
The fundamental need is a 10+2 certificate from a recognized university in the science stream.
Candidates must have Physics, Chemistry, and Biology as major courses in their 10+2 with a final examination grade point average of 50% or more.
You must also pass an admission exam conducted specifically for physiotherapy students.
Later get yourself enrolled for a degree course. Moreover, don't forget to get an internship or training certificate.
For pursuing higher studies, it is not compulsorily required. It is entirely up to the person whether or not they choose to do so. Going for a master's degree, on the other hand, not only enhances skills but also raises the pay scale.
Courses & Duration
Physiotherapy courses are available at diverse educational levels, including certificate, diploma, UG, PG, and PhD. Candidates can select any of the courses based on their educational level and financial capabilities.
B.P.T (Bachelor of Physiotherapy) - 4.6 years
M.P.T (Master of Physiotherapy) - 2 Yrs.
Specialisation
There are numerous courses one can opt for. It totally depends on your interests. Some of the physiotherapy specialisations are mentioned below:
Paediatric Physiotherapy


Obstetrics Physiotherapy


Physiotherapy for Sports


Neurology Physiotherapy


Physiotherapy for Orthopaedics


Geriatrics Physiotherapy


Physiotherapy Following Surgery


Physiotherapy for Cardiovascular Disease


The Future of B.P.T (Bachelor of Physiotherapy)
After BPT, a physiotherapy graduate might pursue further education and specialise in the discipline of physiotherapy. BPT graduates are also qualified for postgraduate programs, such as hospital administration, business management, public health management, and others. A Physiotherapist working in a hospital can expect to earn a minimum of Rs. 5-6 lakhs per year. With experience, salary rises following a job role and the type of company in which you works.
A Physiotherapist Roles and Responsibilities in the Health Sector:
As paramedical science plays a growing role and duty in a hospital setting, physiotherapy is a promising, fulfilling, and satisfying job. After passing a certain country's licence certification, physiotherapists have a plethora of prospects in the health profession.
Some of the responsibilities of a physiotherapist are:
Electrotherapy modalities such as diathermy, ultrasonic therapy, contrast bath, cryotherapy, hydrocollator, whirlpool therapy, trans-electric muscle stimulation, infrared therapy, ultraviolet therapy, and others are used to treat patients, as are various therapeutic workouts performed by automated equipment.
Evaluating balance in patients with neurological disorders
Use manual therapy, mobilisation, tendon manipulation, and other treatments. Training in a chair with gait, with or without ambulatory aids.
Assist with an in-home assessment to ensure a barrier-free workplace.
Then you should be familiar with the stages of becoming a physiotherapist. It is critical to understand the eligibility requirements for becoming a physiotherapist in India. Details on the same are provided below. Read the details and begin your preparations immediately.
Pay Scale/Salary of Physiotherapists
| JOB PROFILE | STARTING SALARY | MEDIUM LEVEL SALARY | SENIOR-LEVEL SALARY |
| --- | --- | --- | --- |
| Physiotherapists | 2,42,983/year | 3.06,184/year | 10,11,123/year |
Employment Opportunities for Physiotherapists
Consultant Physiotherapist in Multi-specialty Hospitals, Health Care Centres, and Non-Governmental Organisations


Corporate Physiotherapist in Multinational Corporations


Instructor of Health Care Physiotherapy in Modern Gyms


Ergonomic Care Consultant


Physiotherapists in Physically Disabled Children's Special Schools


Physiotherapists in Nursing Homes for the Elderly


Sports physiotherapists work with sports associations, sports teams, and exceptional players who hire physiotherapists on their own.


Lecturer


Clinical Investigator


Why to become a Physiotherapist?


Physiotherapists in India are well compensated. When contrasted to certain other health industry jobs, the starting pay scale is higher.


The demand for physiotherapists has risen as people's quality of life and lifestyles have changed, and this trend is expected to continue in the foreseeable future. As a result, the number of job prospects for new therapists is greater.


Pursue Physiotherapy from the top medical college in UP
Teerthanker Mahaveer University's Physiotherapy Department is a perfect destination for innovation and transformation.The multidisciplinary University encourages and supports students to excel in respective fields. Besides the classroom learning and clinical training at the 1000 bed Teerthanker Mahaveer Hospital and Research Centre, our outreach programs such as physiotherapy camps in the rural areas, serve the poor and weaker sections of the society, which gives the required exposure to you. The vision and mission of our university has added a thrust to research, and the department is well on the way to making its mark as a world-class institution of learning, research and quality patient care.
Be a part of the leading Physiotherapy Institute in Uttar Pradesh and help people in improving physical abilities. Explore the Department of Physiotherapy now.