Scope of MBA in Agribusiness
The modernization in the agriculture domain has undoubtedly upped the bar for more business avenues opening a portal of endless amounts of opportunities. Today we regularly encounter videos or stories of farmers about how modernization has helped them to make lots of profit in the agriculture industry.
Agriculture can never end, and people will never stop eating food; only the ways of production, distribution, and overall business will transform for good. Hence, the scope of learning about agriculture business is essential and is catered to by the programme MBA in Agribusiness.
The terms "agri" and "business" speak for themselves. They will equip you with the necessary agricultural and business skills to give you a rewarding career. The agriculture industry of India contributes 20.19% of the overall GDP.
Scope of MBA :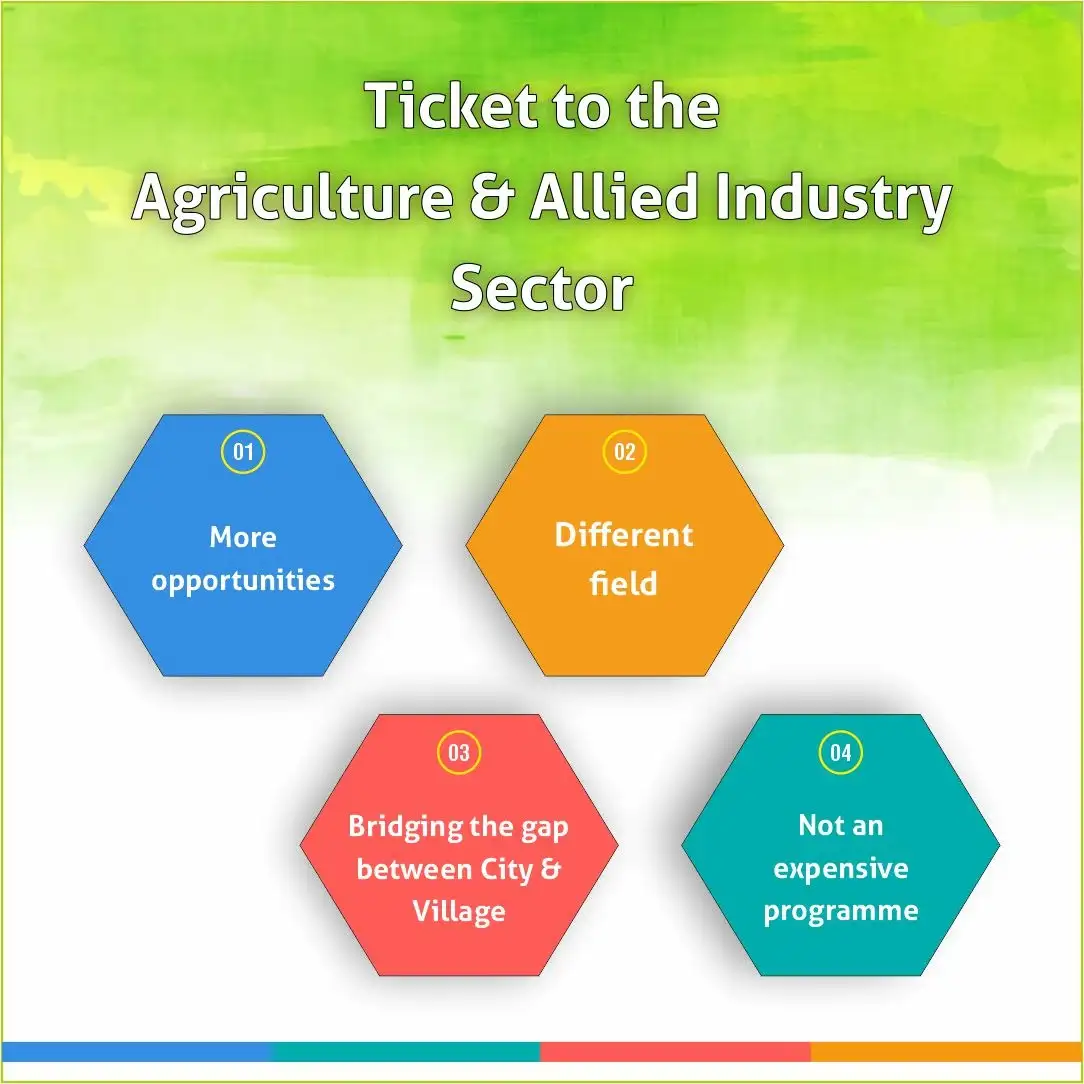 Agribusiness describes all economic activities related to agriculture, such as chemicals, breeding, crop production and farming, farm machinery, distribution, marketing, and sales. For a developing nation like India, agriculture plays a vital role in economic and occupational distribution. The government is progressive in supporting and aiding farming & agriculture businesses and start-ups by providing many subsidies, funding opportunities, etc. while making them easier to avail compared to earlier times.
So, the industry also holds a lot of potential from a monetary point of view. This degree has a broad spectrum of roles. Such as Agribusiness Manager, Commodity Merchandiser, Trader, Bio-Compost Sales Head, Market Analyst, Farm Appraiser, Farm Business Manager, etc. MBA Agribusiness offers salaries in India ranging between Rs 4.0 Lakhs to Rs 15.0 Lakhs with an average annual salary of 6.9 Lakhs. Overall, this degree offers many exciting roles to explore, and the average wage seems promising and rewarding. Rural India solely depends on agriculture as their primary source of income and livelihood. As more jobs are created in this domain, and urban talent gets connected with the roots, the gap between urban and rural India can narrow.
Eligibility criteria to get an MBA in Agribusiness:
According to NIRF, top-ranked colleges that offer this degree are available across the nation and available to opt for according to your eligibility. Another great thing about this degree is that it has no age limit. The minimum percentage required to pursue this is 50%. CAT, MAT, XAT, CMAT, MAH CET are some of the popular entrance exams which you can appear for depending upon the college you have decided to join. The areas of recruitment providing MBA in Agribusiness jobs are Food Industries, Agriculture Board, Food Production Firms, and Import and Export firms.
TMIMT, a top management college in North India, is a subsidiary of Teerthanker Mahaveer University, a NAAC 'A' accredited and 12B status-recognized university that offers best-in-class management programmes. MBA in Agribusiness is one such programme in the institute's wide range of MBA specializations. The University, moreover, has an ICAR-approved College of Agriculture Sciences. MBA students can easily interact and get exposed to the agricultural industry and its real-case scenarios with the budding BSc. Agriculture pursuing students and teachers.
So, why pursue an MBA in Agribusiness? To conclude, the domain is progressive and futuristic; the innovation, governmental support, and the proposed infrastructure make it a secure option. While an MBA is generally heavy on the pocket, an MBA in Agribusiness is quite pocket-friendly. Students from almost all financial backgrounds can make it possible to study the course and have a fulfilling career.
To learn more about MBA in Agribusiness, reach out to: https://www.tmu.ac.in/tmimt-college-of-management/programs.