A career in law is rewarding and can open the gates to innumerable opportunities when the law degree is pursued at the best law college. The College of Law and Legal Studies, Teerthanker Mahaveer University is the best law college in Moradabad , Uttar Pradesh. The college was set up with a mission to promote excellence in the field of legal education and to fulfil the ever-increasing demand for quality legal professionals in a growing legal world.
Lawyers are the foot soldiers of the constitution. Due to the shifting social and economic conditions and expanding regulatory role of the government, there is a growing demand for lawyers. Aside from being financially rewarding, the law is an adventurous and exciting career path. So, if you have chosen to study law, you are well aware of the numerous factors to take into account when searching for a reputable law school.
Programmes Offered at TMU's College of Law and Legal Studies- The College of Law and Legal Studies is approved by the Bar Council of India.It presently offers 5-year integrated programmes that candidates can pursue right after Class 12th and a PhD programme in law.
B.A-LL.B(Hons.) - The Bachelor of Arts and Bachelor of Legislative Law (B.A-LL.B) Honours is a professional law degree. The course is a blend of art studies with all the legal terms. It offers ample job opportunities for Criminal Lawyers, Litigation lawyers, Cyberlaw, Judicial Services, Legal advisors in MNCs and many more.
B.Com-LL.B(Hons.) - The Bachelor of Commerce and Bachelor of Legislative Law (B.com-LL.B) Honours is an integrated course wherein aspirants are taught both commerce and law subjects. One can be a Corporate Lawyer, Auditor, Attorneys General, Civil or Income Tax advocate etc.
B.B.A-LL.B(Hons.)- The Bachelor of Business Administration and Bachelor of Legislative Law (B.B.A-LL.B) Honours is an administrative law professional integrated course. One can work as a Business Development Manager, General Counsellor in the legal departments of MNCs, Legal Probationary Officer with reputed banks etc.
Ph.D. In law- For post-graduate students who want to advance their education through legal research, there is a Ph.D. programme in Law. The programme gives applicants a chance to make a contribution to the academic community in their areas of preference.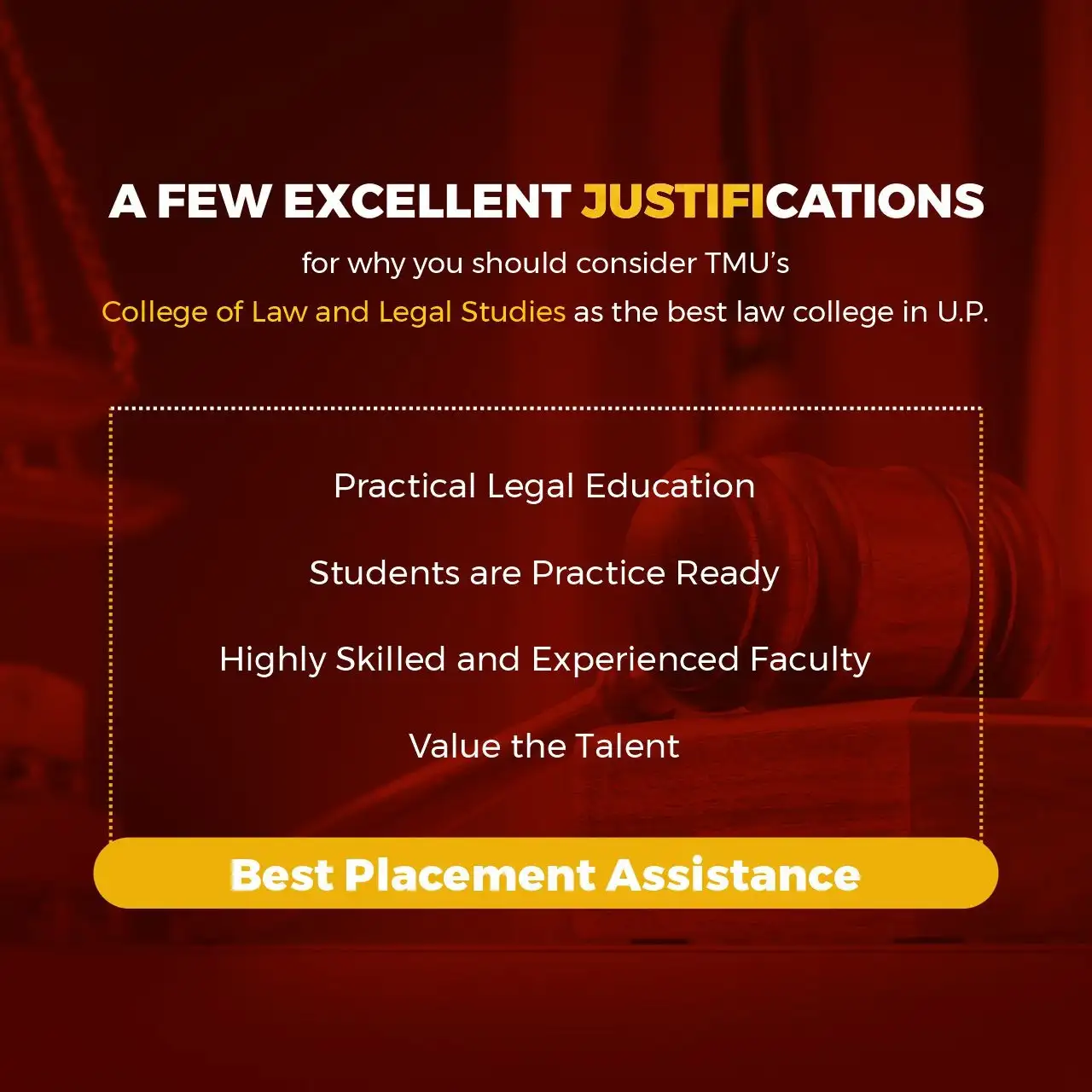 The following are a few excellent justifications for why students select TMU's College of Law and Legal studies as the best law college in U.P:
Practical Legal Education: Outreach Program-
If we talk specifically about law and legal education, we believe that practical learning is more important than theoretical classroom learning. Law students must have the opportunity to gain experience and knowledge from the best because they will be the key persons to serve the nation in the future. TMU's College of Law and Legal studies take students on educational tours to various places - the Parliament of India, the Supreme court of India, LokAdalats etc., thus putting the students in contact with prominent lawyers and judges so they can see how the knowledge they have learned from their textbooks is put to use in actual situations.
TMU Students Are Practice Ready-
Law students benefit from practical training that will make them better lawyers tomorrow. By bridging the gap between academia and the real world, TMU students are provided with the best practical knowledge that advances a deeper knowledge of the field. Since a lot of learning that frequently occurs "on-the-job" will be covered through internships and extensive study. Teaching and researching lessons through presentations, group discussions, case studies, moot court competitions, legal writing, research activities and learning from professionals, as well as graduating with multiple internship experiences—the level of practical exposure at TMU's College of Law and Legal Studies is quite impressive!
Highly Skilled and Experienced Faculty-
The faculties at TMU's College of Law and Legal studies are trained at the best of global institutions, they come with a wide array of expertise and experiences. Guest lectures by experienced luminaries from Law Firms, Judiciary, etc. provide an important educational experience and enable students to interact with professionals in formal and informal settings. Their effective teaching methods, combined with modern instructional practices such as slides and videos, make the learning process comprehensible for the students. The bottom line is that to prosper in the modern world, one must have modern legal training, and TMU is the ideal location for the law student of today!
Value the Talent-
The outstanding students at the university are given scholarships because Teerthanker Mahaveer University believes that deserving students should be recognised and not be excluded from the mainland in their pursuit of higher education. Thus, the university offers scholarships, medals, honours and diplomas to acknowledge the talent of deserving students. The university has attractive scholarships for Jain students (up to 50% exemption in Tuition fees) and special scholarships for sports persons. So, getting a scholarship takes away all your financial concerns and it gives you more time to study, acquire knowledge, better grades and tons of other advantages.
Best Placement Assistance-
The placement cell at the university provides the best placement assistance to the students. The Centre for Career Counselling and Employment organises soft skills, personality development, career guidance, and counselling programmes for students in order to prepare them for professional competition. Leading national and international law firms have become regular recruiters for bright young graduates of TMU for placement and internship programmes. It also organises industry-academia interaction, corporate training, seminars, and workshops for strengthening corporate relations and ultimately helps students to find good placements. The College of Law and Legal Studies is one of the best private law colleges in Moradabad, U.P. as it has an excellent placement track record.
Gateway to a Successful Law Career:
TMU's College of Law and Legal Studies has established itself as a recognized name in legal education. Its graduates are serving the country as Advocates, Judicial Magistrates, Legal Advisors, Law Officers in MNCs, and Subordinate Courts, State High Courts, and the Supreme Court of India.
The college adopts a career-oriented approach that delivers client-focused lawyers eager to make a mark in litigation, judicial services, teaching, research, and social advocacy. The College of Law and Legal Studies is the best private college for law in Uttar Pradesh, providing a dynamic learning environment for young minds. Take the next step towards your rewarding career in law. For more information- https://www.tmu.ac.in/college-of-law-and-legal-studies