Teerthanker Mahaveer University is the best private university in Uttar Pradesh and is well known for its Jain philosophy. The university is dedicated to Lord Mahaveer's ideals of Right Philosophy, Right Knowledge, and Right Conduct in all spheres of action and aspires to be recognized as a premier destination of excellence in providing quality education, research, and consultancy services to society and nation.
The multi-disciplinary university provides career-oriented programmes at all levels, including undergraduate, graduate, doctoral, and research level programs in numerous disciplines, including Medical, Dental, Paramedical Sciences, Hospital Administration, Physical Education, Management, Engineering, Computer Science & IT, Pharmacy, Law, Fine Arts, Nursing, Physiotherapy, Polytechnic, Jain Studies, and Agriculture.
Here are the reasons why TMU is the best private university in Uttar Pradesh-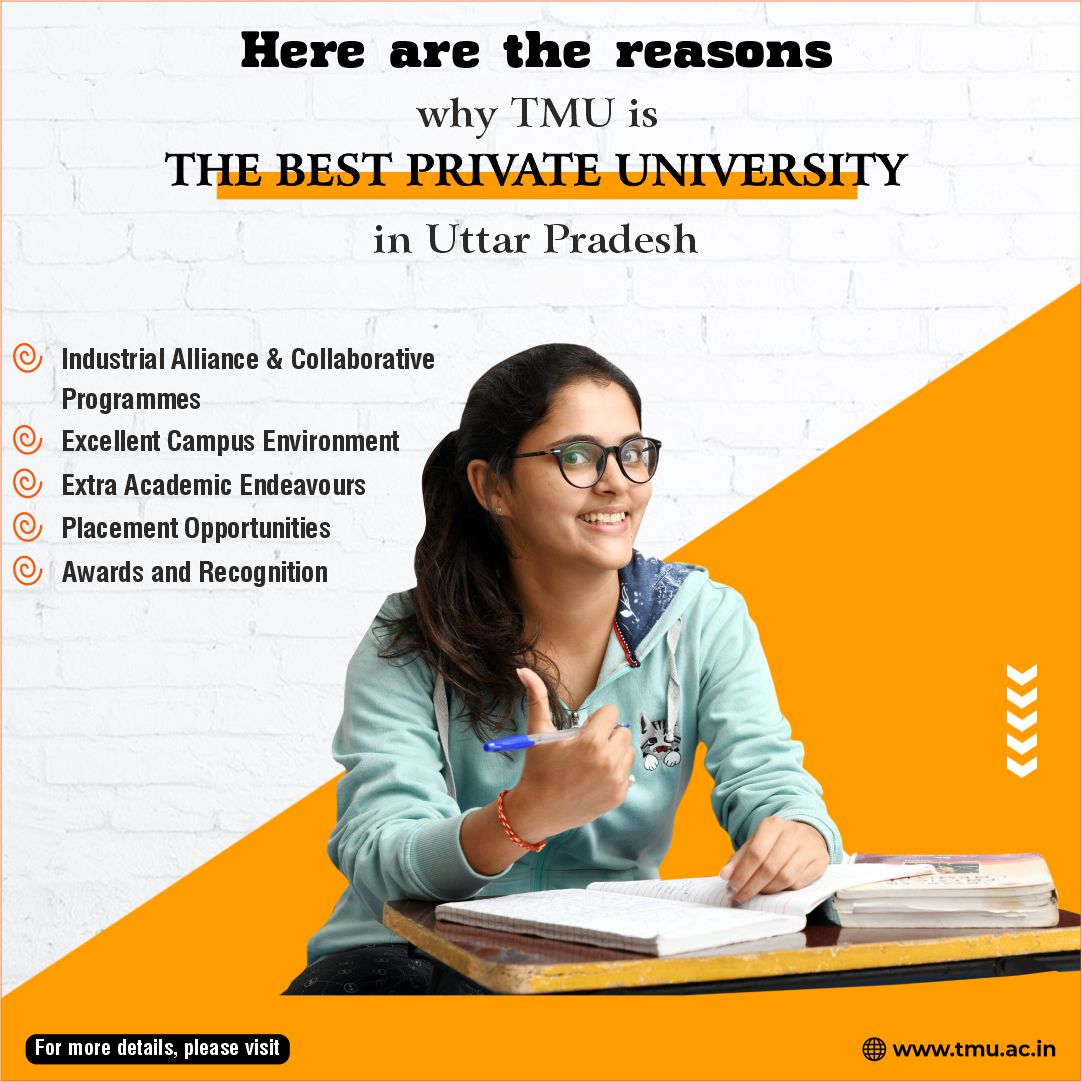 Industrial Alliance & Collaborative Programmes-The University believes that the growth of the nation is only possible when both industry and academia work hand-in-hand. To make this possible, the university has formed alliances with several recognised multinational corporations and ensures the training of its students on the latest technologies used in the industry. TMU has collaborated with IBM, i-Nurture, NIVIDIA, BOSCH , Bombay Stock Exchange, Safeducate, Future Group and TCS-ION so that students can learn practically while pursuing their degrees at the best university.
Also Read: Annual Lecture Series 2022
Excellent Campus Environment-Teerthanker Mahaveer University is a new generation educational institution. The campus has the uniqueness of having many state-of-the-art buildings. It has been planned, designed and constructed to address broader issues that relate to resource and energy conservation. It has a lush green campus spread over 140 acres of land with all modern amenities like hostels, world-class indoor stadiums, 24x7 security, mess, libraries, banking facilities, study rooms, gymnasium and much more. The university has a state-of-the-art apple i-mac lab, ventilated classrooms, and a modern air-conditioned auditorium.
Extra Academic Endeavours- The university's extracurricular activities help students in developing the skills of event management and planning, as well as attributes of effective leadership, team spirit, and compassion. TMU has over 20 great clubs and societies to get involved in. The clubs promote a culture of ideas, innovation and entrepreneurial intentions among the students. There is something for everyone, whether it is academics, sports or cultural activities. Moreover, TMU also organises industry-academic interaction programs, guest lectures, conclaves, seminars, mentorship sessions, and workshops for students.
Check it out: TMU's Mega HR Conclave
Placement Opportunities- Teerthanker Mahaveer University has tied up with several recognized national and international institutions for internships, and placement programmes, as a result, providing global employment opportunities to students in reputed companies like Microsoft, Capgemini, Byju's, Cloud Analogy, Code Quotient, Accenture, Tech Mahindra, Flipkart, Nestle, Nagarro, TCS, Infosys, Lenskart, Wipro, etc. at top positions with attractive packages. The training and placement cell of the university always tries to provide every single detail to the students about the recent developments around the world.
Awards and Recognition-Since its inception, TMU has gained a strong reputation among its peers as a dedicated and renowned educational institution, receiving recognition from both national and international institutions. The university has been recognized as the Best Private University by the Journalists Federation of India. The university has also been conferred with 12B status by the University Grants Commission (UGC). TMU's Institution Innovation Council also bagged the highest 4-star rating, landing it as one of the top ten institutions amongst 208 universities in the Northern India zone.
What's Next?
"Your future will be determined by what you do today". This is so apt for everyone joining TMU. What you do throughout your time with us will shape your destiny. The Teerthanker Mahaveer University, the best university in Uttar Pradesh, features a highly skilled and experienced faculty, modular learning laboratories, research facilities, well-designed residential space, and a fantastic environment for sports and co-curricular activities. Examine yourself to see where your passions and qualities lie and choose the right course for you from more than 150 programmes across 14 on-campus colleges at the best private university in Uttar Pradesh. For more information, Visit- www.tmu.ac.in