Why is TMIMT College of Management the Best in U.P?
"Management is a practice where Arts, Science, and Crafts meet". A career in management offers status, exciting work, and the satisfaction of working closely with others. People are regarded as the most valuable asset in organisations. Managers collaborate closely with people ranging from top executives to clerical personnel in order to ensure that the firm achieves its objectives.
Acquiring a degree in management equips graduates for higher wages, positions of greater responsibility, and more firm job security. Students aspire to be prepared for the future. But do we have enough reliable educational facilities to support our efforts to create a community of world leaders outfitted for the future? We Do, Yes!
Getting Ahead with Teerthanker Mahaveer University, Moradabad
Teerthanker Mahaveer University, Moradabad is approved by UGC and has been awarded the prestigious "A" grade by the National Assessment and Accreditation Council (NAAC). TMU is a multidisciplinary and research-oriented university that houses TMIMT College of Management, the top business school in Uttar Pradesh, preparing its graduates to become excellent managers through academic knowledge and practical applications through various undergraduate, graduate, doctoral, and certificate programs underpinned by the best faculty members. Since its inception, the college has been building leadership, nurturing entrepreneurial talent, encouraging research to advance managerial practices and equipping students with the crucial skills and professional ethics needed to succeed in the globalized world. The college is undoubtedly a modern hub of learning for those who wish to build their career in business and entrepreneurship.
Programmes offered at TMIMT College of Management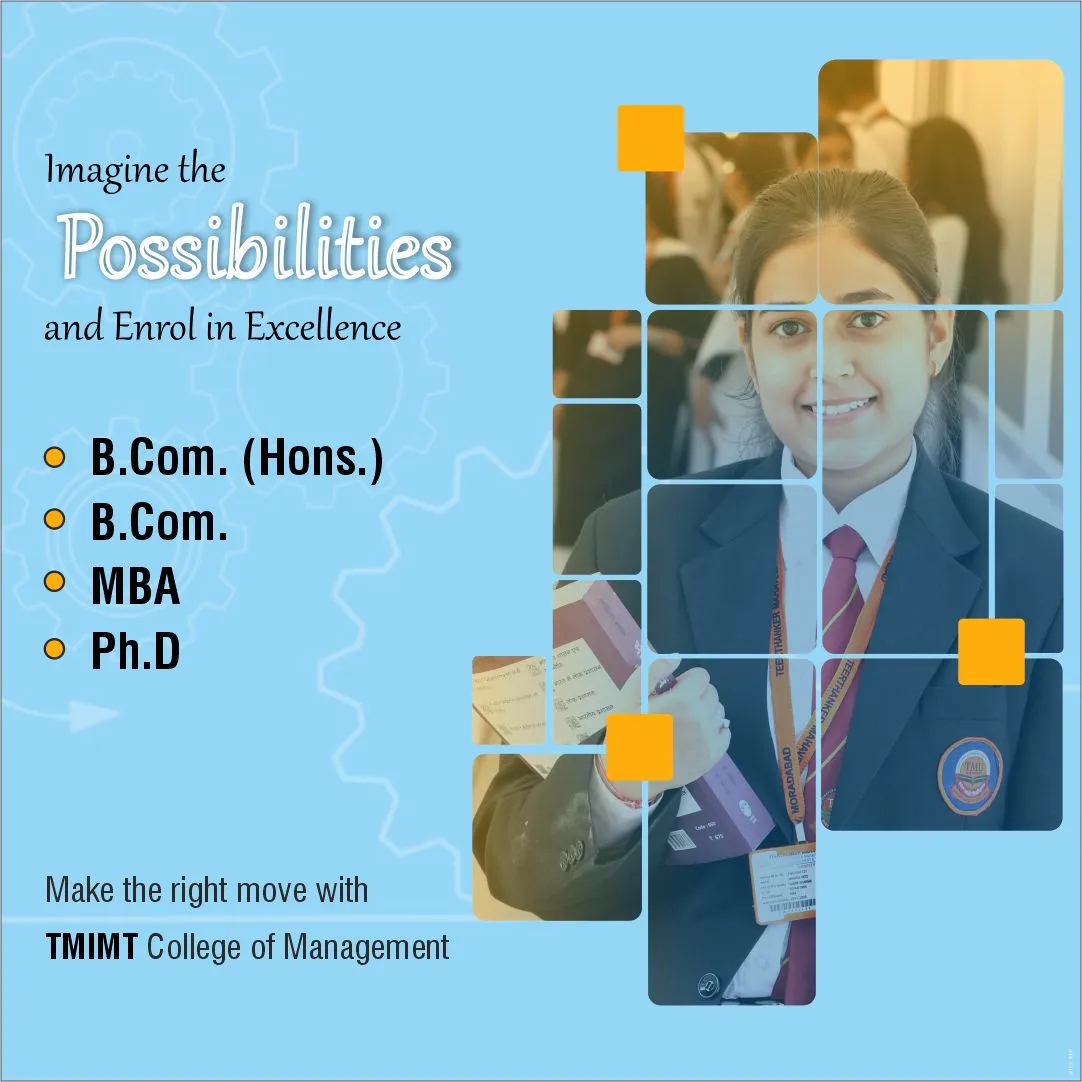 BBA (Bachelor of Business Administration) - BBA course equips you with the right knowledge and skills in business administration and imparts an understanding of the principles which are required for a career in the corporate world. The college offers a 3-year BBA (Bachelor of Business Administration) programme in various disciplines-
General
Brand Management and Communication
International Business & Entrepreneurship
B.Com. (Hons.) - B.Com. Hons. is an industry-oriented degree programme that prepares students for business, accounting, marketing, and other related subjects. The college offers 3 years of B.Com. (Hons.) in the following disciplines-
B.Com.- B. Com degree trains students for the corporate world as well as entrepreneurship. Students obtain enough business and financial knowledge that they can adapt to a job or become an entrepreneur. The college provides the best theoretical as well as practical knowledge about the subjects related to organizational behaviour and accountancy.
MBA (Master of Business Administration)- Master of Business Administration is a highly valued degree prepared to develop the skills required for careers in business and management fields. Attaining an MBA from TMIMT College of Management allows you to learn how to successfully manage, lead, organise and adapt to a variety of business environments. The college offers MBA degrees in various disciplines-
Marketing, HR, IB, Finance, Agri. Business
Industry Integrated with Global Exposure
Supply Chain Management & Logistics
Handicraft Export Management
Hospital Management
Executive
Ph.D in Management- A Ph.D (Doctor of Philosophy) in management is one of the highest academic degrees available in this field. The degree provides a deep insight into the field of business management and administration. Those who want to pursue a career in education and research in this field can opt for Ph.D in Management from TMIMT College of Management.
Why is TMIMT the Best Choice for Students?
Value-Added & Skill-Based Courses: The TMIMT College of Management has introduced value-added and skill-based courses like Digital Marketing, Advanced Excel, Tally and many others to improve the student's existing skill sets and align them with industry expectations. These courses are instructed by professionals and industry experts which helps students to stand out from others by adding more value to their resumes.
Internships & Placement Opportunities: Teerthanker Mahaveer University has tied up with several recognised multinational companies for internships, apprenticeships and placement programmes for students. TMIMT – Corporate Resource Cell (Placement Cell) organises personality development programmes and summer internship programmes and ensures that the students are ready for the selection processes and their stages.
Awards and Recognitions: TMIMT College of Management, the top business school in Uttar Pradesh, has received awards and recognition from both national and international institutions. The college has been rated among the top 5 B-Schools of North India by various professional bodies and is the best management institute in the industry.
National and International Collaborations: The college has collaborated with the University of Regina, Canada; SolBridge Business School, South Korea; Bombay Stock Exchange; Future Group; IL&FS; i-Nurture; Tally Academy; Safeducate and UR Services. As a result, providing global exposure to the students.
Student Clubs: The clubs promote a culture of ideas, innovation and entrepreneurial intentions among the students. The Student Clubs play a pivotal role in the development of its students. The TMIMT College of Management has Finance, Human Resource, Marketing, Environment, Social Service, Innovation and Entrepreneurship Clubs operated by the students.
Get Ready to Make a Difference -
TMIMT College of Management, the best management college in Uttar Pradesh , helps students to be prepared for the challenges of the industry. The college gives top priority to career and process-oriented learning with pedagogical tools like the use of case studies, industrial training, practical training, business news analysis, business quizzes, management games and industry-oriented projects. So far, more than 627 companies, including top MNCs such as Microsoft, Amazon, IBM, Byju's, Code Quotient, Accenture, Infosys, Capgemini, Lenskart, Wipro, Jet Airways, and many others, have conducted on-campus interviews and are recruiting students at high packages. Take the next step towards your exciting career. Enrol Today.