Engineering is all around us, all the time, whether it is in your smartphone, the internet, your motorcar and the roads it drives on – it is everywhere. Engineers are problem solvers. They explore, innovate, and create. They know how things work, and so they constantly analyse things and discover how they can work more effectively with their creativity. It is a diverse profession that branches out into every industry that makes our lives easier.
While selecting a course in college, students usually spend time researching its pros and cons. It includes the career options, scope, demand in the industry, top universities, and placement opportunities in renowned companies. As much as your interest in that course is important, the growth factor linked to the course is equally essential. So, here we are discussing some top engineering specialisations in 2022 along with their scope, and career opportunities.
Being a vast domain engineering offers a lot of specialisations ranging from computer science, civil, mechanical, electronics…. the list goes on. However, the demand for these specialisations depends on technological advancements, industrial growth, economic environmental changes etc. If you have pursued a B.tech programme with a top engineering college, you can be placed in top global companies.
Let's look at the various choices you have for being an engineer.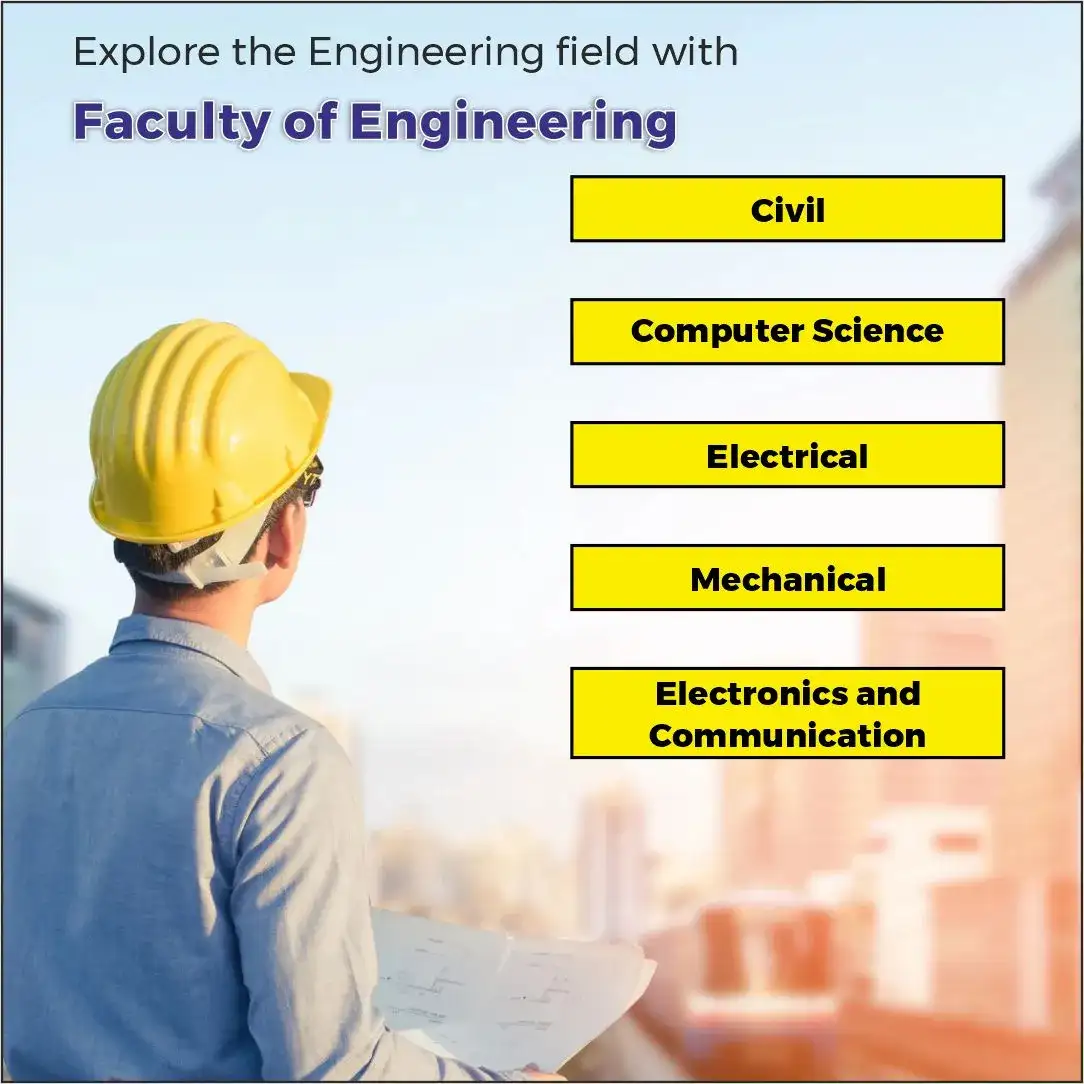 1. Civil Engineering-
Civil engineering is concerned with the planning, design, and implementation of structural works for environmental control, natural resource development, transportation facilities, pipe networks, structural designs, and any combination thereof that benefits the general public.
As a civil engineer, you have the opportunity to work with chemicals in water treatment or you can design the next world-famous bridge. Industries like fertilizer, pesticide, transportation, environment, water resources, petroleum, oil industry, and food manufacturing industry, require civil engineers for their skilful work.
Civil engineers have an advantage over other types of engineers because they have equal opportunities in both the public and private sectors. They can start their own consulting or construction businesses at the start of their careers or after a few years of professional experience.
Career options in Civil Engineering: Building Control Surveyor, Water Engineer, CAD Technician, Civil Engineering Technologist, Consulting Civil Engineer, Contracting Civil Engineer, Design Engineer, Nuclear Engineer, Site Engineer, Structural Engineer, Rural and Urban Transport Engineer etc.
2. Computer Science Engineering (CSE)-
Computer science engineering is one of the trending subjects that students pursue after completing Class 12. It is concerned with the basics of computer programming and various aspects needed for the creation of a computer network. As the IT industry is growing at an exponential rate, the transition of everything to the digital market is tremendous.
Technological advancement has created lucrative job prospects for CSE professionals. CSE experts are in high demand due to the growing number of work opportunities in this field. Computer Science Engineers typically seek jobs in a multitude of sectors, including IT & software companies, academic institutions, sales and marketing firms, journalism, editing & content firms, engineering firms, and so on.
Computer science engineers are one of the highest-paid professionals in the whole world because their knowledge allows businesses to keep up with changing technologies. The jobs are all here to stay, regardless of where you live. There are various worldwide career prospects, as well as numerous opportunities for start-ups and freelance work that anybody with a computer science background can oversee.
Career options in Computer Science Engineering: Systems Analyst, Software Engineer, Cyber Security Specialist, Data Engineer, Data Analyst, Data Scientist, Database Administrator, Machine Learning Engineer, Product Managers, Game, Developers, Web Developers, Finance Programmers, and other roles.
You can also explore TMU's AICTE-approved B.tech programme in computer science and engineering in various fields like-
Artificial intelligence, Machine learning, Deep learning
Data science and Cloud technology and Information security (In collaboration with

i- Nurture

)
Application development using cloud & analytics platform (In collaboration with IBM)
Data science (In collaboration with TCS iON)
3. Electrical Engineering-
If you're interested in electrical circuits, equipment, signal frameworks, communications technologies, or gadgets, this could be the course for you! While studying electrical engineering, you will be designing, developing, testing, and managing the production of electrical components such as electric engines, radars, GPS technologies, communications networks, and power generators.
Electrical engineering encompasses a wide range of disciplines, including power engineering, instrumentation engineering, microelectronics, control systems, signal processing, and electronic engineering. Because of the numerous career paths available in electrical engineering, there are numerous job opportunities.
Career options in Electrical Engineering: Electrical Engineer, Electrical Design Engineer, Power Engineer, Instrumentation Engineer, Test Engineer, Controls Engineer, Micro Electrical Engineer, System Engineer, Telecommunications Engineer and many more.
4. Mechanical Engineering-
If you are genuinely interested in mathematics and physics, you can study mechanical engineering. Mechanical engineering includes designing, developing, building, and testing mechanical systems using the principles of motion, energy and power, ensuring that technologies operate safely, efficiently and reliably, all at a competitive cost.
Mechanical engineering has a long and illustrious history full of inspiring innovators and experts like James Watt, Nikola Tesla, Charles Babbage, Thomas Edison and many more. If all of these brilliant minds have incited your fantasy and you believe you could be the next Babbage or Edison, try looking at #TMU's B.tech programme in the mechanical engineering domain and begin your amazing journey.
Career options in Mechanical Engineering: Manufacturing Engineer, Process Engineer, Mechanical Design Engineer, Application Engineering Manager, Aerospace Engineer, Automotive Engineer, Biomedical Engineer, Land-based Engineer, Mining Engineer, Technology Specialist, Thermal Engineer, etc.
5. Electronics and Communication Engineering-
Electronics and Communication Engineering is one of the most popular branches of engineering. It offers ample scope to explore and extend your horizons. While studying this specialisation, you will be learning about microprocessors, solid-state devices, digital and analogue communication, wireless communication, integrated electronics, communication networks, digital switching systems, microwave engineering, satellite communication and much more.
If you are curious about communication and electronic gadgets, then ECE will be an appropriate choice for you. You can join the IT sector, radio & television industry, airlines, and telecommunications. You can also explore the Indian armed forces, which provide jobs for electronics and communication engineers. You can be the next who is designing autonomous drone logistics, self-driving cars, robotics, smart energy systems etc. Also, there are many ways which provide opportunities to enhance your skills.
Career options in Electronics and Communication Engineering: Chief Technical Officer, ASIC Engineer, ECE Engineering Consultant, Technician, Desktop Support Engineer, System Control Engineer, Network Planning Engineer, and a lot more.
You have the key!
Here, we have discussed the top specialisation to pursue engineering. But what next? Be rest assured, Teerthanker Mahaveer University offers B.Tech and diploma courses in all the above specialisations, as well as an M.tech in Computer Science & Engineering that facilitates an adequate infrastructure, skill development, and modern tools & techniques to explore the field of engineering.
TMU's  Faculty of Engineering is the top-ranked engineering college in U.P and has secured 4-star rating by Institution Innovation Council. Apart from classroom learning it also organises industry-academic interaction programs, guest lectures, conclaves, alumni talks, mentorship sessions, and workshops for students. Explore the top engineering programmes at TMU- https://www.tmu.ac.in/tmu/engineering-programmes