Scope & Opportunities - B.Sc Agriculture (Honours)
So, here's a response to the question, "Why B.Sc Agriculture (Honours)?" Scope and opportunities available to students? In particular, if done through an ICAR-approved college like Teerthanker Mahaveer College of Agriculture.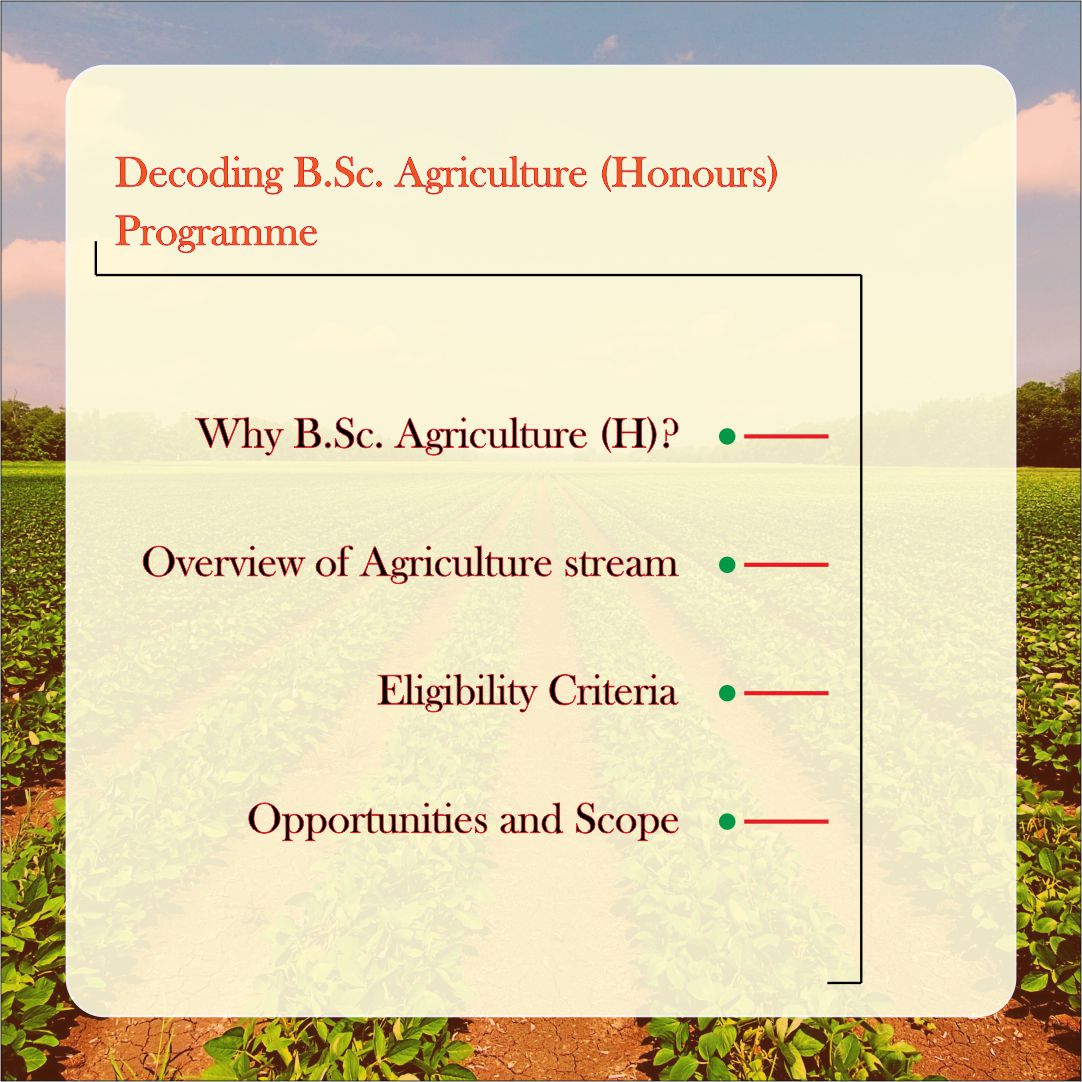 Why B.Sc Agriculture (Honours)?
The answer to it is pretty simple: The need for food will never stop, and so will the need to produce it. Given the rise in the population, the demand for more produce has overtaken the world. Technological and genetic plant breeding, and Bioengineering interventions have helped the industry's growth.
Also, related sectors like food & technology, the dairy industry, food science, horticulture, plant science,and fisheries require professionals from the agriculture domain.
Overview of Agriculture stream:
B.Sc Agriculture (Honours) is a four-year undergraduate professional education provided by several Indian government and private universities. The program expenses are also far lower than those for other professional degrees. The program rewards good jobs with a better package. The syllabus follows the ICAR requirements (Indian Council of Agriculture Research). Its goal is to teach students how to improve crop output sustainably and provide general knowledge about agriculture and associated fields. The program offers an opportunity for bachelor's, master's, and doctoral degrees in various areas of specialization like agronomy, soil sciences, horticulture, plant breeding and genetics, entomology, plant pathology, animal sciences, extension education, plant biochemistry, agriculture economics, and biotechnology.
Eligibility Criteria:
Admission to B.Sc Agriculture (Hons) requires a 10+2 (PCB/ PCM) with a minimum of 55 percent marks. The four-year program provides agrarian knowledge, practical skills, and competencies in agriculture and related fields. The students can also carry forward their education by pursuing post-graduation or doctoral programs.
Teerthanker Mahaveer College of Agriculture offers the student an overall exposure to the study of agronomy, soil sciences, horticulture (fruit science and vegetables), plant breeding and genetics, entomology, plant pathology, animal sciences, extension education, plant biochemistry, agricultural economics, and the fundamentals of biotechnology, among other subjects. The students are taught to grow their own farm and sell their own produce, boosting the agri-preneurial set-up. Moreover, at TMCOA,industrial visits, guest lectures, and workshops assist in ingraining the students' practical hands-on skill development.
Opportunities and scope:
Immense scope is observed in terms of career opportunities for the individuals in the field as the job prospects could range from the core agriculture industry or related markets like dairy farming, food & technology, etc. Hence the myth that opportunities in the domain are scarce is a big misconception. Also, professionals can be a part of the private sector and very well get opportunities in the government sector.
Roles like Agriculture Development Officers (ADO), and Block Development Officers (BDO), Field Officers, Farm Manager, Agriculture Officer, Plantation Manager, Agriculture Loans Officer, and Production manager are offered to B.Sc Agriculture graduates. M.Sc agriculture professionals can find similar roles in their specified field and pursue roles like Agriculture Research Scientist, Subject Matter Specialist in different Krishi Vigyan Kendras (KVKs), Officer in Quality Assurance in Related Fields Researchers at Seed technology firms, etc. Apart from the core, some can even venture into the educational sector and pursue options in teaching or building their own personal business setup.The modernization of agriculture intertwined with science and technology is changing the dynamics of industry for its betterment. Significant opportunities open up for students who have chosen to pursue education in this field.
What is an ICAR-approved College?
An ICAR-approved college is equivalent to an IIT for technical education and an IIM for management; hence, students enrolled or passed out from an ICAR institution stand a better chance of grabbing qualitative opportunities to excel in their respective career specifications. Teerthanker Mahaveer College of Agriculture is one such institute to enroll in a B.Sc Agriculture (Honours) program.
For more details, visit: https://www.tmu.ac.in/college-of-agriculture-sciences/programs