If you're seeking a job, your resume is the first thing of importance. However, it's not the sole factor that matters. Resume is imperative for kick-starting your application process, but your cover letter is the one to do the persuading by convincing a company to send you an interview invitation. Companies often use this to gauge aspirants' intelligence, prowess, and capabilities.

This persuading technique aids you in setting yourself apart from other applicants by demonstrating your suitability for the role in an individualized way. Even if your company doesn't demand for a persuasive letter, we encourage you to add it. This shows that you have made some effort in the application.

A cover letter is one of the extremely crucial steps of your application process. There is so much contradictory advice out there that it's exhausting to know how to write a compelling cover letter. Well, relax. We have got you covered. But first, let's answer what is a cover letter and why is it so important? Later, we'll answer how to write a perfect cover letter and what is its structure?

So, let's get started!!

What is a Cover Letter?

Most of you are already familiarized with this single page (generally) document, which is referred to as a cover letter. This introductory letter is provided together with your resume to convey additional information concerning your strengths and expertise. It includes details on why you're a better fit for the application.

Reckon your calling card to be a sales pitch that will market your abilities and assist you in obtaining an interview. As a result, make certain that your pitch leaves the best possible impression on the person reviewing it.

Building a resume and drafting an introductory message with zero experience might be indeed more challenging while searching for work. One thing to keep in mind is that you must make it unique to each application.

Examine these suggestions on what to put in a cover letter and how to style it.

How to Write a Cover Letter?

Listed below are a few coherent steps you can take to draft an accompanying letter that will impress the hiring manager. Review these suggestions to find out which ones will work best for you. Even little modifications can have a significant impact.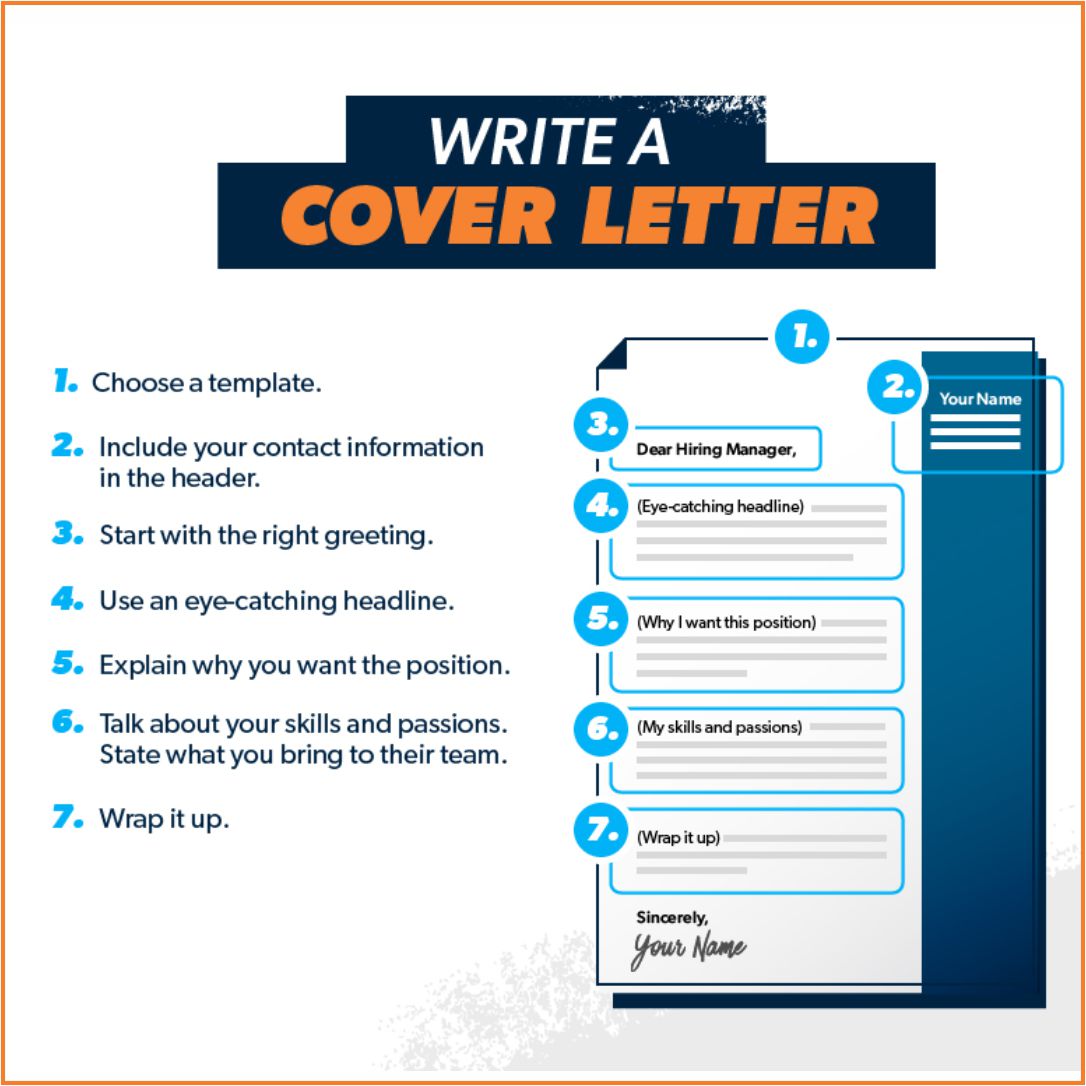 Research First. Write Later.



Before scribbling anything irrelevant, take time to think and inspire. To get the inspiration, you can do some research. But, keep yourself updated with

Who is going to receive and read your words?
The qualifications and experience specified in the job description.
What exactly does the organization do?
The intended audience of the organisation.
What is their culture?
What are the required competencies for the position?




Based on the answers you discover to your research questions, you will explain to the prospective employer in your pitch how your skills and abilities, as well as your values, connect with the desired title and business.

Pro Tip: Accompanying letters should have readable fonts. Make use of a professional font, such as Arial, Calibri, Verdana, Helvetica, Cambria, or Times New Roman. Custom fonts and special characters ought to be avoided. Keep the font size between 11 to 12 pt.

Make a Professional Cover Letter Header
Begin writing your words with the below-mentioned details.

Date
Name of the hiring manager with their professional title
Name of the company you're applying for
Address of the company
Formal Greetings


Optionally, you can add:

Social Media Accounts (applicable only for LinkedIn and Twitter)
Portfolio Link
Professional Website Link




Pro Tip: Inquisitive whether to use the recruiting manager's first or last name? Well, that all is determined by the company's culture. If you're looking for a career with a relaxed working, use first name. Although, it's safer to use the addressee's last name in corporate pitch.

Also Read: Teerthanker Mahaveer University Marches Ahead with NVIDIA, Latest Industrial Partner!

Attention-Grabbing Opening Paragraph



It takes about 5-6 seconds for potential recruiters to scan resumes. That means your calling card requires sincere work to serve as an opening act.

The opening paragraph of your motivational copy will either seize an employer's interest or lose it. So, it should be cleverly reflected that you recognize what their modern-day necessities are. Therefore, this section explains

About who you are?
The position you're interested in
How you discover the opportunity
Connections with the organization, including references
Notable Accomplishments
Industry/company knowledge and excitement to be a part of it.




Pro Tip: Check out your LinkedIn network, alumni network, and social media friends to identify company employees who could refer you.

Second Paragraph



This is the abstruse section for seekers with little or no experience. Highlighting your background and classroom experience without making any mistakes is a bit arduous. A professional structure for an excellent cover letter must adhere to the primary rule, which states that it is more about them than it is about you.

In the main body of your motivational letter, emphasize what you offer rather than what you desire from the job. Make them feel special thereafter. Tell them why you want to work for them and not any other organisation. Try to:

Choose 3 required skill set
Your reasons for desiring this type of work.
Mention your training and experience.
Professional rewards & recognition




Pro Tip: Emphasize how your expertise will assist them in resolving their issues. Bullet points could be used to break up the details and accentuate your endeavors.

Concluding Paragraph
So far, you have shown your relevant expertise. Now is the time to make your offer in the closing paragraph. Try to:

Reiterate how your competencies align with the company requirements.
Restate how you can add value to their organization.
Discuss about real-life examples that are succinct and visual.




Pro Tip: With zero experience, you can mention your accomplishments, capabilities, high academic track record, or voluntary work you have undertaken.

The Final Goodbye
Now is the time to wind up your message. Therefore, make sure to be specific, and

Thank the hiring manager or recruiter for taking the time to read it.
Make it happen that the goodbye is confident, upbeat and encourages the hiring manager to get in touch with you.
You can follow up. Let them know you will and then DO IT!



Signing Off

Finally, wrap up your copy with a professional closing greeting. Then, make two spaces underneath the greeting, and type your full name.

Sincerely
Best
Regards
Thank you
Respectfully
Kind regards
Best regards




Pro Tip: For a certain professional flair (but optional), include a digitized version of your signature written under your typed name.

Key Takeaways

After nailing all these steps, don't be in a hurry to press the send button. We know that you have worked for a spectacular cover letter. But before moving forward, make sure that you've proofread your letter and are assured it's error-free. Post that, you are ready to send it to the hiring manager.

But we suggest you, for a second opinion, share it with your trusted faculty members, as they will better guide you for corrections (if required).

Now you can attach your cover letter to your resume and release your worries confidently.

Be optimistic and All the Best!