The fast-paced world today is connected far and wide with the internet and is ready and set to provide opportunities to individuals in just a few clicks and taps. One such destination for job hunts and professional community is LinkedIn. LinkedIn has become a vital resource in the job hunt domain. Also find out how to make perfect resumes?
The platform allows employers to post job openings on it just like any other online job board, and one can hunt or search for these openings using the work search tool. LinkedIn allows you to use your connections to seek new positions and recommendations. Moreover, if you follow certain companies, you will also receive notification of their latest LinkedIn posts.
LinkedIn has a massive database of companies, prospective employees, and employers. If used properly, LinkedIn can do most of your research work, whether it's job hunting, learning who works where, or the job field interconnections between individuals in your network, etc.
Here is a list of ways to get that job you are looking for; let the hunt begin and if you already have an interview lined up don't forget to check out more tips from : https://www.tmu.ac.in/blog/tips-to-ace-interviews-and-be-a-super-candidate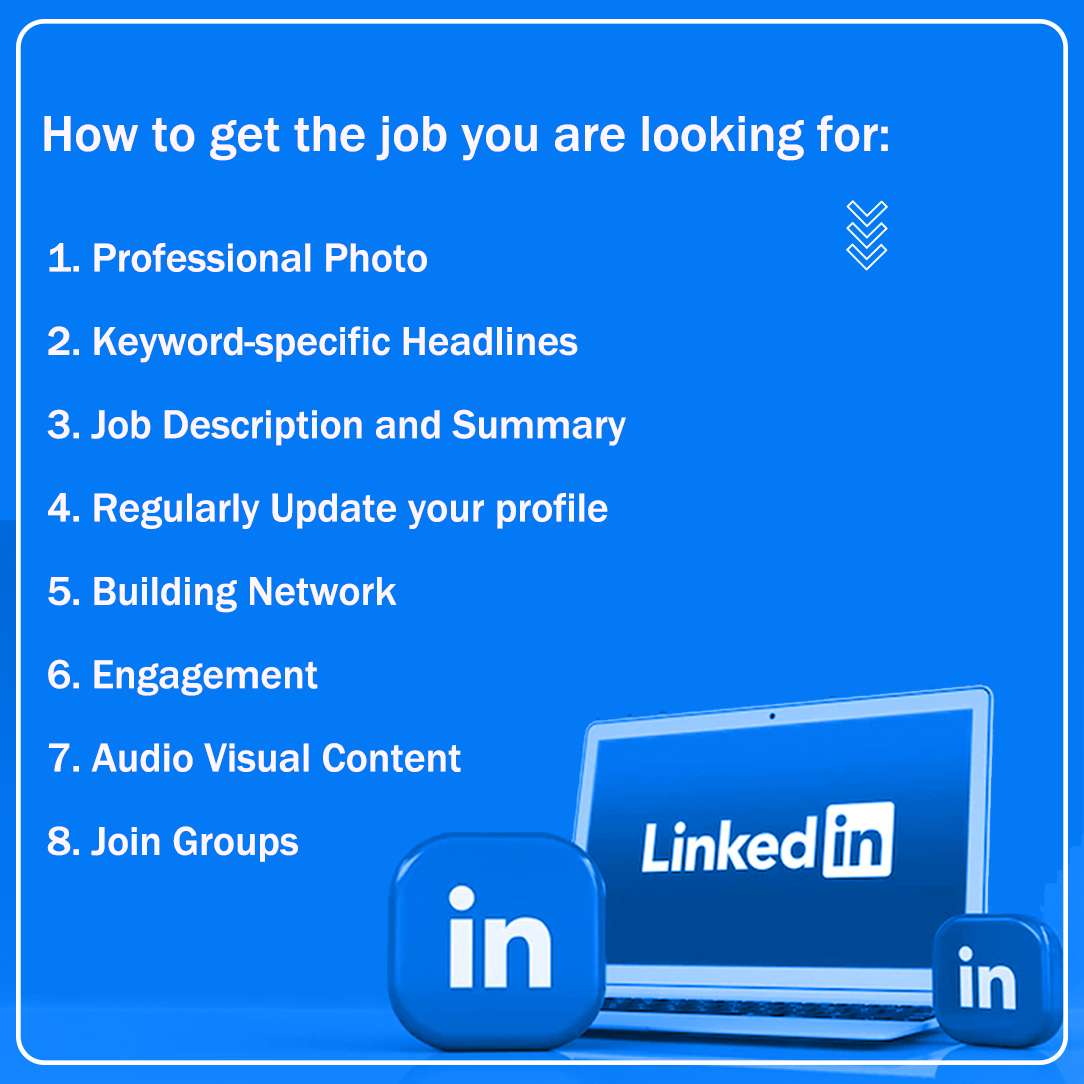 Professional Photo:
Linkedin is a gated professional community. Since the first impression about your profile will be your picture and the headline (We will come to this later), it's essential to keep it simple and professional. Your persona should carry smartness and confidence.
Note: Please avoid selfies; it's not Facebook or Instagram, so prevent profile side images; instead, have a front-faced picture similar to passport-size photos.
Keyword-specific Headlines:
The headline in your profile is possibly the most critical feature of your LinkedIn profile. Use important keywords and industry jargon that companies will likely type in the search field to locate candidates. Also, make it non-generic. Keep it snappy, creative, and exciting.
Job Description and Summary::
Keep it short and precise; don't include everything you probably did; instead have just the key achievements or relevant skills to your current job search. Change your skills and job description as and when you change your job search focus.
The summary should be short and focused, and a maximum of one paragraph in length. It should cover only the most essential topics.
Regularly Update your profile:
Regularly updating your profile is necessary. Page views on LinkedIn are 14 times higher for members with profile pictures. According to LinkedIn's blog, people who post skills are 13 times more likely to own profile views than those who don't. Make sure to regularly update your profile, include a profile photo, and include your considerable skills from LinkedIn's 45,000 skills available.
Building Network:
A minimum of 50 connections is necessary to increase your visibility. Start adding your friends, family, teachers, seniors, alumni, hiring managers, etc., in your network while also interacting on the posts of your network. Networking is a skill set as well for more such futuristic knowledge about the upcoming professions, check out: Essential Futuristic Skills Required for Professionals.
Engagement:
Engagement is another criteria that can grow your profile visibility. Like, commenting and posting your own content regularly will gradually increase your profile visibility and the more you keep updating and adding your network connection, the better results you will get.
Audio Visual Content:
The latest feature of the audio and video on your profile aids in boosting your profile gets easily highlighted and assists the hiring managers to quickly gauge your confidence with a basic but brief understanding through your video/audio introduction. Even here, the mantra is to keep it crisp and concise.
For more details do check out: https://www.tmu.ac.in/blog/video-resumes-and-job-opportunities
Join Groups:Linkedin offers the groups feature where in people from certain community become a part and engage while sharing more industry updates. Joining such groups will benefit quite effectively especially if you are a fresher. By engaging in online conversations and answering questions, you'll be able to expand your network, demonstrate your expertise, and possibly connect with future employers via these groups.
Note:You should participate in groups with recent activities when researching groups. In the absence of daily or regular online interaction, you might be wasting your time.
For more such relevant content for students, fresher's and professionals, check out: TMU Blogs.