Cultural harmony is something that connects people of diverse backgrounds in terms of social behavior. Starting life in a new place naturally generates both excitement and anxiety for many reasons, including the move, managing academic responsibilities, and meeting new people. In such a situation, the adjustment to a new environment often results in frustration for many students.
Well, don't worry – these changes are very natural. Adapting to your new environment will take time – and maybe some expert guidance. You will be excited and delighted by cultural harmony, but there will also be moments when you are frustrated or perplexed.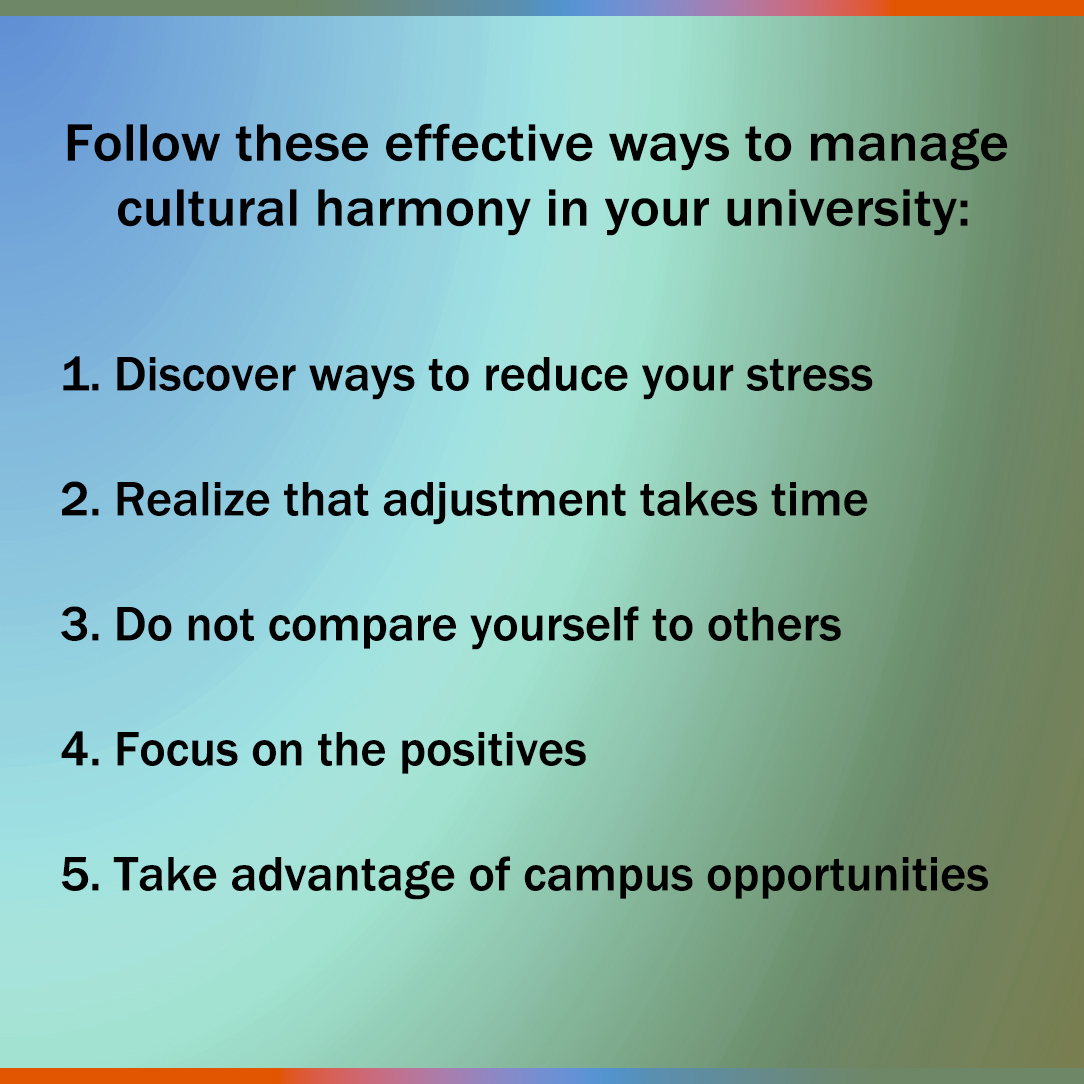 Follow these effective ways to manage cultural harmony in your university:
Discover ways to reduce your stress-

Adjusting to a new culture at university can be stressful. Try to establish a new connection with your batch mates, juniors and seniors. You will find it very helpful at different stages in your life. Exploring new hobbies or joining a student club on campus will enrich your life as a student.

Besides making new friends, being a member of a club or association helps you add value to your resume. Employers love to see that you are involved in things apart from the curriculum. Social service clubs will allow you to feel good about your deeds.

Also Read: HOW TO MAKE A PERFECT RESUME

Realize that adjustment takes time-

All students undergo a period of adjustment during the first few weeks and months of college. Listed below are some very normal stages that you may encounter during this time of transition. Being conscious of these stages and equipping yourself with strategies to effectively navigate them will help you feel less nervous and more connected.

Be patient and understand that it is a process and will take time. Set goals for yourself, for example, starting a new hobby like learning how to cook all of your favourite meals. You can explore free cooking classes on YouTube and similar websites.

Do not compare yourself to others-

Try not to compare yourself to others when you are trying to manage cultural harmony. For some, this apprehension can be dealt with as they acclimate to a new environment really fast; for others, the transition takes longer and sometimes results in homesickness. Every student is different and will behave differently during this transition period.

Push yourself to initiate discussions with people. Celebrate your home by talking about your culture and taking the time to learn about theirs too. Learning a new language might be a good start to getting along with your batch mates. You can only succeed when you go outside of your comfort zone.

Focus on the positives-

Positive thinking may be more effective than you realize. A positive outlook has many advantages. It can help you keep a clear mind as well as stay energetic and organized. Helping friends is a wonderful way to build positive relationships and put down roots for the future.

Try to focus on the good things around you and recall that discovering and learning new things was the reason why you wanted to study at the university. So, take a deep breath and remember that positive thoughts will lead to positive results. You will start to see things falling into place.

Take advantage of campus opportunities-

You can enroll in multiculturalism courses or workshops at your university. Special events like festivals, sports events, cultural fairs, concerts, and other programs are held frequently on most campuses. There may also be opportunities to participate in group travel to regions of cultural diversity.

Make sure that you are free to communicate with anyone and everyone. It is the key, and you will be able to see comfort through it in many ways. Talk to your professors, advisor, and friends about your university. This will soothe your nerves and help you approach them appropriately.
Concluding Thoughts-
Cultural harmony makes universities a better place to learn and discover new things. A study at the University of Michigan revealed that educational interactions among racially and ethnically diverse groups resulted in positive learning, such as students feeling more active in classrooms and inspired to study.
Students who studied at culturally harmonized universities had strong critical thinking, problem-solving, and writing skills. By following the above steps, you can save yourself from unnecessary worries, and you will be able to adapt better to the new environment and easily manage cultural harmony at your university .